The first Cheffins vintage collective sale of 2021 will see over 150 lots of vintage and classic tractors items go under the hammer at Europe's largest sale of its type.
Hosted at the firm's sale ground in Sutton, near Ely, on the 24th April, this auction is set to be a major event for collectors and enthusiasts from across the UK and overseas.
The sale will also see 2000 lots of machinery, steam engines, motorcycles, cars and collectors' items go under the hammer.
Amongst the tractors on offer, the highlight is a County 1184 dating from 1979 which has an estimate of £42,500 – £45,000 which is followed by an ex-airport County 1174 also dating from 1979 which is set to sell for between £38,000 and £40,000. Also available is a rare 1952 Fordson E27N 4wd with Roadless/Manuel front axle which has an estimate of £16,000 – £18,000 and amongst the earlier built tractors is a 1920s Huber Light Four with an estimate of £14,000 – £16,000.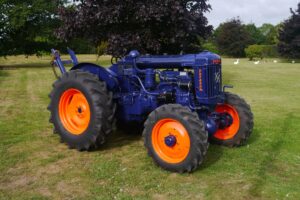 A series of unusual collectors' items will be for sale including a Victorian 'village hearse' built for one or two horses which has been fully restored and has an estimate of £4,000. There is also an ex-Trinity Hall punt which was originally used by famous Cambridge punting company, Scudamores, before being sold to the college which is estimated at £800 – £1,200.
Bill King, chairman at Cheffins said: "As we welcome buyers both old and new back to the sale ground in April, we hope that this sale in all of its vintage glory should hopefully provide a much-needed change of scene after the many miserable months in lockdown. We of course will be following government guidelines when it comes to social distancing, but we are sure that the spectacle of hundreds of classic tractors, cars, vehicles and all the weird and wonderful collectables on offer will make this a magnificent event in the vintage calendar.
The vintage market has continued to be buoyant throughout 2020, mainly kept afloat by regular online sales, however the prolonged periods of lockdown there will certainly be buyers out there with cash burning a hole in their pockets, just looking for that perfect next piece for their collections. Classic and modern tractors continue to rise in value, and the popularity of classic commercial vehicles is also really starting to gather pace. We have some fantastic examples of both available, as well as very original and rare cars and motorbikes, with the Land Rover Series 1 in particular set to be of interest to collectors from both the UK and further afield."
The sale will allow traditional live bidding for tractors, vehicles and motorcycles, with other parts of the sale being offered as a timed online auction.
The sale will take place on the 24th April, at Cheffins Machinery Sale Ground, Sutton, Ely, CB6 2QT.  For more information, please visit www.cheffins.co.uk, or call Cheffins auctioneers on 01353 777767.
The catalogue can be viewed at https://www.cheffins.co.uk/machinery-vintage-auctions/auction-calendar.htm