Agricast, a leading supplier of replacement wearing parts, will showcase a series of new products at the Cereals Event (30 June – 1 July). This will be the first opportunity for many to see these units, previously launched during lockdown.
The STP (steel tensioned packer) was developed to reduce smearing and soil flattening during wet weather. It features a shouldered profile and 190mm spacing, leaving an open surface that dries quickly. It can be mounted onto new machines or retrofitted to existing units, including those made by Cousins, HE-VA, Horsch and Sumo.
Also set to be exhibited is the Agricast GLX leg, designed for medium depth cultivation with minimum soil disturbance. It can be fitted to the Sumo GLS and boasts Tungsten on the leading edges, with hard facing on the body and a reinforced shin. According to William Robinson, Agricast's managing director, the new point will offer a lower cost per acre than other parts.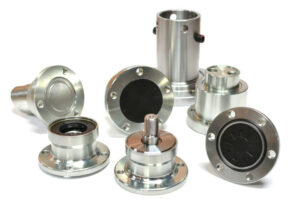 First launched in January, the company's heavy-duty press bearings are said to offer more than twice the dynamic rating of existing bearings, and is more robust than standard greaseable or fully sealed units. It's designed to fit the company's PRR packer assemblies but is also retrofittable to many Simba machine using the Double Disc packer.
Priced between £125 and £150, depending on order quantities, the new bearing is also said to offer savings when compared to OEM parts, while also providing better dust sealing and thicker steel plates with additional rivets. A fully-sealed unit is set to be launched later this year.
Cereals will also be the first chance to see a new range of disc harrow hub bearings, designed for Horsch, Lemken, Vaderstad, Bednar and Proforge machines.
They feature an upgraded sealing arranged and strengthened cast flange. The new design allows maintenance-free lubrication when using long-life grease, while the sealing arrangement protects the inner races.
"We are very much looking forward to meeting people at Cereals," said Mr Robinson. "There is no doubt the last 18 months have been very different and challenging for everyone, but hopefully, we will all start getting back to normal soon. It is great that Cereals is taking place this year, and with it being just down the road from us, it was an easy decision to attend. We can't wait to show people our new products, all of which were launched in lockdown. They have all proven very popular with our customers, and we are excited to be able to show them off to people who have not yet seen them."
For more information visit www.agricast.net