Amazone has announced that it will start field usage of the UX 5201 SmartSprayer trailer, with a boom width of 36m, during the spring 2021 season. Application of foliar herbicides will be carried out 'green in green' in real-time on a large arable farm.
Camera technology sourced from Bosch detects weeds in row crops, while the xarvio Agronomic Decision-making Engine (ADE) from BASF Digital Farming Solutions decides on the application. It's also possible to apply full-area, ground-based herbicides at the same time, with a separate tank and a twin-line system.
Trials to date have shown that using the SmartSprayer technology can reduce herbicide use by up to 90%, depending on weed pressure and field conditions. Extensive trials will continue this year in sugar beet, maize and rape crops to further qualify the results.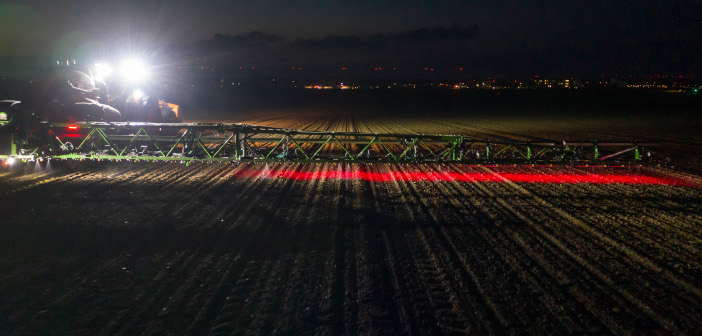 The newly developed sprayer boom has the camera and lighting modules integrated for field use and features the ContourControl active boom guidance system and the SwingStop active vibration damping system. Individually controlled pulse width modulation vales (PWM) and specially coordinated Agrotop Spot Fan nozzles with a 25cm nozzle spacing are said to offer precise spot spraying application at spraying speeds up to 12kph.
The Bosch image recognition system detects weed at an early growth stage. It's combined with specially developed LED lighting to support the system in difficult ambient conditions, such as shadows, and when working at night. The system is also said to be superior to satellites and drones, as plants are detected down to the millimetre range, making real-time application possible.
Field-specific settings and recommended herbicide mixtures are based on the ADE system, with various parameters such as cropping, weed spectrum and weather conditions automatically taken from the xarvio Field Manager, processed to make a decision and transferred to the SmartSpraying system.