The biscuit wheat LG Astronomer was reportedly the best performing Group 3 wheat variety at the 1,200-hectare Moundsmere Farming Company, near Basingstoke this year.
According to farming Robert Brine, he wanted to restore his faith in Group 3 varieties, sowing 40 hectares of LG Astronomer as the first wheat after winter beans. It was one of five varieties sown on the farm.
Overall, Mr Brine was pleased with the variety in a challenging season that saw a lack of rainfall and an early harvest.
"We started combining around a fortnight earlier than normal and didn't stop. This year we finished wheat before we even started it last season."
Most of the LG Astronomer crop was harvested at the end of the second week of August, with crops on the heavier clay ground yielding in excess of 12 tonnes per hectare, with the specific weight coming in at 78-79kg/hl.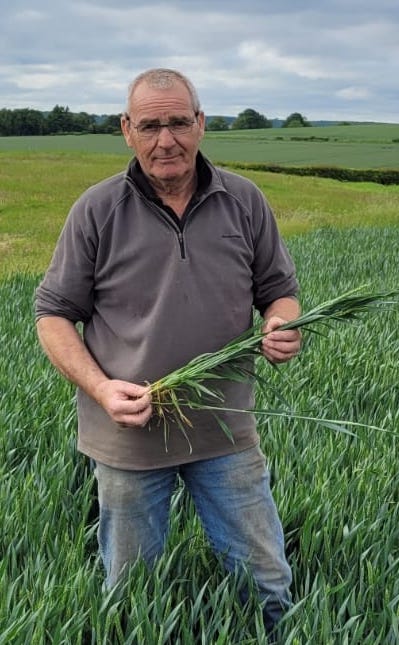 "It stood and thrashed well, as did most varieties this season."
Despite the lack of rain, crops on the thin, chalky soils still managed to yield between 8 and 8.5 tonnes per hectare, giving an average across the farm of around 10 tonnes.
"Although it didn't quite match the yields of some of the barn-filling feed wheats, out of the five Group 3's we grew this year, LG Astronomer did perform the best," he said. "In all, we had eight different wheat varieties in the ground, which was too many really, so we will be looking to thin them down a bit this coming season."
While he hasn't finalised the variety choices for 2023, Mr Brine says that LG Astronomer will be among them. He plans to grow it as a first wheat, with crops put in the ground in early to mid-October.
"We usually establish crops using a two-pass system, based on one pass with a Köckerling tined cultivator, before drilling with the Horsch Sprinter tine drill, which we used for the first time last season and found it performed very well. We're now looking at direct drilling some crops, but only when conditions allow."
Last year's crop was sown on the 9th of October, at a seed rate of 325/m2. It established well and the dry weather was counteracted with a timely application of digestate, replacing the main fertiliser dose in April.
The dry weather and strong Recommended List scores for septoria and rust also enabled Mr Brine to make slight savings on fungicides, with no T0 applications needed.
At T1, the LG Astronomer crop received AscraXpro (bixafen, Fluopyram + prothioconazole), with Univoq (fenpicoxamid + prothioconazole) applied as the T2 flag leaf fungicide, while the T3 was based on tebuconazole and azoxystrobin.
He concluded that the resistance to orange wheat blossom midge in LG varieties is a particular benefit on the farm, especially as the business moves away from using insecticides and puts more focus on maximising the use of beneficial species.