The crop plots at the Lincolnshire Cereals Event site have wintered well and are going into spring in strong shape, according to the event agronomist and site manager.
A regular feature of Cereals, the crop plots allow visitors to see the latest varieties from a wide range of breeders. As June's event will mark two years since Cereals was held, the organisers feel it's important to showcase the crops in the best possible condition – even if the British weather can present some challenges.
"Our team have put all their efforts into establishing and caring for the crop plots so that visitors can see the latest breeding developments and crop protection methods in person," said event organiser Alli McEntyre.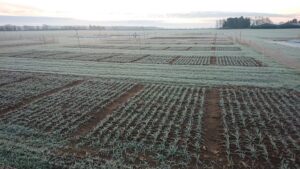 Crops have been through a cold period but have come through winter and are looking well, according to Shaun Coleman, centre manager at NIAB, who is managing the site. "They went into winter looking fairly healthy and well established and we had no issues other than a little bit of mouse damage – something we don't usually see. We also had an issue keeping rooks off in the late autumn-sown crops but that is normal."
The oilseed rape plots withstood the snow and frost well and are still protected by nets for pigeon control, said Peter Brumpton, AICC site agronomist. "We pulled a few plants and did find some cabbage stem flea beetle larvae which was a bit of a concern."
Other farms in the area have also found larvae in their oilseed rape, but at lower levels than seen previously. "The hope is they will stay in the leaf and not go into the stem – we are keeping an eye on it and how it might impact the crop later this year," he added.
The windy conditions are said to have affected the plants somewhat but have also dried the soil, meaning that the first fertiliser application should be put on during the first week of March, with spring cropping starting the week after, including spring barley, spring wheat, spring oilseed rape, linseed, peas, beans and some other niche crops.
"After that, we are planning the months ahead in terms of fertiliser and fungicide regimes – there's a lot still to do before the event," said Mr Coleman.
The crop plots aren't just about showcasing varieties from different breeders, they also allow visitors to explore different pest and disease control options, said Ms McEntyre. "There's no substitute for examining the physical plots and discussing variety choices and management options with the experts. After more than a year of lockdown, this is a great chance for farmers to get back out in the Cereals fields."
The Cereals Event will be held in Lincolnshire on 9-10 June 2021, complying with required biosecurity measures against Covid-19. More information can be found at www.cerealsevent.co.uk and visitors can register for free tickets using the code "FREE1"