Ludlow based manufacturer McConnel has extended its range of remote-controlled products with the latest Robocut2 RC40.
The new mid-range 40hp machine bridges the gap between the smaller 28hp fine-turf unit and the larger 56hp and 76hp heavy-duty RC machines. Designed for tackling tough terrain, the RC40 features a low centre of gravity and durable rubber tracks. McConnel states that it can handle inclines up to 55 degrees while enhancing operator safety by removing them from the danger zone.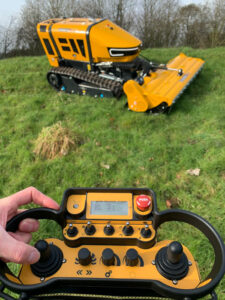 A three-cylinder Yanmar diesel engine provides the power, meeting Stage V emissions regulations with a Diesel Particulate Filter (DPF) system that does not require AdBlue. It's combined with a two-range hydrostatic driveline, with speeds up to 4kph in range one, and 7kph in range two.
The build is completed with twin rollover protection bars and fully enclosed, all-metal body panels to prevent the ingress of dust and debris, as well as providing additional protection and durability in tough conditions. Track options include standard-rubber and super-rubber specifications, as well as studded and spiked variants for steep slope work.
A Hetronic handheld remote-control unit provides full control of the RC40 within a working range of 150m. Two joysticks control motion, steering and the front attachment, while other functions such as gearing, rotor speed, speed sensitivity, radiator self-cleaning and emergency stop can be accessed at the touch of a button.
The new RC40 is compatible with a comprehensive range of cutting attachments, including the 1.3m and 1.6m grass flailheads, and the 1.3m mulching flail. Other equipment options include stump grinders, trenchers, material handling and snow blowers to give the RC40 maximum versatility.
The Robocut2 RC40 is available now, with prices starting from £48,500.
Further details are available from www.mcconnel.com