Cheffins, which conducts the largest monthly sale of second-hand tractors and agricultural machinery in the world, has reported sales gross of over £9.4m in Q2 2021 at the Cambridge Monthly Machinery Sales at the firm's dedicated site near Ely, Cambridgeshire.
The total for the quarter, shows an uplift of 25 per cent in comparison to sales in Q1 2021, which grossed £7.5m. Each of the auctions in the quarter achieved strong results, with April grossing £2.8m, May £3.9m and June £2.7m.
Over 40 per cent of the sales in Q2 were exported out of the UK, with the most active countries buying in the quarter including Ireland, Romania, Poland, Bulgaria and Sudan.
Oliver Godfrey, Director, Cheffins, commented:
"The second quarter of this year has been characterised by a lack of stock and as a result, growing values across all sections of the sales. As stock levels plateaued throughout 2021, the values achieved per lot have increased, and this, coupled with some good quality entries, has ensured that the gross sales for Q2 have been well in excess of the previous quarter.
As the coronavirus pandemic has consistently disrupted supply chains of new tractors and farmers and contractors have seen deferred delivery dates for new stock, there has been a mounting pressure on the second-hand market. Prices are growing as farmers and contractors seek out quality machinery, whilst the export market has come back in full force following the slight lull in sales due to the complications around phytosanitary certification."
He added: "The results achieved throughout the quarter also go to show the confidence in the future of the farming sector. Whilst long-running concerns over subsidies and export trade post-Brexit have put a dampener on prospects for farming across the UK in recent years, as government funding strategies continue to take shape, we have seen an increase in the number of farmers bringing forward business plans and making long-term decisions to be able to react to the implementation of new grants and subsidy schemes.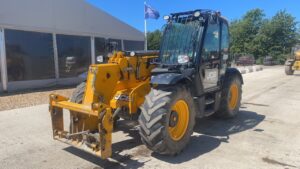 This has brought with it an increase in investment into machinery from private farmers, contractors and agri-businesses. Similarly, the new tax relief announced in the recent Budget in the form of a 'super deduction' which allows for 130% of expenditure on qualifying new kit to be written off, will help stimulate the market further."
JCB 457 contributes towards sales gross over £9.4m
The most expensive lot sold in Q2 was a JCB 457 loading shovel c/w bucket, fitted to a high specification and with only 8,150 hours on the clock which sold for £64,500. Other notable sales included a 2016 John Deere 6215R tractor which sold for £53,000; a John Deere 8345R tractor which sold for £51,000; a JCB 535-95 Agri Telehandler which sold for £50,500 and a 2016 JCB 541-70 Agri-Pro telehandler which made £50,000.
The next sale will take place on 12th July, at Cheffins Machinery Sale Ground, Sutton, Ely, CB6 2QT.
Read more latest news on Cheffins here.