East Yorkshire manufacturer, Grange Machinery Ltd, has appointed Carrfields as the importer and distributor of its product range in New Zealand.
Based at Ashburton with branches across New Zealand, Australia and India, Carrifields is a family business, established forty years ago, which currently offers the MacDon, Horsch and Novag franchises, as well as diversifying into grain and seed, livestock and contracting.
Sales and product manager at Carrfields, Ed Harrison, said: "Our agronomy team are based throughout NZ and are very much trusted partners of their customers. They want to be able to give significant and well thought out solutions and if that involves helping with an introduction of a machine to the farmers operation that suits a specific task, it is a win for all parties. In the reverse as machinery people, to be able to offer advice from a plant specialist, the farmer gets true value from this.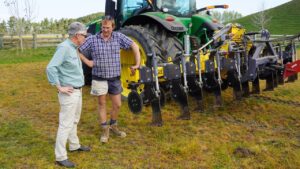 "We see Grange Machinery as an ideal addition, which complements our existing suppliers to offer real value in the field. Grange is an exciting young company that has similar values to ours and offers equipment which is extremely well manufactured. We are very much looking forward to working with the company."
Grange Machinery managing director Rhun Jones commented: "Carrfields' ethos of providing a service to customers which meets their agronomic and machinery needs is very much in line with how we at Grange operate, and we feel that together we can offer some innovative ideas to increase their efficiency. We are delighted to be working with such a progressive importer and proud to have the opportunity to present our products to New Zealand farmers and contractors."
For more information go to www.grangemachinery.co.uk