Grange Machinery has expanded its dealer network with the appointment of MANNS. The dealership, part of the Claas business, has seven depots across East Anglia, Kent and Leicestershire, selling the full Claas range, Horsch cultivation and seeding equipment and other franchises.
The addition of Grange Machinery adds adaptable low-disturbance toolbars and standalone soil looseners, as well as the recently launched Strip-Till Preparator.
"Grange Machinery is delighted to be working with MANNS," said managing director Rhun Jones. "There is an excellent fit between our products and the range offered by MANNS and the company has a strong presence and long-standing reputation in the key arable regions of the country where many of our target customers are located."
Paul Moss, sales director of MANNS commented: "We are looking forward to offering Grange Machinery's products, which complement our Horsch range perfectly, presenting an ideal solution for farmers and contractors who wish to loosen soil ahead of a cultivator or drill."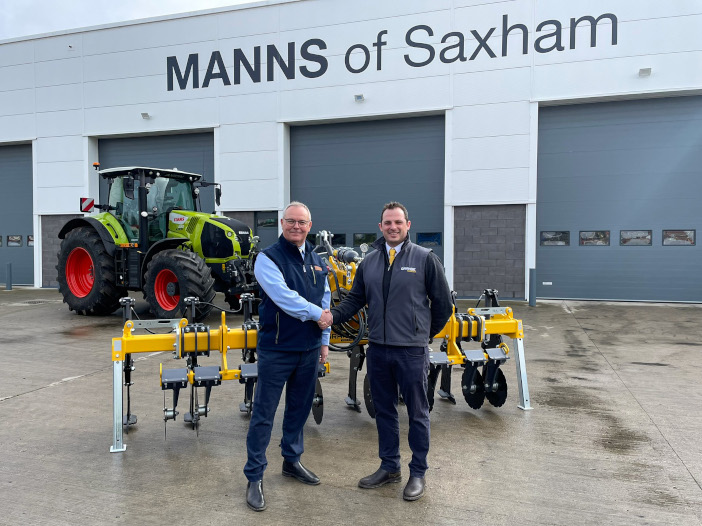 "The combination is sure to be of great interest where farming for the benefit of the land is a goal, and offers us an exciting opportunity in that marketplace."
"Grange Machinery is a great example of a company that is 'big enough to matter but small enough to care', designing its products with the farmer in mind and we are very pleased to be working with Rhun and his team."
Working demonstrations
The Grange Machinery range will be showcased in the upcoming Geared for Growth demonstration tour, which will run from the 4th of April to the 10th of May. Visitors will be able to see a 6m Low Disturbance Toolbar (LDT), 4m Low Disturbance loosener (LDL), 4m Close Coupled Toolbar (CCT) and the Strip-Till Preparator in action.
The tour will run at the following venues:
Tuesday 4th April, Medbourne, LE16 8DS, W3W inhales.magically.openings, 10am-4pm
Thursday 6th April, Connington Airfield, PE7 3QQ, W3W goals.bedrooms.decorator, 10am-4pm
Thursday 13th April, MANNS Saxham, IP28 6QZ, W3W butternut.exam.cowering, 10am-4pm
Tuesday 18th April, Thetford, IP25 7NH, W3W beak.lyricist.expensive, 10am-4pm
Tuesday 25th April, Bradwell, Essex CM77 8ES, W3W yoga.encoder.nanny, 10am-4pm
Wednesday 10th May, MANNS Kent, TN27 9PJ, 2pm-9pm, W3W join.pleaser.relaxing