Mercedes-Benz Unimog customers joined staff from the only UK dealer, South Cave Tractors, in a memorable double celebration. The company, based in Brough, East Yorkshire, has been selling and supporting Unimogs for 50 years, while Mercedes-Benz trucks is currently marking its 75th anniversary.
Reflecting the significance of the two anniversaries for their own business and the brand, South Cave Tractors proprietor Tony Levitt and his team stage a special event with 75 invited guests, allowing them to exchange their knowledge and experience with like-minded enthusiasts.
It presented a comprehensive line-up of Unimogs in many different specifications, including classic models. There were opportunities to put a pair of vehicles through their paces on an adjacent field and learn how to operate an array of mowers, cranes and hitches. Owners who brought their own machines along could also benefit from a free professional inspection and report.
The history of the Unimog
Unimogs are used across a range of sectors, including agriculture, utilities, municipal and emergency services sectors, as well as for highly specialised roles such as maintenance of the railway infrastructure – the vehicle can even be adapted to run on rails. 
Single rear wheels follow the track created by the front axle and the machines encompass gross weights from 7.5 tonnes through to 16 tonnes. There are two core variants of the Unimog; a UGE implement carrier and a UHE extreme off-roader that can be fitted with many different types of bodies.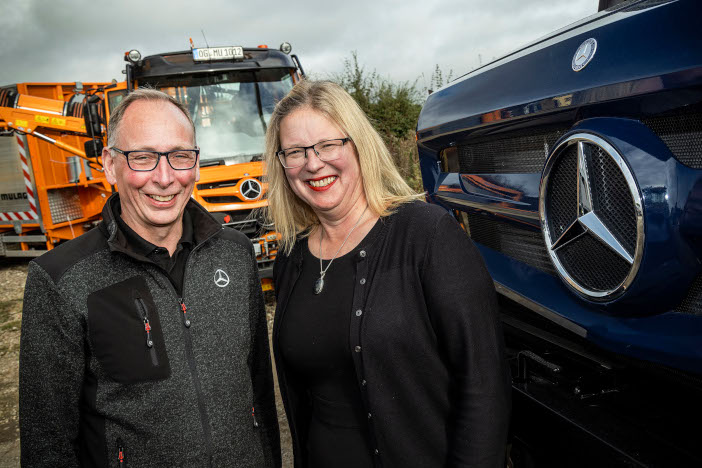 Originally known as the universally applicable motorised device, the Unimog was developed in Schwäbisch Gmünd, near Stuttgart and prototypes underwent off-road testing in 1946. Five years later, the first Unimog rolled off the Mercedes-Benz production line.
Two decades later in 1971, Simon Legard was establishing his agricultural contracting business in Brough on the north bank of the Humber Estuary. Initially, South Cave Tractors operated Unimogs before moving into maintenance and retail.
When Mr Levitt joined in 1987, South Cave Tractors was no longer contracting and the company was well-established in the Mercedes-Benz dealer network. When Mr Legard retired in 2006, it was Mr Levitt who took the reins of the business.
"I jokingly asked Simon if he'd sell me the business," he recalled. "I had no intention of going through with it at the time, but he agreed and that's what we ended up doing."
Alongside his wife and co-director, Mr Levitt has taken South Cave Tractors from strength to strength. It is now one of the world's leading Unimog dealers and serves customers nationwide.
"I've spent most of my career working on and with Unimogs, and I'm as passionate about the product today as I've ever been," he said. "The same is true of my team; we're all enthusiasts at heart.
"You're not so much selling a vehicle as a concept. Operators need to experience the Unimog at first hand, working with equipment, to fully appreciate what it can do."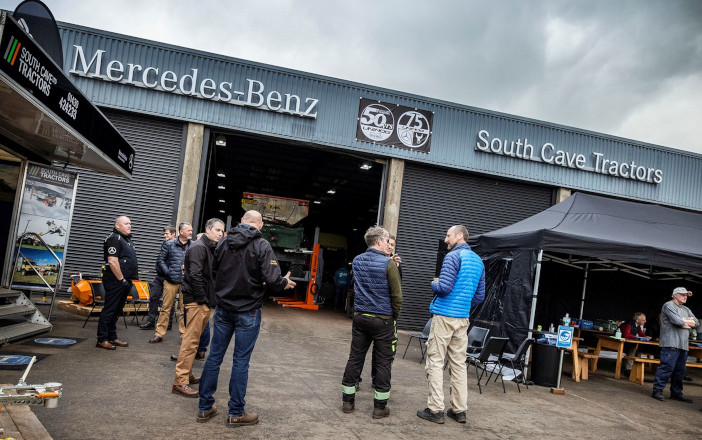 Looking to the future
Underlining its confidence in the future, South Cave Tractors has just recruited former Mercedes-Benz Trucks man Martin Foster to a fleet sales role that will entail managing accounts with major customers, including rail operators. Martin is now working alongside sales & marketing manager Andy Cooper and sales executive Ben Middleton. 
Meanwhile, workshop manager & learning coordinator Joe Baines is supported by workshop controller Mark Huby, whose son Ashley is a technician. Other members of the aftersales team are fabricator/welders David Cooper – Andy's brother – and Simon Cossins, technician Nathan Eade, parts specialist Anthony Eate, and apprentice technician Max Waslin. 
"Our special anniversary event was a great success, and it was very gratifying that so many customers took time out from their busy schedules to support us," said Tony. "Tracey and I took a leap of faith when we bought South Cave Tractors, but we've never regretted it. Nor have I forgotten my own shopfloor background. Our people have always been the single most important factor behind the success of this business and I'm very proud of the fact that no one has ever left us. You can't buy loyalty like that."