Opened on the 16th of November, Defra has made available £27 million in the Farming Investment Fund. Farmers, foresters and growers from across England can apply for the grant to purchase new equipment and infrastructure to help improve efficiency.
The fund is split into two strands. Firstly, the Farming Equipment and Technology fund will focus on smaller grants for equipment from a set list, including electronic seeders and chemical-free disinfection systems. Secondly, the Farming Transformation Fund will cover more substantial technology, with an initial focus on water management with grants available to improve water use on farms.
Farming Minister, Victoria Prentis said: "I'm pleased to offer support to eligible farmers through the new Farming Investment Fund to invest in technology and infrastructure to boost productivity and deliver environmental benefits
"Investing in new technology and equipment on-farm has a real impact on productivity and yields, as well as a benefit for the environment as we build on the historic commitments of COP 26."
The farming industry will play a crucial role in helping the government reach its net-zero ambitions and these grants build on the commitments made in the Net Zero Strategy. This will also include a £124 million boost to the Nature for Climate Fund, helping meet commitments to restore approximately 280,000 hectares of peat in England by 2050 and treble woodland creation in England by the end of this parliament.
As set out in the Agricultural Transition Plan, a range of reforms to incentivise sustainable farming practices will be introduced. These will reward farmers for producing public goods such as better air and water quality, protecting wildlife, soil health and animal welfare.
As direct payments are phased out over the transition period, the government has committed to offering financial assistance to support farmers to invest in their businesses to improve their productivity, manage the environment sustainably and deliver other public goods.
Farmers are also able to access business support through the Farming Resilience Fund. The fund awards grants to organisations so that they can support farmers and land managers who are in receipt of the Basic Payment Scheme.
Rural Payments Agency chief executive Paul Caldwell said: "Innovation and technology have a real-life impact across the farming sector, so I'm delighted to be able to help unlock this potential for many farmers through the Farming Investment Fund. I know how popular these schemes are so I would encourage those eligible to make an application for this valuable support."
Eligible applicants involved in the production or processing of agricultural, horticultural or forestry products, who are based in England, can apply for a grant. Applicants are urged to make note of the differing deadlines for both strands of the fund.
The deadline for the Farming Equipment and Technology Fund is the 7th of January 2022 at midday. Applications for the Farming Transformation Fund can be made online with a new online eligibility checker to improve the application process for these grants as applicants will be able to check in advance their project suitability in relation to the scheme objectives. Projects that score highly enough against the scheme objectives will be invited to make a full application. This will open from today until the 12th of January 2022, with the deadline to complete full applications by the 30th of June 2022.
NFU responds to launch of Farm Investment Fund schemes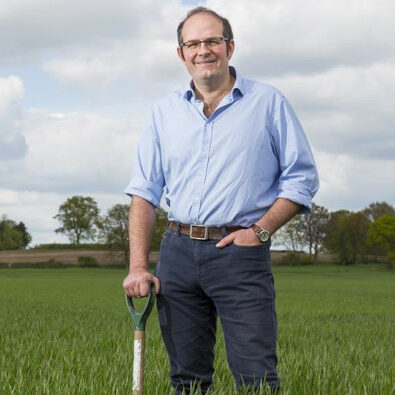 Responding to the launch of the first Farm Investment Fund productivity schemes, NFU vice president Tom Bradshaw said: "The launch of the first productivity schemes is good news for farmers and will play a vital role in helping them invest in their businesses, boost productivity and prepare for the future.
"With more items being made available and the maximum value increasing to £25,000 for the Farming Equipment and Technology Fund, the government has clearly recognised the benefits of investing in efficient food production.
"It's great to see funding being made available under the Farming Transformation Fund for enabling water storage on-farm, which is becoming increasingly important as we experience more frequent events of drought and flooding due to global warming.
"However, the application windows for both schemes are tight and the current disruption to supply chains, as well as the difficulty getting planning permission for building reservoirs, could lead to delays.
"It's vital that farmers make their applications as quickly as possible and, if accepted, give themselves as much time as possible to make the necessary arrangements."
Response from agricultural auctioneers Cheffins
Katie Hilton, director, Cheffins said: "The Farming Investment Fund (FIF) is part of the prosperity and productivity funding in England's Agricultural Transition Plan. Defra is heralding this as a new initiative to support the industry to increase productivity in an environmentally sustainable way. The farming industry is unlikely to see this as new funding, given that very similar grant schemes have been available before under the EU's Rural Development Programme for England. However, it will be welcome at a time when farmers and landowners are repeatedly hearing the mantra that they should become stronger and more resilient in the face of change. This funding will be of benefit to those who are poised to do just that, with plans to invest in their futures.
"The Farming Equipment and Technology Fund, for example, offers £12,054 of grant funding towards the cost of a new three-metre direct drill which is a significant increase from the previous offer of £9,600. Additionally, there is now a six-metre direct drill on the list, grant-funded at £25,000. More items have become available for resource management, notably for the application of slurry and digestate, which may appeal to contractors who are now eligible for these funds for the first time.
"Where the livestock industry is concerned, sheep farmers may be disappointed that more new items of equipment haven't made it on to the list for them. However, an electric fencing package to facilitate mobile or rotational grazing will be of significant interest, as will a mobile sheep dip package.
"There is disappointment that the Farming Transformation Fund, designed to provide grants for large capital items, will undergo a gradual launch with only the Water Management Grant open from today. Potential applicants for the Improving Farm Productivity and Adding Value grants are forced to wait for a further announcement.
"However, successful applicants to the Farming Transformation Fund will be rewarded with generous grant levels from £35,000 to £500,000, covering up to 40% of project costs.
"This new package of funding from Defra comes at a pivotal time for the industry when farmers are faced with reductions to direct subsidies whilst simultaneously needing to invest for their futures, with neither coming easily. This grant scheme certainly makes investment in equipment a more attainable prospective. In doing so, applicants will need to carefully weigh up how each item will help them streamline their businesses and gauge whether their investments stack up for the next few years to come."