The Newark Vintage Tractor and Heritage Show is reportedly on track to have its most diverse range of machines ever, with some classes celebrating anniversaries and displays which will revive some of the first-ever exhibits.
Paul Ducksbury, a local contractor and collector, has been involved with the show since the start. He said: "Little did we know what a success the show would become when we were planning the first one in 2003; it's gone from strength to strength.
"The George Stephenson Hall was added to the facilities in 2006; then tractors from other shows were nominated in a 'People's Choice' class, creating a really diverse range of exhibits. Now, two decades later, the event is seen as the pinnacle of the year – the highlight at the end of the season."
Mr Ducksbury added that one of the most memorable classes was 100 Years of Fordson, in 2017. For that event, he took 34 tractors. "The first Fordson was built in the US in 1917, and manufacture this side of the Atlantic started just two years later in 1919 in Ireland, before moving to Dagenham in 1923. Having the whole range on display in 2017 was quite a sight," he said.
Another favourite was the adaption of a Minneapolis-Moline tractor, which was displayed in 2004. "It wasn't the original tractor, but two tractors joined together by the owner John Hayward of Bilsthorpe near Newark, to give it four-wheel drive and 100hp. The Minneapolis-Molines were only manufactured for a short time in the UK between 1946 and 1949, so it was an unforgettable sight."
Other collectors travel hundreds of miles to the event, including the Reid family who transport machines from Arbroath, Angus, to Newark every year.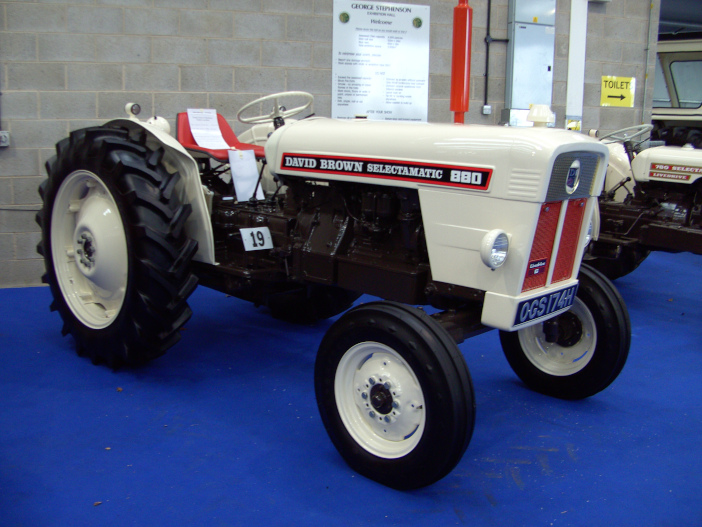 In 2003, Neil Reid took a 1970 David Brown 880 Selectamatic, winning the Best David Brown and the Concours 1965-78 Classic awards. He has returned with the machine many times, winning further honours including the Heritage Machinery Shield and a second Best David Brown. The same tractor will make its return this year for the 20th-anniversary celebrations.
Another returning exhibit is the International Farmall H, owned by Dan Bartle. "This tractor was bought by Joseph Camm Farms, Retford in 1948 and used as their main tractor for specialist row crop work in the springtime," he said.
"After many years of service, the tractor was loaned out to the local agricultural museum and put on show to the public. After a few years, the museum unfortunately closed, leaving the tractor abandoned. The original owners contacted me and my uncle in 1998 to rescue the tractor, along with a Fordson N tractor which the farm owned too.
"Both tractors were recovered and restoration began," he added. "My uncle restored the International Farmall, replacing many parts as well as importing the correct replacement tyres from the USA. He took this tractor to a lot of local rallies including the first Newark tractor show in 2003. I inherited this tractor back in 2022 and now have both tractors."
Another contribution will come from James Hardstaff, who will bring another tractor that was exhibited at the very first event. "It was a prize-winner then – a 1954 Fordson Major County Four Drive. I originally bought it from a scrap yard just south of the Dartford Tunnel back in 1998," he says. "It took me four years to restore, then I showed it during the 2003 season, ending up at the first vintage tractor show at Newark. I'm pleased to be bringing it back this year for the 20th anniversary display."
The event takes place on the 4th and 5th of November. Tickets are available from www.newarkvintagetractorshow.com