Speaking at the NFU conference on February 21, 2023, Secretary of State for Environment, Food and Rural Affairs, Thérèse Coffey laid out the government's plans to support the farming industry over the coming year.
Setting these out under four subheadings (a – agriculture, b-biosecurity, c – conservation and d – delivery and delivery by Defra.), Dr Coffey reinforced the importance of the work being done by the farming community.
She said: "Keeping the country fed is what farming is for. Farmers' primary purpose is to produce the fine food we enjoy; we want you to keep doing that; we want you to get a good reward for that and we also need your help to protect and enhance the environment."
Agriculture
When sharing the government's commitment to agriculture, Dr Coffey said: "Making space for nature and continuing sustainable food production. They are not mutually exclusive. In fact, I believe that the two can and must be symbiotic. In practice a lot of this is not new. It is rediscovering, to some extent the agricultural techniques of our parents and grandparents, and marrying them with the latest scientific innovation.
"Access to clean water, healthier and productive soil, abundant pollinators these are all absolutely critical to producing good food. And as the NFU have regularly pointed out, tackling climate change is key for the industry. It is our intention to make it straightforward for farmers to participate (in programmes) whether you're a tenant or a landowner, an upland farmer or a commoner, a new entrant or a veteran."
She continued, explaining that the new programmes have been designed so that farmers can select the ones that best suit their needs: "You can now choose from our pick and mix menu which is deliberately flexible so you can choose what works best for your farm as part of your plan to improve the productivity, profitability, sustainability, and resilience of your business for the future. And I recognise that you also need access to labour, steady energy and fertiliser prices, a good deal with buyers, and strong bio-secure borders. I will continue to work on all of these issues and more."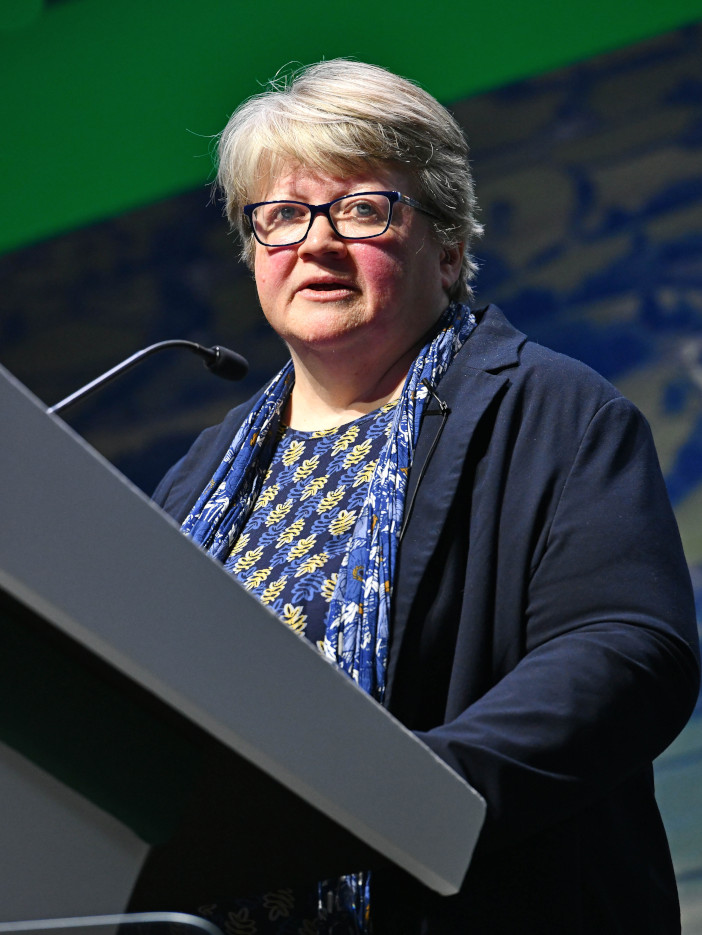 Biosecurity
Speaking on biosecurity, Dr Coffey said: "Of course, our borders can and must be an effective first line of defence in securing a safe, healthy environment, and safe healthy food – helping us tackle problems before they can spread, and giving the market confidence in the outstanding quality of the goods that we produce in the country and trade with our partners around the world. That is a key element of our new Plant Biosecurity Strategy – our plan for the next five years of action."
Actions on animal health and welfare were also discussed. She said: "Farmers have always been at the heart of animal health and welfare. We know it is absolutely vital to strengthen biosecurity and prevent diseases. Indeed, data on this unprecedented outbreak of avian influenza – both in scale and spread, in wild birds and poultry farms – underlines the need for us to rise to the increased threats of diseases.
"For each infection in recent months a weakness in on-farm biosecurity has often been found as the most likely source of infection – so we need to address that as a matter of urgency. In all cases, we will continue to push to make sure that we are tackling the issues at source – and throughout the supply chain where if that is what is needed as well."
Regarding technology and innovation, she said: "We need to get cutting edge, game changing technology and innovation out of labs and into the fields. Breakthroughs like the new strains of wheat being developed at the John Innes Centre in Norwich, that are more resistant to climate change, and more resilient to pests. They have a huge potential to help us feed the world – and do it without the need for quite so many pesticides, particularly those harmful to pollinators.
"But we need to scale up. So, I expect our prominent research institutes to start to take advantage of the new freedoms that we are bringing to life, including through the Precision Breeding Bill that the NFU have supported from the get-go, and it should receive Royal Assent soon.
Countryside
Dr Coffey explained the government's desire to 'level up' across the country, ensuring that people have all that they need, regardless of where they live: "We want to support the productivity of our rural businesses and my department will ensure that rural is a core component of the government's levelling up mission.
Delivery
The final section of her speech discussed the responsibility of Defra to deliver in a timely fashion. Dr Coffey acknowledged that there was some uncertainty with the services in place. She said that targets have been set and encouraged farmers to investigate options: "We have set ourselves a target of 70% of agricultural land and 70% of farm holdings to be covered by our new farming schemes by 2028. It's our job to make the schemes as attractive as possible so that you want to join – and I hope you will all take a look
"But I just wanted to make that Defra will be delivering for you, just as you deliver the great British food that we enjoy day in and day out. Lastly, I want to recognise that much of what lies ahead will not be easy – we know that. But is essential. And we know that if we work together, we can get this done, and get it right, so we do right by each other and right by future generations to come. so we hold on to what makes our countryside so special, while we secure sustainable, resilient, profitable farm businesses we need to keep our country fed for generations to come. That is what is at stake – and I will do all I can to help you see it through."