Grimme UK is hoping to see a repeat of the success at the British Potato Show, where in 2019 it saw hundreds of visitors enjoying free food and drink and browsing the company's latest innovations.
The 2021 event, which will take place on the 24th and 25th of November at the Harrogate Yorkshire Event Center, will once again play host to the company's hospitality as well as the latest machinery and an opportunity to speak to members of the sales teams from both Grimme and Haith Group.
Grimme's Vatitron 470 four-row self-propelled harvester will take centre stage. It features a pivoting rear axle, available with tracks or wheels, for a high degree of manoeuvrability and improved soil protection. There are also several automated features, including Speedtronic and Visual Protect, which can be conveniently controlled from the cabin.
The company will also introduce the latest CleanLoader, designed to reduce the amount of clod and haulm found in the harvested crop. It's fully road legal and does not require an external power source to operate. Grimme states that it is also very efficient, burning just 50 litres of diesel in 12 hours, with a throughput of 120 tonnes per hour.
Integral to the machine is the RH25-60 self-emptying hopper, with a capacity of 21 cubic metres. The hopper automatically feeds onto twin coil units to ensure even and constant crop flow through the machine.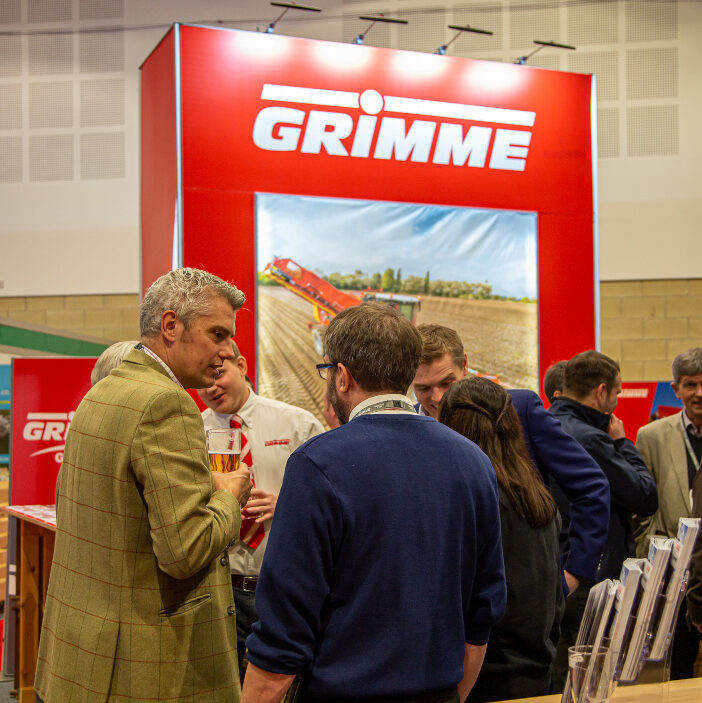 A further benefit is an elevator, that has a 25-degree pivot range, removing the need to reposition trailers during filling. It also has a 7m overloading length, making it possible to load over hedges and ditches.
Grimme will also showcase its spring machinery range, including tillers, destoners and planters, as well as exhibiting a working demonstration of the HarvestEye sampling system, developed in collaboration with B-Hive.
"We are very excited to be returning to Harrogate in November! It will be great to finally see the potato industry come together in mass and in person," said Tom Goose, sales manager at Grimme UK. "British Potato is one of the highlights of the year for us and we are extremely excited to return to the UK's number one potato event. In the light of recent events, we're determined to make sure all guests receive a very warm welcome and make the event one that people remember for a very long time!"