The countdown has started for this year's British National Ploughing Championships & Country Festival, which will be held on the 9th and 10th of October at Mindrum Mill, Northumberland, with the permission of D Harvey & Son.
Ploughmen and women from across Great Britain are expected to attend the event, which was cancelled last year due to Covid-19. Host farmer, Ian Harvey, held the offer of the 250-acre site open for an extra year so that the 70th Championships could be celebrated on his land. The event traditionally is held in a different part of the country each year, and this is only the third time that it has ever been held in Northumberland and the first time it has ventured so far north in over 50 years.
Alongside the competition, there will be trade stands with a wide selection of agribusinesses, from feed, buildings, tools and tyres. There will also be shopping stalls, again with a wide variety of books, garden ornaments, clothing and footwear, and crafts of all sorts.
The competition will take place across a variety of classes, with 'world style' conventional and reversible seeing the operators vying for a chance to represent their country in the 2022 Ploughing Contest in Russia, or the European Reversible Championships in Northern Ireland.
The vintage trailed, hydraulic and classic classes will compete for places in the European Vintage Ploughing Championships and all of these along with tractor high cut and the horse ploughmen will be trying to win the trophy for the overall Supreme Champion of Great Britain. There will also be club championships for Ferguson, David Brown and Ford and Fordson tractors, crawler ploughing and horticultural tractors and ploughs.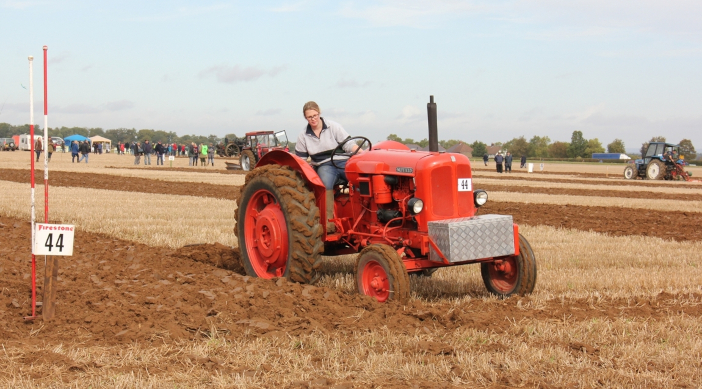 Horse-pulled ploughing is always a popular sight and nine pairs, from as far afield as Hampshire and Kent will be working on more general-purpose ploughing on the first day before switching to the high-cut style on the second.
There will also be four steam ploughing engines, including a pair of Fowler BB1 engines pulling a plough, while another pair demonstrates how cultivation work was work. Again, these will be travelling some distance – one pair from North Yorkshire, one machine from Fife and its partner from Derbyshire.
Tractors and trailers will act as buses to transport visitors around the site and there will be demonstrations of the newest agricultural machinery, as well as working and static vintage tractors on show, driven by members of the Borders Vintage Agricultural Association.
The event is organised and run by volunteers from the Society of Ploughmen, a registered charity. Chairman of the Society, Vivian Samuel from Herefordshire, himself an ex British and World Champion Ploughman said, "It will be a great pleasure to bring the Championships to Northumberland, so close to the Scottish border. After being forced to cancel last year, we can't wait to get back ploughing!"
The main sponsors of the event are Bridgestone Firestone and Continental Tyres, with further support from Aztec Oils, Tama Farm Grown Solutions, Dales Agri Sales, Cheffins, Friends of Ferguson Heritage, Cereals event and AR Demolition.
For more information go to www.ploughmen.co.uk