A British documentary feature film about soil and regenerative farming, Six Inches of Soil, has been shortlisted for the Lush Spring Prize 2023 in the Influence Award category. The prize celebrates local, national or international organisations and networks that have a core focus on campaigning or lobbying to influence policy, regulation or public opinion in support of regeneration.
Producer of the film, Claire Mackenzie said: "We're so proud to sit amongst these nine other incredible projects for the Lush Spring Prize Influence Award, which is recognised all over the world. We'll be excited to find out in May if we've been successful and would like to wish all the contenders in all the categories the very best of luck."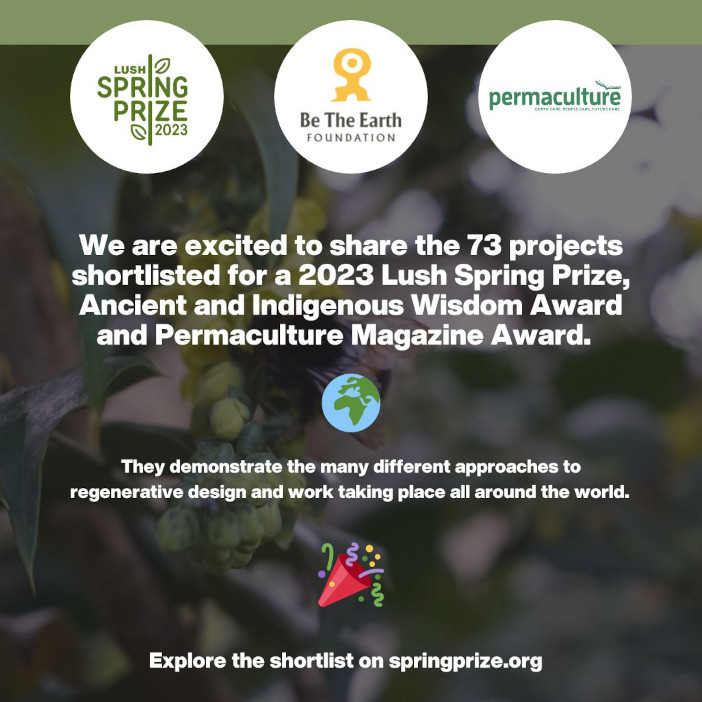 This year's Lush Spring Prize received over 350 applications which were initially whittled down to a shortlist of 73, with 50 applications being shortlisted across the Intentional, Young, Establish and Influence Spring Prize categories; 11 applicants were shortlisted for the Permaculture Magazine Award (hosted in partnership with Permaculture Magazine), and 12 for the Ancient and Indigenous Wisdom Award (hosted in partnership with Be The Earth Foundation).
The shortlist sees entries representing over 40 countries and is a diverse list, covering multiple bioregions and demonstrating many different approaches to regenerative design adn work. All entries can be viewed on the Spring Prize website.
There are at least two prizes in the influence category and each will be awarded up to £25,000. The organisers aims to award one prize to a small-scale project in this category. Winners will be announced in May 2023.
Six Inches of Soil, which will be released in Autumn/Winter 2023, will tell the inspiring story of British farmers standing up against the industrial food system and transforming the way they produce food – to heal the soil, benefit our health and provide for local communities.