GIC, the Gainsborough-based manufacturer of packaging equipment, will celebrate 18 years of its continuous motion machines at this year's British Potato show. The anniversary will be marked by the latest GIC3100 machine, which will take centre stage on the company's stand.
The company introduced its first continuous motion machine in 2003 and has continued to build on the engineering principles since its launch. Four machines are now offered by the firm, comprising the GIC3000, the GIC8000, the GIC3100 and the GIC8100. The 3000 and 8000 units are designed to pillow pack, while the remaining, higher-speed machines offer doy, quod pack and servo gusseting capabilities.
"Over the last eighteen years we have developed a suite of machines to suit the needs of the potato industry, as well as those companies packing fresh produce and whole head crop handlers, who rely on bulletproof reliability, to frozen food factories and condiment manufacturers, who need high speed and high care versions," said GIC managing director Andy Beal. "When we started to design our continuous motion machines, we decided that they would feature the fewest possible moving parts. By minimising the number of moving mechanical parts, we have ensured the GIC3000 and GIC8000s are incredibly efficient and reliable.
"Obviously, there have been several enhancements over the last 18 years. We have upgraded the electronics, introduced remote access to the machines, and we've made them faster by fitting them with new servo motion technology as it has become available."
The latest innovation from the firm has been the integration of Ceetak QPH sealing technology. This allows full calibration, control and diagnostics of the system via the GIC touchscreen. A dedicated Ceetak sealing page enables the user to control operating characteristics related to the sealing, cooling and release phases of the cycle. It also allows operators to calibrate the system to ambient conditions to ensure efficient use and diagnose potential faults and warnings.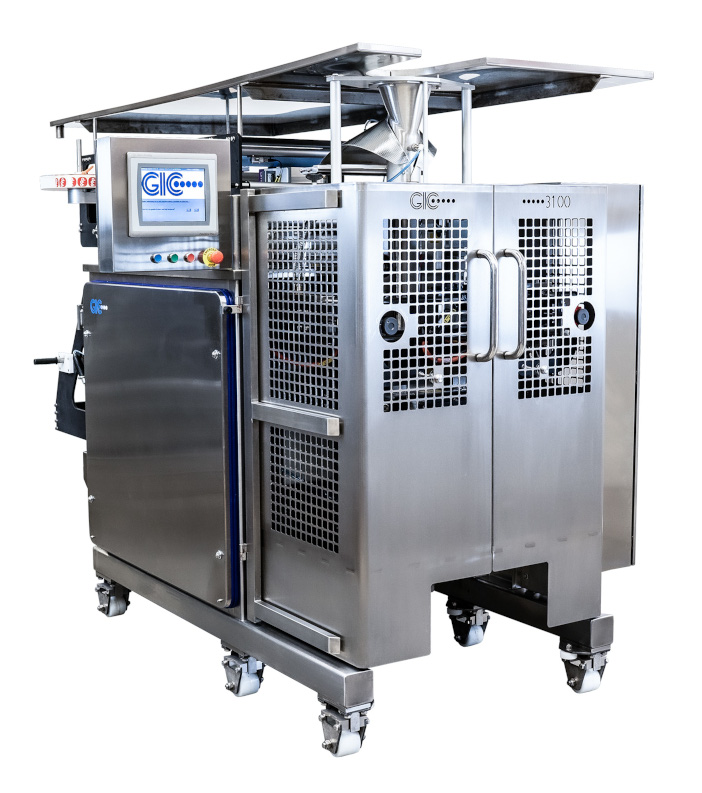 A further benefit is the introduction of interchangeable jaws, allowing traditional heat seal methods, or the QPH system, to be fitted or removed quickly. This provides greater levels of flexibility in specifying methods of heat-sealing polypropylene, polyethylene and laminates on the same VFFS machine.
The relationship with Ceetak also allows GIC to incorporate the TOSS HLS hot air sealer into continuous motion machines. This can be equipped when the units need to run at very high linear film speeds.
Since the launch of the GIC continuous motion machines, the company has commissioned several hundred units to frozen and dried food industries, as well as for fresh produce. The first was supplied to E Park & Sons in Epworth and is still in use today, used to pack potatoes. It received a full GIC factory refurbishment in the summer of 2014, 11 years after it was purchased.
Today the GIC8000 is the company's best selling model and is used around the world.
For more information go to www.gic.uk.net