Farmers are, more than ever, looking to optimise grain quality post-harvest as a catchy harvest season, uncertain weather patterns and the phasing out of the Basic Payment Scheme (BPS) focus their attention. At the Midlands Machinery Show on the 9th and 10th of November, manufacturers will highlight new technologies to improve efficiencies, throughout and protect the grain during handling and help farmers maximise their income.
"It is critical to look after corn after it has left the combine," said Richard Flach, co-owner of grain drying specialist Flach and le-Roy. "The benefits of correctly and efficiently handling and storing grain post-harvest cannot be ignored any longer. All too often farmers spend £1-2m on a new combine – which they replace after five years – then just stick the grain in a shed until sold."
He added that there has been a marked increase in inquiries for both grain handling and storage systems. As quality systems can last up to 40 years, family farms with a keen younger generation are currently reviewing on-farm facilities while they still have BPS to help finance replacements and upgrades.
"This season some farmers have really struggled to get crops dry in time to meet market and storage requirements," explained Andrew Head, managing director of grain handling firm BDC Systems. "Those who understand the benefits of hot air temperature driers, such as the Svegma Continuous Flow Dryer, have seen how successfully they can manage wet, tricky and unpredictable harvests."
Efficiency is also a key priority, especially now following significant increases in fuel and gas prices.
"Farmers can save on fuel costs by maximising the sun's operating latent heat when on-floor bulk drying," said Mr Flach. "Justify the cost of investing in technology which promises efficiency: Will that investment make financial sense when only used for two months a year?"
The design of double drying systems is said to offer increased efficiency. Jorge Semiao, marking manager at grain dryer manufacturer Alvan Blanch said: "Recirculating hot air saves fuel. These systems might retail for more money but there is huge operative efficiency.
"We are soon launching a smart controller which reads both the grain's input and output moisture levels and then automatically manages the drier to achieve desired moisture output," he adds. "Over the past two years 20 UK installations have trialled the system; the results and accuracy are great. The controller can be fitted to existing systems and has proven to reduce fuel costs."
According to Mr Head, BDC Systems has also seen increased interest in its Moisture Monitor System (MMS): "It samples grain from both incoming and outgoing elevators," he said. "If grain is getting dried to 14%, it detects when moisture content goes above or below 14% and sends a text message. The MMS' system is remotely controlled to ensure correct levels are maintained."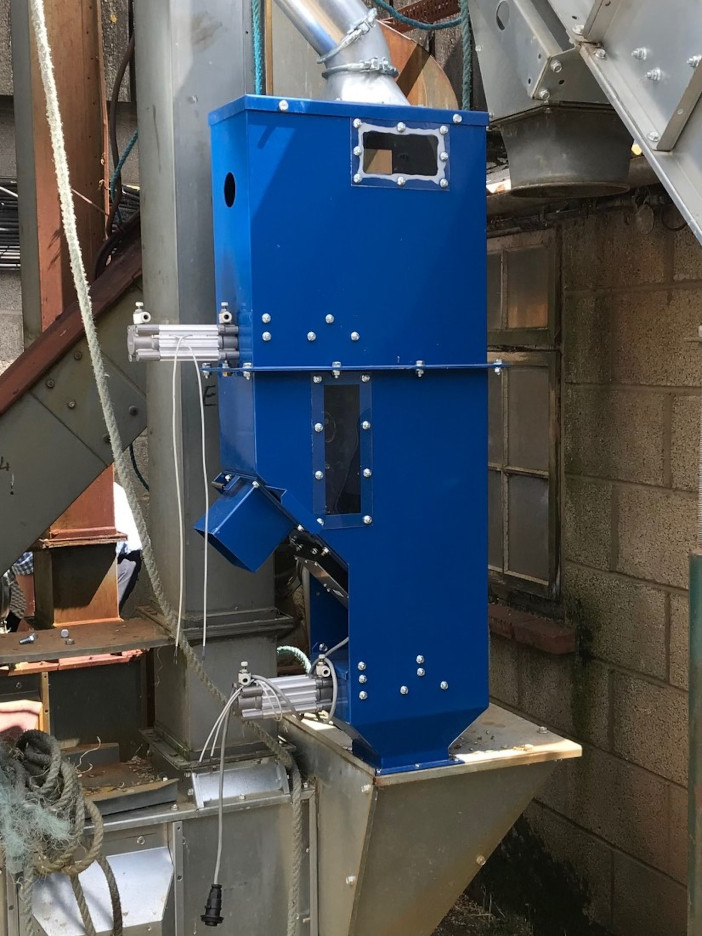 Garry Ingram, managing director at Master Farm, which specialises in mobile driers, admits that reinvesting in grain storage and handling is never a top priority for farmers.
"They tend to eke it out year after year because driers are only needed when weather is bad. At harvest they tear out their hair out for a few weeks then convince themselves next year will be ok," he said.
"But mobile systems are certainly generating more interest. Today's models are more efficient and tend to hold their second-hand value – certainly better than a fixed system. And there are grants out there; you just need to be very astute to find them. There is a lot of paperwork involved but these machines are expensive so it is well worth the effort."
The current logistics crisis has highlighted problems for producers who do not have enough long-term grain storage infrastructure, explained Richard Jenner, member services director at grain marketing co-operative, Openfield.
"The main benefit to co-operative membership is the opportunity to move grain to a network of storage facilities, enabling members to hold onto grain until the market improves. With the grain market moving c.£50/t during both of the past two years, the opportunity value lost has been significant for those who have had to sell immediately off-farm."
Membership also gives access to advanced technology that may not be financially viable on individual holdings but which can add significant value to the crop, he added. "Techniques like fine cleaning and colour sorting are becoming more prevalent as the requirements of the food and drink industries and the customers they serve are ever-evolving."
For more information or to register for tickets go to www.midlandsmachineryshow.com