The Tillage-Live event took place in Down Ampney, Gloucestershire this month and Kuhn Farm Machinery was there in force, demonstrating the latest features on the Espro minimum tillage drill and the Prolander seedbed cultivator.
The Espro range, first launched in 2015, was represented by a 6000R 6m trailed model which included the newly available full-width front press wheels, applying additional pressure to the soil to provide a more level surface and can be adjusted from inside the cab.
Track eradicators have also been incorporated into the new press wheels to help alleviate soil compaction from the tractor tyres.
There is also the option of an additional seed hopper, the SH 1120, to apply a second seed variety or to distribute slug pellets or fertiliser. The full Vistaflow system offers universal tramlining to allow optimum drilling performance regardless of the tramline widths, with adjustment via the CCI 800 or CCI 1200 terminal.
Prolander versatility
The Prolander seedbed cultivator was also on show, with a 6m trailed model working. Capable of working down to 12cm thanks to the frame strength, the Prolander can also be adjusted on the move to work as shallow as 3cm.
The arrangement of five rows of vibrating S-tines is reportedly unique to Kuhn, with a staggered clearance and progressively increasing spacings to aid trash flow through the machine. Tines can be equipped with 60mm shares for seedbed preparation or duck-foot shares for shallow cultivation.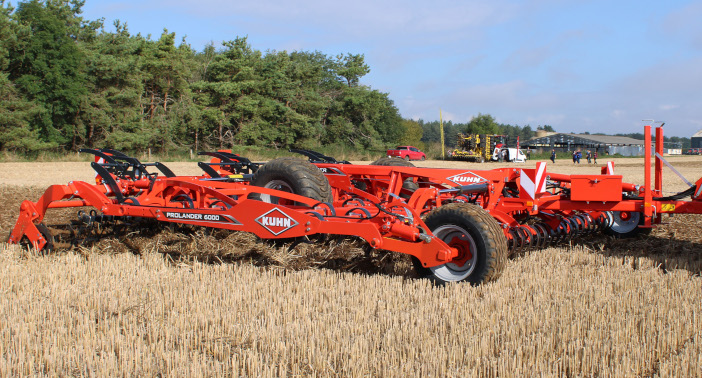 Further versatility is enabled by a choice of rollers, with the double-U being suited to stubble and general tillage work, while the tube roller (with the option of levelling harrows) is ideal for fine tilth work on light soils for root crops.
New for 2022 will be the addition of harder wearing carbide tips and strengthened tines to reduce vibration and offer greater control and accuracy.
The Prolander can work at speeds up to 12kph and has a power requirement of 25-35hp per metre of working width.
For more information go to www.kuhn.co.uk