Kuhn Farm Machinery will showcase two Aero machines, alongside the 12m Optimer L12000 disc cultivator, the Multi-Leader XT plough and the Lexis 3000 trailed sprayer at this year's Cereals Event.
"This year we are hoping to show Cereals visitors the strength in depth Kuhn has in the arable sector. In addition to the cultivation machinery, we will also have a range of drills, a Striger 600R strip-till machine, and a selection of balers," said Kuhn's Edd Fanshawe.
Optimer
The Optimer L is designed for operations at 13-18kph, with working depths from 3cm down to 10cm. Two rows of 510mm discs are set at 16˚ horizontal and 6˚ vertical for the optimal tilth, according to the company, with small or large notched discs available depending on the working depth.
Each disc is individually mounted on support arms, with four integral polyurethane elastomeric blocks to provide protection and depth control. A single, maintenance-free bearing is used on the outer side of each unit, while an underframe clearance of 55cm ensures a good throughput of residues.
Working depth is hydraulically adjusted, with hydraulic pressure maintained on the extension cylinders for consistent downwards pressure across the full working width.
The machine is completed with the Double-U self-cleaning roller, which the machine turns on at the headlands.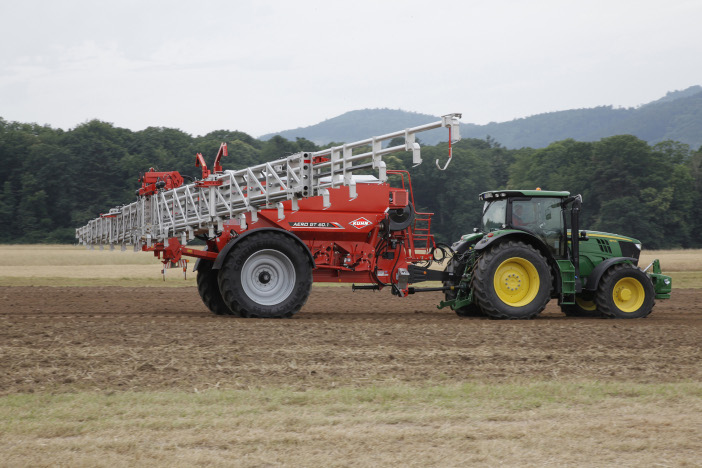 Aero GT boom spreader
The Aero GT 60.1 is a trailed pneumatic boom spreader, offering working widths up to 36m. Kuhn states that application rates have been optimised with a bigger air intake and larger capacity pipes, allowing rates of up to 250kg/hectare at forward speeds of up to 15kph depending on the product spread.
The metering system incorporates six individually controlled units, which can be shutoff independently when combined with automatic section control. With a variable rate map, each metering unit can also apply a different application rate.
The Aero GT 60.1 is fully ISOBUS compatible, controlled through the CCI 800 and 1200 terminals, or through the tractor's own ISOBUS display. The company has also simplified the calibration and added maintenance-free bearings to the fan units.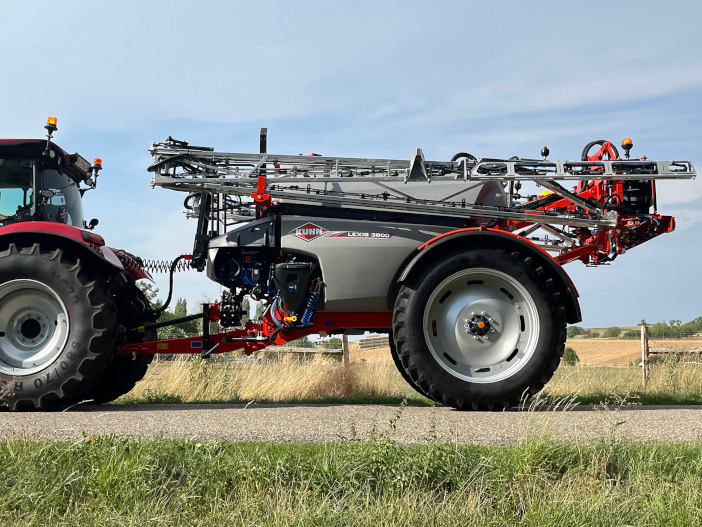 Lexis 3000
The entry-level Lexis 3000 will be demonstrated in the Sprays & Sprayers Arena, featuring a 3,000-litre polyethene tank and a 320-litre rinsing tank, with a choice of steel or aluminium booms from 18m up to 28m.
A choice of either Trapezia or Equilibra suspension systems maintains the spraying height, while an anti-whiplash system protects the boom in the case of sudden braking or acceleration.
The Kuhn Diluset+ valve system uses a steering wheel-type valve to control the main spraying and flushing circuits, requiring up to 50% fewer valve operations than some competitors, according to the company.
For more information go to www.kuhn.co.uk