When EIMA International returns in October, Landini will exhibit a wide range of new products with updates across the full product portfolio.
Starting with the REX4, the five-model range runs from 75hp to 112hp, powered by Stage V, four-cylinder Deutz engines, with Common Rail electronic injection, and using DPF, DOC and the SCR EAT system to meet emissions regulations.
A range of specifications is available. Those with cabins come in V, S, F and GT variants, with platform models offered in F, GE, GB and GT versions. Transmission options range from a 12×12 gearbox with a mechanical shuttle to the 48×16 Robo-Shift, with an electro-hydraulic shuttle and fully robotised HML.
Further options include a suspended cabin and front axle, as well as the Advanced System System, which can be combined with hands-free control and telemetry system. The front axle comes as standard with a limited-slip differential lock and electro-hydraulic four-wheel drive.
The company states that this also guarantees high efficiency when using front coupling equipment, which can be directly installed or, as an option, be moved using the front linkage fully built-in with the chassis and the front PTO. The front axle also oscillates extensively and combines with a 55-degree steering angle.
Engine maintenance intervals have been doubled from 500 to 1,000 hours and, on platform models, a new panel has been developed to ease access to the clutch and make adjustments to the reverse shuttle control simpler.
Platform models feature an electronic rear linkage with a maximum capacity of 2,700kg, which can be further increased to 3,200kg for the GT version. It's also possible to fit a full LED lighting system throughout the range.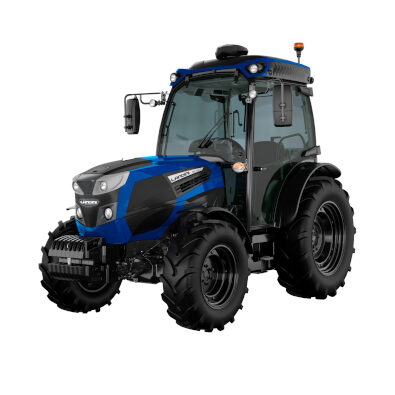 Tare weights range from 2,600kg up to 3,200kg for the cabin version, with a maximum allowed weight of 5,250kg. The wheelbase is 2,140mm as standard, increasing to 2,190mm on V variants, which also boasts a minimum width of 1,000mm.
An open-centre hydraulic circuit offers 30 litres per minute for steering, with 58 litres available for services. A third tandem pump can also be connected to the services pump, making it possible to achieve a flow rate of 55 litres per minute at just 1,500rpm. A total of four rear spools and three mid-mounts can be added, with the option of a fully electro-hydraulic configuration.
REX4 Electra
The company will also present the REX4 Electra, winner of the EIMA International Technical Innovation Award, which is based on the REX4 range and features an electric front-wheel drive with independent wheels, brake energy recovery, a cab with electronic semi-active suspension and a robotised transmission.
Landini states that these technologies will provide 10% fuel savings, a 15% wider steering angle and greater stability in transport mode. The model showcased has been revamped, with new mechanical and electrical components.
REX3
The restyled REX3 range will also be exhibited at the event, now featuring a Stage V engine. Highlights of the range include the compact dimensions, with a 1,950mm wheelbase, minimum ground clearance of 213mm and external widths ranging from 1,350mm to 1,617mm.
Already available as a platform model, or with a low profile cabin on F and GE variants, the REX3 is now available with a new standard cab. The two models are fitted with four-cylinder Kohler engines, offering 68hp and 75hp. Engine speed management is controlled via the Engine Memo Switch and full autonomy is ensured with a 50-litre diesel tank.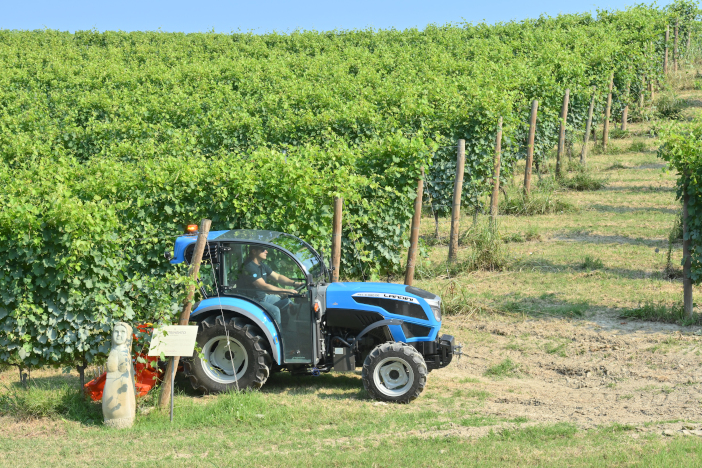 The in-house built transmission offers 16 forward and 16 reverse speeds, with a mechanical reverse shuttle, and a speed range covering 0.4kph to 40kph when a creeper is installed.
Mistral2
Following a 12-month development process, the latest Mistral compact tractors feature Kohler Stage V engines, with the two models boasting torque levels of 180Nm and 200Nm available at 1,200rpm.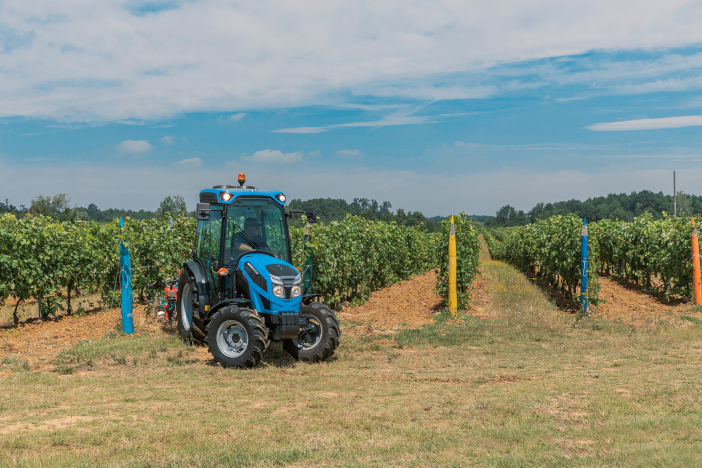 The 2-055 and 2-060 are available in a standard configuration, with or without a cabin, or the GE (ground effect) variant as a platform. Models with cabs have a weight of 1,780kg, with a maximum allowed weight of 3,050kg and a wheelbase of 1,790mm.
With a minimum width of 1,260mm, Landini says that the Mistral2 is the best specialist tractor in terms of compactness. The rear tyres are available in 20-inch and 24-inch sizes, giving the GE version bonnet heights of 1,131mm and 1,206mm respectively.
Landini 5-085
Featuring an FPT, four-cylinder, Stage V engine, the Landini 5-085 offers 75hp and 375Nm. The four-post cabin absorbs oscillation and vibration thanks to four silent blocks and the versatility can be increased with an L15 front loader, which now comes with a dedicated ergonomic joystick.
Manoeuvrability is guaranteed by the 2,171mm wheelbase and the 5-085 also includes a mechanically controlled hydraulic hitch, which features the Ergonomic Lift System and has a capacity of 3,900kg. There is also the option of an electronic hitch system with remote controls on the fender.
The PTO is available with one, two or four speeds and there is the option of a 1,600kg capacity front hitch and PTO system. The rear final drives can accommodate 34-inch wheels and the 5-085 has a maximum allowed weight of 5,800kg.
The Serie 5
Three models are available in the Serie 5 range, offering 95hp, 102hp and 115hp, with FPT, Stage V engines with Turbo Intercoolers and Common Rail electronic injection. The emissions system includes EGR/DOC/DPF/SCR technology.
Eight transmission configurations are available, from the 12×12 with a mechanical shuttle to the T-Tronic 48×16 with hydraulic shuttle and HML, the option of a creeper box and the Park Lock function.
The hydraulic circuit offers 82 litres per minute for services, with an independent 32-litre system for steering. It's also possible to extract 35 litres for moving tipping trailer. Up to six hydraulic spools are available, with three mechanically controlled, one with electric control and two, optional mid-mounts.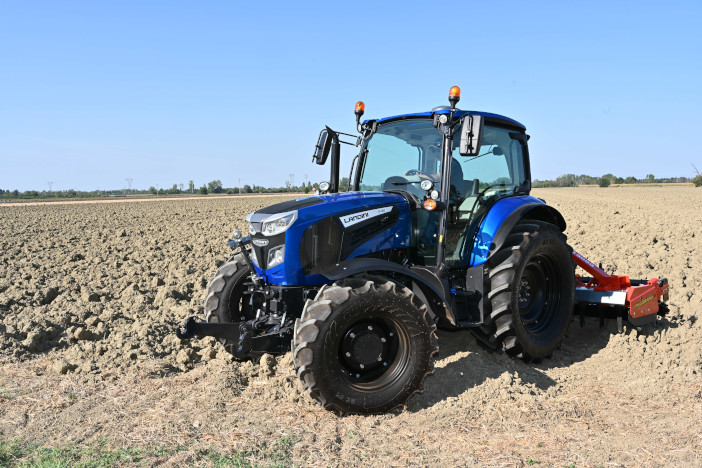 The L20 front loaders are fully integrated with a dedicated joystick, which also features transmission controls. The chassis has been purposefully designed so that ground clearance is not impacted when a loader is fitted.
Into the cabin and the Total View Slim variant can be rigid or mechanically suspended, and offers 360-degree visibility and has the option of a full LED light package. It's also possible to fit the Serie 5 machines with satellite guidance, a touch-screen display with ISOBUS functionality and the Landini Fleet Management telemetry system.
Landini Series 7 Short Wheelbase
The company's high power Stage V range features four models, with FPT NEF engines with four or six cylinders, all meeting Stage V emissions. The 7-165 and 7-175 offer 165hp and 175hp from the four-cylinder power units, while the 7-170 and 7-180 boast six-cylinder engines both offering 175hp.
The four-cylinder models have a 2,651mm wheelbase, increasing to 2,760mm on the six-cylinder tractors. Across the range, a maximum allowed weight of 11,500kg is provided with 710/60 R38 rear wheels for greater stability and comfort during transport.
Two transmissions are available: the V-Drive four-stage continuously variable system, offered on the higher horsepower models, and the Robo-Six powershift box, with six gears across five robotised ranges, available on all models.
Stop&Action integrates the de-clutch system into the brake pedal. When it's combined with the Auto Powershift system, it is possible to drive the Robo-Six gearbox like a continuously variable transmission.
The four-speed PTO system features automatic engagement and disengagement; the closed-centre hydraulic system offers 123 litres per minute (with the option of a 160-litre system) and the rear hitch can lift up to 9,300kg. There's also the option of a 3,500kg front hitch.
Two cab suspension systems are available; the mechanical or semi-active electronic variants. There is also an independent front axle suspension system available as an option. In the cab, the Data Screen Management 12-inch touchscreen includes a new menu layout and increased storage of activities and new programmable buttons.
The 7 Series is available with the full range of Landini guidance systems, ISOBUS functionality and the Landini Fleet Management.
For more information go to www.landini.it