The EIMA International event, held in Bologna, Italy, from the 19th to the 23rd of October, will play host to the new Short Wheelbase (SWB) range of X7 tractors. The latest models include the new FTP NEF 45 four-cylinder or FPT NEF 67 six-cylinder Stage V engines, with eSCR2 exhaust gas treatment and Turbo Intercooler and Common Rail electronic injection.
Models include the X7.4 P6-Drive, with machines offering 165hp or 175hp from four-cylinder engines; the six-cylinder X7.6 P6-Drive, for 165hp or 175hp; or the X7 VT-Drive, available with four- or six-cylinders, both capable of supplying 175hp with the Power Plus boost system.
The fuel injection system is said to offer increased responsiveness, lower fuel consumption and improved emissions. The installation of the power unit gives four-cylinder models a wheelbase of 2,651mm for greater stability, while the larger six-cylinder machines have a 2,760mm wheelbase. All models have a maximum allowed weight of 11,500kg and a maximum rear tyre size of 710/60 R38.
Changes have been made to the 3,500kg capacity front hitch to improve visibility. Also new is the one-piece bonnet, in line with the McCormick family livery, with a 90-degree opening angle for better access. The tractors include the Cooling Matrix system, improving access to the radiators for easy cleaning.
The cabin, which has been brought down from the larger machines, includes twelve LED lights to provide 360-degree visibility at night.
New X7 SWB tractors include an Engine Brake as standard, using the turbocharger's throttle valve to reduce engine rpm by operating the engine brake and rear brakes simultaneously.
The continuously variable, four-stage VT-Drive features four sets of crown wheels and oil-cooled clutches, with a speed range of 0.04kph to a maximum of 50kph. This transmission is controlled by the VT-EasyPilot joystick on the multifunction armrest.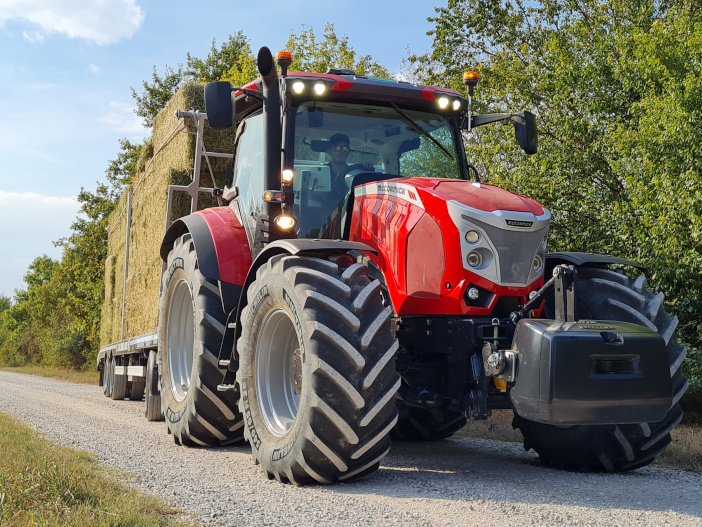 The P6-Drive is a six-speed powershift transmission, with five robotised ranges and an electro-hydraulic reversing shuttle. The total gears are 30 forward and 15 reverse, increased to 54×27 when equipped with a creeper box. The gearbox is controlled with the EasyPilot joystick and features the Stop & Action declutch system and the automatic powershift system.
Closed-centre hydraulics offer 123 litres per minute, upgradable to a larger 160-litre if required, and can handle up to eight spool valves. The rear hitch can lift up to 9,300kg.
As an option, an independent front axle suspension can be fitted which has electronic control and absorbs stresses and bumps for each wheel. Operators can also specify mechanical or semi-active electronic cab suspension.
The control software loaded onto the Data Screen Management terminal includes a new menu layout and programmable buttons to customise operation. The new X7 machines can also be fitted with the full Argo precision farming package, including satellite guidance, ISOBUS functions and the McCormick Fleet Management system.
X8 VT-Drive Stage V
Three models of the X8 range are offered, with 264hp, 286hp and 310hp delivered by six-cylinder Betapower engines, meeting Stage V emissions regulations with eVGT electronic variable geometry turbochargers and SCR exhaust gas treatment.
The four-stage continuously variable driveline can reach 40kph at just 1,300rpm and 50kph at 1,600rpm, while the closed-centre, 157-litre load-sensing hydraulic system can be upgraded to 212 litres, handling up to ten electro-hydraulic spool valves. The X8 also features a 12,000kg capacity rear hitch.
Implements can be managed using the ISOBUS certified system, integrated into the Data Screen Management terminal and there is the option of a 5,000kg front hitch, with a 1,000rpm PTO system.
The front axle is equipped with an electronically controlled parallelogram suspension and oil-bath disc brakes and the maximum allowed weight is 16,000kg, spread over a wheelbase of 3,000mm, with rear tyres up to 900/60 R42.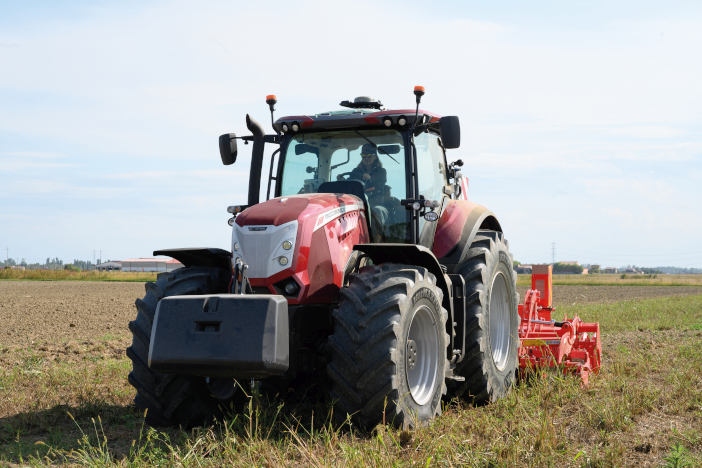 Panoramic views are ensured in the Première Cab, with a four-post design. Soundproofing reduces noise levels to 70Db and the interior is said to have an automotive feel, with automatic climate control, an adjustable steering column and dashboard, dynamic air suspension in the seat and the VT-EasyPilot joystick on the armrest.
X5 Stage V
Finally, the latest generation of X5 machines will be showcased. The three models offer 95hp, 102hp and 115hp and are complemented by the X5.100 HC and X5.110 HC high clearance machines. All models are available in Premium and Efficient specifications.
Power comes from the Stage V, FPT F36 four-cylinder engine, featuring Turbo Intercoolers and Common Rail electronic injection.
Brought down from the higher ranges, there is the option of a suspended front axle, working with the mechanically suspended cab. There are also eight possible transmission configurations, starting from the 12×12 with mechanical shuttle and topping out with the 48×16 Reverse Power Shuttle with HML, creeper box and park lock.
The hydraulic system offers up to 82 litres per minute, with up to six spool valves. There is also the option of two mid-mounts for the front hitch or loader and an optional flow selector. Mechanical or electronic hitches are available, with a maximum capacity of 4,500kg.
In the cab, a new joystick handles various loader commands, as well as the transmission Hi-Lo and HML functions. It is also possible to equip the McCormick Fleet Management telematics system.