In a lavish ceremony at the Hilton London Bankside, Farm Contractor & Large Scale Farmer and Agronomist & Arable Farmer, in association with BASIS and the National Association of Agricultural Contractors, held the second-ever National Arable and Grassland Awards.
The competition was fierce this year, with the very best in agronomy, farming and contracting battling across 13 categories, as well as special awards for Grower of the Year and the Lifetime Achievement Award.
Guests were treated to a delicious three-course meal, as well as entertainment from well-respected stand-up comedian Patrick Monahan, who provided plenty of laughs and ran us through the various winners on the night.
Once the formalities were done and the winners properly celebrated, guests had the chance to unwind with the bar open until the early hours, an excellent set from Shine On – who played a host of hits from the 80s all the way up to the present day – and our special NAGA casino, where the more adventurous could put their NAGA dollars on the line to win big.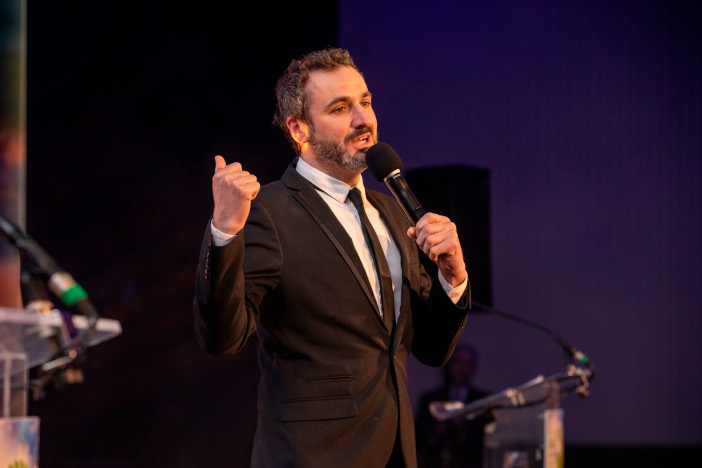 AND THE WINNERS ARE…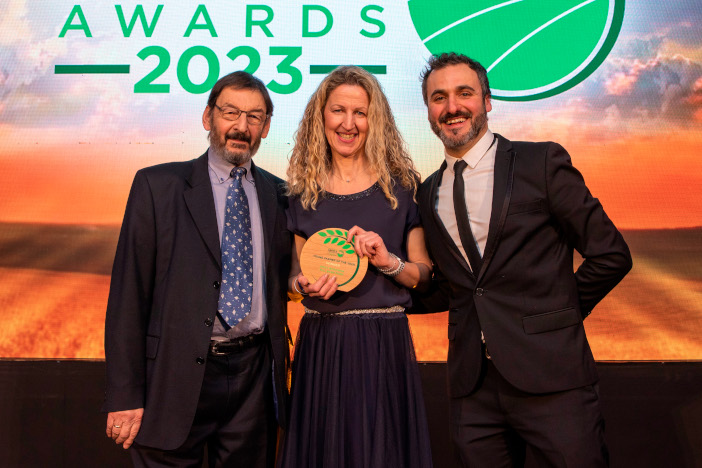 Young Farmer of the Year – Emily McGowan
The sixth generation, and the first woman to take on responsibilities at Millbank Farm, Ms McGowan promoted sustainable practices on the farm and in the adjacent farm shop, while also supporting local farming groups and women in agriculture.
Unfortunately, Ms McGowan was unable to attend the event, so the award was picked up on her behalf by NAAC chief executive Jill Hewitt.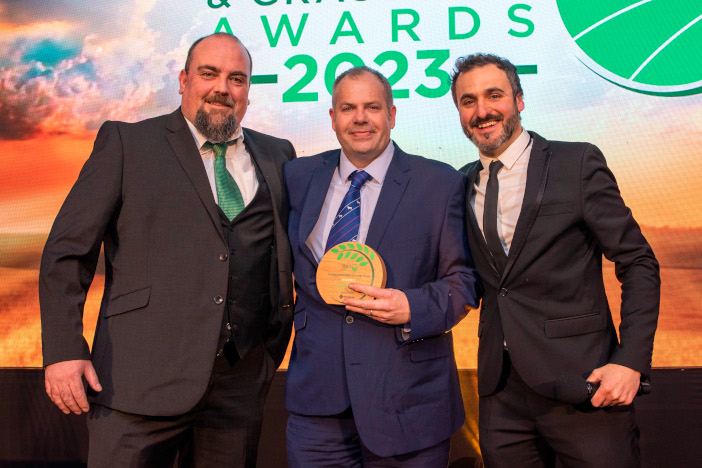 Farm Manager of the Year – Robert Price – Sponsored by Househam Sprayers
Over the last 12 years, Mr Price has overseen a combination of capital investment and environmental measures to run Earls Court as a diverse and responsible farming enterprise.
Unfortunately, Mr Price was unable to attend the event, so the award was collected by Ian Preston, representing Earls Court Farm.
Mr Preston said: "This is really a testament to Rob's efforts on the farm. He works tirelessly and shows real attention to detail."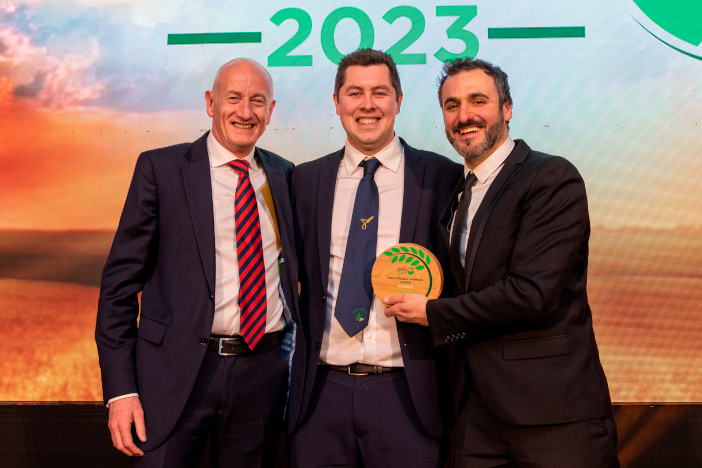 Sustainable Farming Award – Overbury Farms – Sponsored by QLF (Quality Liquid Feeds) Agronomy
Under the management of Mr Freestone, Overbury Farms has farmed regeneratively for six years, using a combination of machinery and technology to limit the carbon footprint, reduce chemical inputs and boost biodiversity.
Unfortunately, Mr Freestone was unable to attend the event, so the award was collected by Overbury Farms foreman Joe Cluley.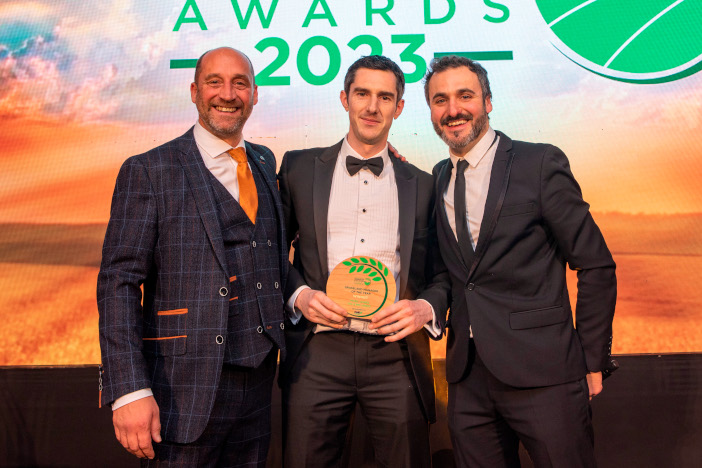 Grassland Manager of the Year – Marc Jones – Sponsored by Omex
Focused on finishing cattle and sheep, Mr Jones has integrated technology to monitor grass growth and quality and has seen yields increase by 25% by increasing organic and bacterial inputs.
Mr Jones said: "It's brilliant to be recognised. We're a family business and this is the culmination of my family's hard work!"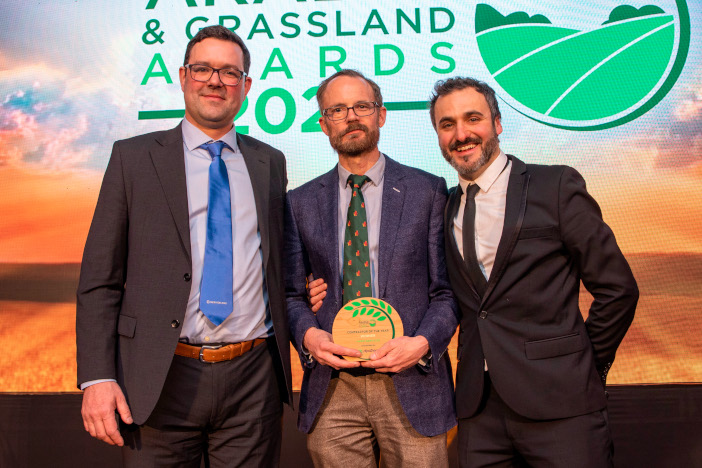 Contractor of the Year – Farm Services Ltd – Sponsored by PFC (Profitable Farming Company) Agri Solutions
For 75 years, Farm Services Ltd has provided drainage operations to boost yields and soil health. Now under the management of Rob Burtonshaw, the firm has invested heavily in machinery and planning software to maximise the benefit to customers.
Mr Burtonshaw said: "It's truly wonderful to be recognised in this way."
Agronomist of the Year – Marion Self – Sponsored by Sencrop
In her work for Prime Agriculture, as well as her previous experience with NIAB, Ms Self has focused on providing clear, practical advice to growers based on a deep scientific knowledge to improve efficiency and decision making.
"I'm overwhelmed," Ms Self said, after collecting the award. "This doesn't just represent my efforts, but the hard work of all my colleagues."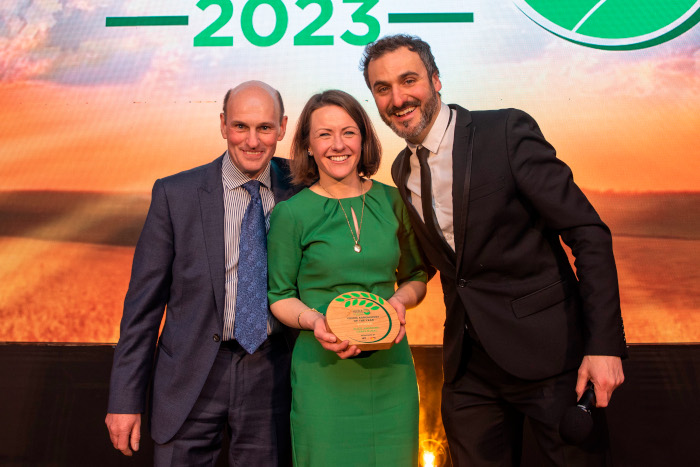 Young Agronomist of the Year – Alice Andrews – Sponsored by UPL Europe
Responsible for nearly 5,000 hectares, Ms Andrews has helped growers to enhance soil health by keeping abreast of the latest technologies available to them and is currently looking the role of carbon calculators. All this while keeping the viability of growing crops at the forefront.
Ms Andrews said: "This is a great affirmation of the work I do. It's so heartening to see so many young people coming into this industry."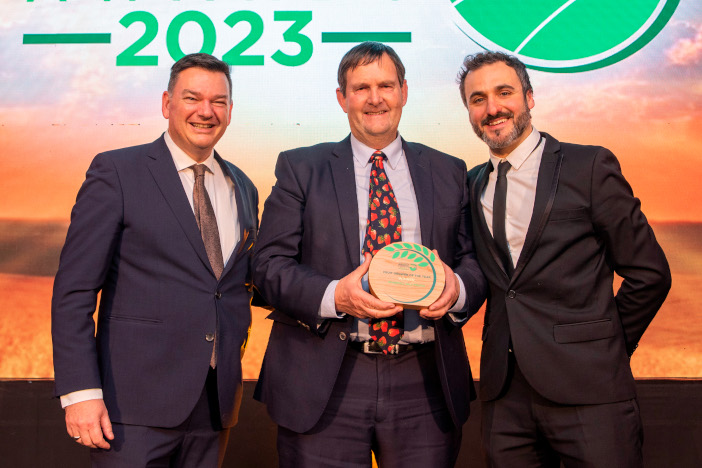 Fruit Grower of the Year – Windmill Hill Fruits
Producing strawberries, blackberries and blackcurrants for major drink producers from its Herefordshire base, Windmill Hill Fruits has also endeavoured to give back to the industry and local community – taking part in various trails as well as holding open days and events on the farm.
Mr Snell, who runs the business with his wife Christine, said: "We are so pleased to be involved with this event and really proud to have been named Fruit Grower of the Year!"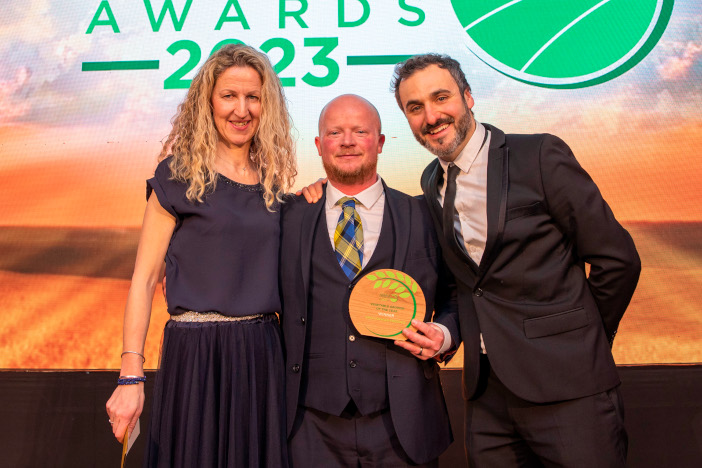 Vegetable Grower of the Year – East Lothian Produce
Growing a range of produce north of the border, East Lothian Produce has used solid agronomic knowledge to keep quality and yields high, while making targeted investments to improve efficiency and reduce food miles.
Mr Logan said: "The work we do in this industry does not always get noticed, so it's brilliant for us to be recognised in this way."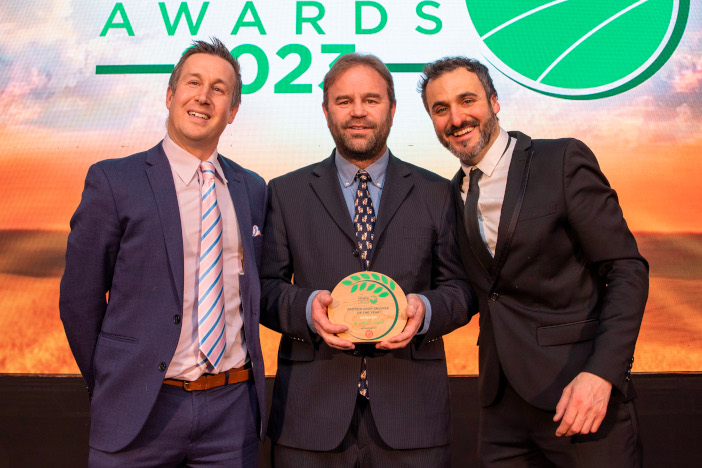 Protein Grower of the Year – Chappell Farms – Sponsored by Limagrain
Using regenerative principles to minimise inputs and focus on soil health, Mr Chappell has been able to maintain above average yields in his pea varieties and has seen reduced pest levels.
Mr Chappell was clearly overwhelmed after collecting his award. He said: "It's unbelievable. I'm completely shocked. Thank you so much."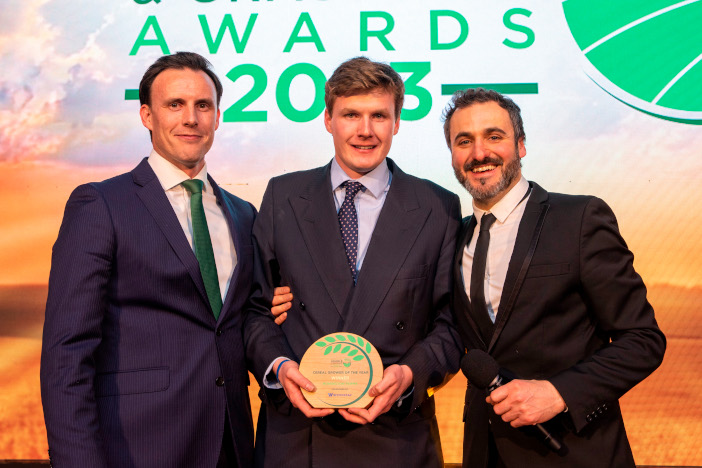 Cereal Grower of the Year – Nonington Farms – Sponsored by Wynnstay Group
Nonington Farms has managed to maintain high cereal yields of 10 tonnes in wheat and 7 tonnes in barley and oats while using regenerative practices to improve soil, water and air quality across the 1,400 hectares.
The award was collected by Hugo Dwerryhouse, assistant farm manager at Nonington. He said: "This is a huge prize for us to win, especially after years of hard work trying to sustainably produce high yields, while reducing input costs."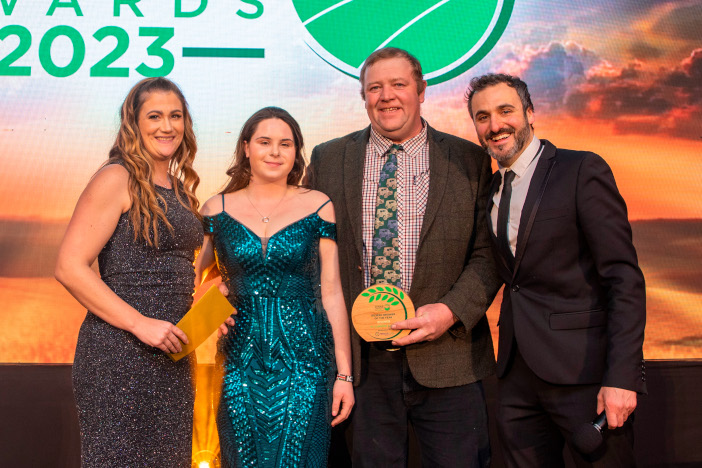 Oilseed Grower of the Year – F C Cummins & Sons – Sponsored by Premium Crops
This multi-generational business has kept oilseed yields high by building organic levels in the soil and investing in precision farming systems to maximise the use of inputs.
Mr Willis, who works alongside his stepdaughter Ms Gilbert, said: "It's really an honour to be recognised, especially given how tough the competition has been this year."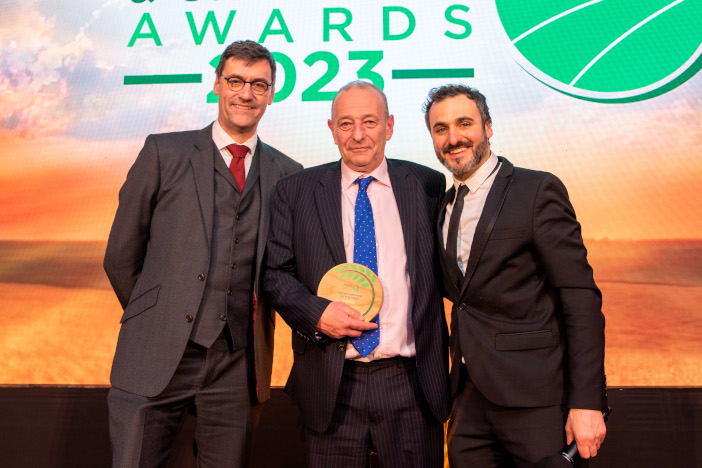 Potato Grower of the Year – Heygate Farms – Sponsored by FMC Agro UK
The Norfolk soils are said to give the 15,000 tonnes produced by Heygate Farms a full flavour and clean appearance, but it's the company's agronomic knowledge and attention to detail across the business as a whole that has assured success.
Mr Gribbon said that the award was proof that the Heygate Farms and the Norfolk Peer brands were growing. "Thank you so much. It's great to see the momentum we are building."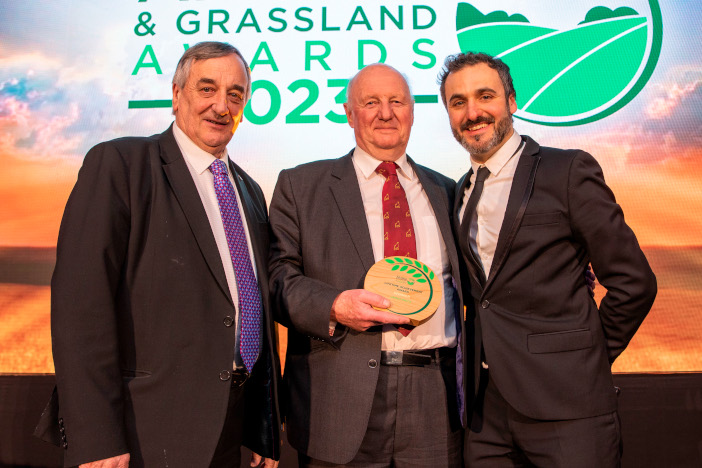 Lifetime Achievement Award – Sir James Paice
MP for South East Cambridgeshire until 2015 and former Minister for Agriculture and Food, Deputy Lieutenant of Cambridgeshire, chairman of the Game and Wildlife Conservation Trust, and vice president of the Highland Cattle Society who still finds time to run his own farm. Sir James Paice is a farmer who understands farming and fellow farmers. His contribution stretches way beyond his time as minister, always being fair as he tried to balance what the industry wanted with political reality.
Sir James Paice said: "I always wanted to be a farmer, so to be recognised for my work in the industry is a great honour. My time as Minister for Agriculture was a career highlight and I'm truly delighted."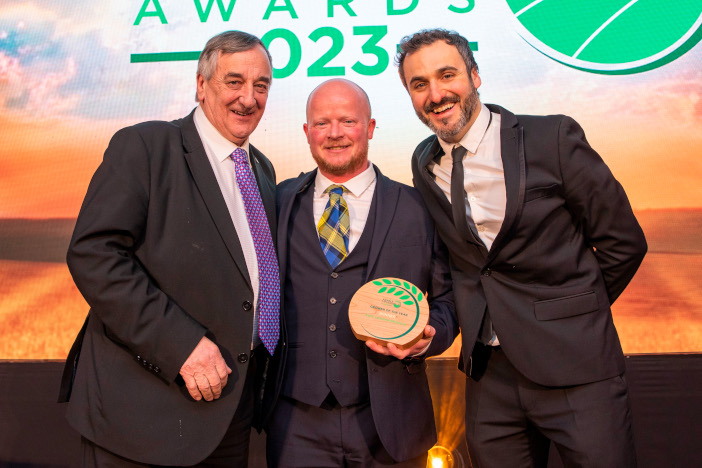 Grower of the Year – East Lothian Produce
To conclude the event, each of the six winners from the growing categories were entered into the Grower of the Year Award. This was to recognise the farming business that was truly the cream of the crop.
Focusing investment to minimise the food miles produce travels, as well as maximising quality. East Lothian Farms has brought together three generations of farming knowledge to farm profitably and sustainably over a wide crop rotation.