At its annual conference on Tuesday February 21, 2023, the NFU's President, Minette Batters, used the opening address to issue stark warnings about challenges faced by UK farmers whilst emphasising the need for all to reinforce a dedication to achieving net-zero and to refuse to take food security for granted.
She said that volatility, uncertainty and instability are the greatest risks to farm businesses in England and Wales today and she warned that those consequences will be 'felt far beyond farming, they will be felt across the natural environment, and in struggling households across the country.'
"Labour shortages and soaring energy prices are hitting the poultry industry, already reeling from avian influenza, as well as horticultural businesses and pig farms. Meanwhile, other sectors are facing an uncertain future as direct payments are phased out against a backdrop of huge cost inflation, with agricultural inputs having risen almost 50% since 2019.
"This was also the year that the potential impact of climate change really hit home. Despite all this, NFU members and the farmers and growers of Britain continued to bring in the harvest, to produce the nation's food and to keep the country fed through tough times. We have seen progress; with the publication of the prospectus for the new Environmental Land Management Schemes; with increases to the Seasonal Agricultural Workers schemes; and in securing the establishment of the Trade and Agriculture Commission, leading to the Food and Drink Export Council and the placement of eight new agriculture attachés to sell British food overseas. More often than not – it has been incredibly hard getting government to back up its rhetoric with concrete actions.
"There are three cornerstones on which a prosperous farming sector must be built and which any government should use to underpin its farming policy. They are boosting productivity, protecting the environment and managing volatility. But the clock is ticking. It's ticking for those farmers and growers facing costs of production higher than the returns they get for their produce. It's ticking for the country, as inflation remains stubbornly high, and the affordability and availability of food come under strain. It's ticking for our planet, as climate change necessitates urgent, concerted action to reduce emissions and protect our environment. And it's ticking for government – to start putting meaningful, tangible and effective meat on the bones of the commitments it has made. Commitments to promote domestic food production, to properly incentivise sustainable and climate friendly farming, to put farmers and growers at the heart of our trade policy, and to guarantee our food security. It really is time to back British farmers and back British food."
Government funding
Farming minister, Mark Spencer, used the conference to reinforce the £168m in grants available to farmers in order to drive innovation, support food production, improve animal health and welfare and protect the environment. He set out how the grants will drive the development of new technology and innovative ways of farming, with a focus on practical solutions that advance food productivity and deliver significant environmental and animal welfare benefits.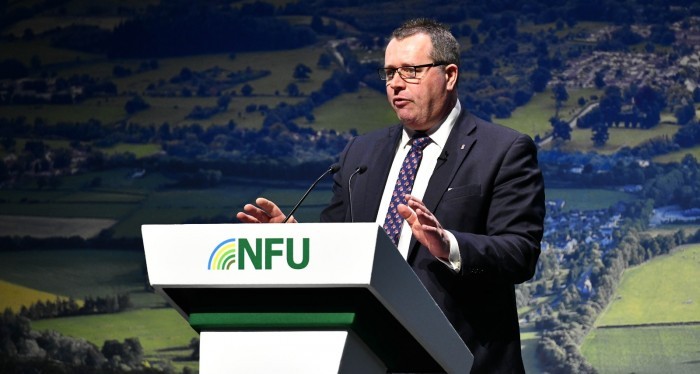 These could include robotic technology to support with harvesting, handling equipment and cow mattresses to help prevent lameness in dairy cattle, sensors on tractors to measure the levels of nutrients in soils, or improvements to slurry storage – to further the efforts of farmers aiming to minimise their fertiliser use, and in turn reduce water and air pollution.
He said that the grants, delivered through the Farming Innovation Programme (FIP) and Farming Investment Fund (FIF), will sit alongside the Environmental Land Management schemes which pay farmers for a diverse range of actions such as managing hedgerows for wildlife, planting nectar-rich wildflowers and managing crop pests without the use of insecticides.
New dedicated funding for annual vet-led health and welfare checks for livestock and money to support farmers implement improvements following these visits has been announced through the Animal Health and Welfare Pathway. Farmers interested in the vet visit can now register their interest.
Taken together, Mr Spencer said that the schemes and grants will help to deliver long-term sustainable food production and support farmers to halt and reverse the decline of nature as set out in the Environmental Improvement Plan. He said: "The role farmers play in putting food on our tables as well as looking after our countryside is crucial. We know that sustainable food production depends on a healthy environment, the two go hand in hand. Helping farms invest in new technology as well as bringing in nature-friendly schemes will support the future of farming."  
The Government has also confirmed it plans to introduce funding to promote enhanced productivity, innovation and improved animal health and welfare in smaller abattoirs.  Mr Spencer said: "If farming is to flourish then we need to get the fundamentals right – abattoirs are key to the food supply chain and there is clearly a need to support smaller providers in this area.   
"The availability of funding will help abattoirs to invest in new technology and improve productivity and animal health and welfare, allowing our agriculture sector to get its high-quality produce to market."