Machinery dealer Russell's will be celebrating 100 years of service to the agricultural community with two show-stopping exhibits at the Midlands Machinery Show.
First up is a carefully restored 1970s Russell 3D tractor, which will be shown alongside a special edition New Holland T6.180, complete with bespoke centenary paintwork. The two eye-catching machines will be on display at both the Midlands Machinery Show (9th and 10th of November) and the Newark Vintage Tractor and Heritage Show (13th and 14th of November) both held at the Newark Showground.
"We're really proud of our heritage and we wanted to commemorate 100 years of our people, customers and trading in a special way," said Paul Russell, the eighth generation and managing director at Russell's.
The company can trace its origins back to 1840 but surpasses 100 years of trading as a limited company. Starting in the blacksmith trade, the business developed into machinery manufacturing and continued until the 1980s when retail of equipment boomed.
Today it is one of the largest agricultural and groundscare dealerships in the UK, with 11 depots, 175 employees and a £70 million turnover.
"Since the very beginning we've been taking care of our customers' horsepower," said Mr Russell.
The Russell 3D tractor restoration is the brainchild of Joe Marshall, an agricultural engineer at the company. The restoration began in November 2020 and took seven months to complete, with the tractor being completely stripped down, sandblasted, rebuilt and finished off with the original paintwork.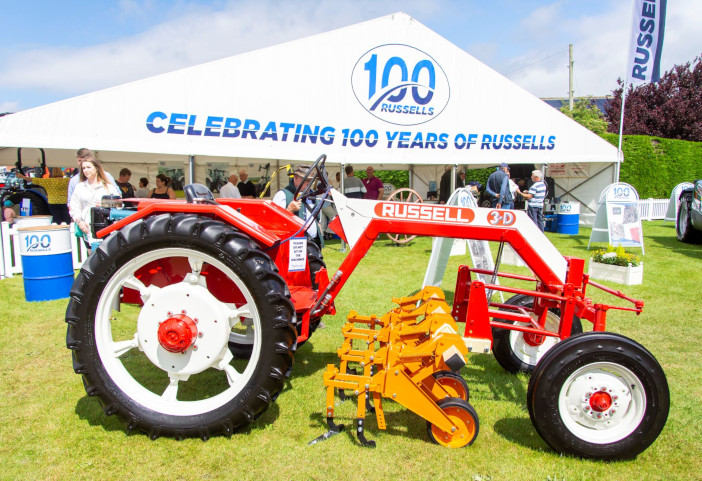 "We were looking for ways to commemorate the centenary and Joe had seen the tractor for sale online," explained Mr Russell. "We manufactured the model in the late 1970s and it was designed primarily for horticultural use – drilling and hoeing crops like lettuce and cabbage. Being hydrostatically driven it was quite advanced for its time and we only produced 40 of them – it's pretty rare and represents a poignant part of our company's history."
Wanting to represent the present day as well, the company took inspiration from the Ford 7810 Silver Jubilee and had a special edition New Holland T6.180 Dynamic Command tractor created. There is also a matching limited edition model available for sale, with all proceeds going to the Yorkshire Air Ambulance.
Russell's acquired the New Holland dealership Platts Harris in November 2020 and will attend the Midlands Machinery Show which is in the heart of its new territory.
"It's going to be a great opportunity for us and the people we are now serving in the Midlands region to get familiar," said Mr Russell. "It is really important to us to support the local communities and agricultural events in our trading areas."
The company will also exhibit a full range of agricultural and groundscare kit on its stand, with staff on hand to answer any questions.
For more information or to book tickets go to www.midlandsmachineryshow.com