An agricultural engineer and entrepreneur from Co. Tyronne won the 2023 Young Engineer Award at this year's Lamma Show.
Daniel Broderick, from Omagh, was announced as the winner on the second day of the show for his Cubi-Care machine. The product, which Mr Broderick has been developing since 2013, makes the process of cleaning dairy cow cubicles quicker and easier.
It was the second time that the organisers of Lamma have partnered with the Institute of Agricultural Engineers (IAgrE) to run the award. The three finalists were shortlisted by a panel of judges and the winner was decided through a combination of public and panel votes.
On winning the award, Mr Broderick said that he was thrilled to be recognised after so many years of hard work. Inspiration for the machine came from seeing how laborious the process of manual cubicle
cleaning was on his uncle's dairy farm and after developing a prototype which his uncle trialled on the farm, he started to develop it commercially. His ambition is to now supply the product to farms across the UK.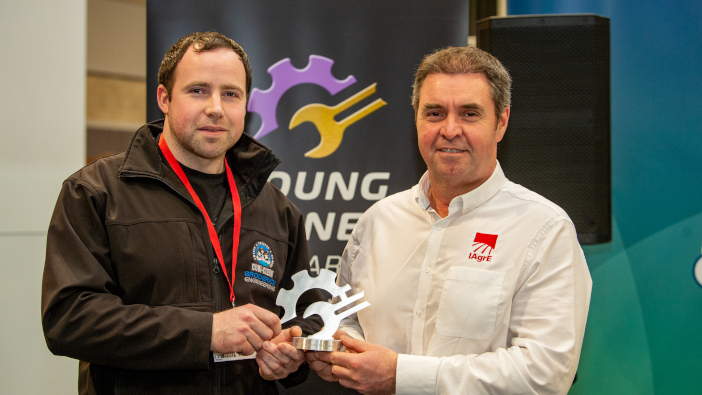 As well as helping with the promotion of his product, Mr Broderick appreciated the networking aspect of the award. He said: "It was great to meet the other two finalists and hope we will stay in touch and maybe work together in the future. It was also great to be able to attend Lamma as I haven't been before. The size of the show is really impressive, and I would like to come back as an exhibitor next year."
Charlie Nicklin, Chief Executive of the Institute of Agricultural Engineers (IAgrE) said it was important to support young engineers coming into the industry, which needs new entrants: "There are so many vacancies within agricultural engineering despite it being an engaging, rewarding and fulfilling field. We need to support and reward entrepreneurs with novel designs and to encourage others. The Young Engineer Award at LAMMA is ideal for this purpose."
Nicola Bell, Head of Events at Agriconnect which organises the show, agreed: "At LAMMA we love to celebrate innovation in agricultural engineering. Encouraging and inspiring new talent is extremely important to us and to the wider industry, and we are delighted to do that through this award. Daniel was a very worthy winner with his Cubi-Clean product which is already making a difference to the efficiency and productivity of dairy farms. We wish him every success with developing it further in the future."