The Safe Ag Systems program offers a host of features for farmers and contractors to manage their health and safety policy.
Managing health and safety on farm can be complicated. From keeping track of the various qualifications and training that staff members have and when these are up for renewal, to handling workloads and ensuring that pre-operation checks are completed. It can add a significant workload, especially during stressful times where self-employed or part time operators may be brought in to handle harvest, but the consequences of not keeping on top of it can be far more serious.
To help growers and contractors manage this Australian software company Safe Ag Systems has introduced safety management software designed specifically for agriculture, providing a host of features and digitising the process to provide easy access to users.
Now available in the UK, we spoke to Hannah Clarke, account manager and implementation specialist at Safe Ag Systems, about what the system can offer users.
"It's designed to help users improve their efficiency and meet any compliance requirements they have, as well as making it easy to promote a better safe working environment," she explained. "As well as providing two-way communication between the manager and members of staff to warn colleagues of potential hazards when out working."
At its heart is a series of templates that can help owners to implement a robust health and safety policy. Users can edit these templates to suit their businesses or create new ones and once these are signed off, they are instantly shared with all employees (the system has a limit of four users on the standard package, with the professional package starting at ten users but with scaled pricing if more are required).
Within these templates are a series of checklists that can be used to check machinery ahead of use. These can be linked to QR codes attached to each machine, ensuring that staff are completing the correct checklist. Owners can also use their mobile app or desktop to check that these are being done, creating further opportunities to discuss the importance of maintaining equipment.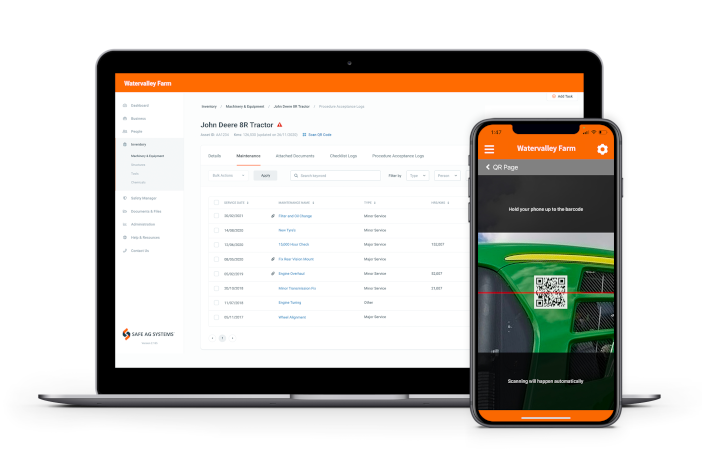 If a machine is found to have a fault during these checks – or if it is damaged or breaks down during work – it can be 'tagged out' and marked as unsafe. When workers attempt to perform a checklist, they will be notified that the machine is currently out of action.
Keeping track of your equipment
Inventory tabs will help managers keep track of their equipment, recording hours and kilometres/miles of the machinery. For each machine, maintenance records, including checklist completion and servicing, is available.
It is also possible to keep an inventory of chemicals, simplifying how owners keep track of stock, as well as providing the means for operators to quickly and digitally note down location and weather conditions when sprays are applied.
Maintaining two-way communication is a key part of Safe Ag Systems, not only providing the manager with a snapshot of the business but also keeping them in constant contact with operators. This can be in the form of task management, with an integrated job system that includes task details and assignment to a specific worker. Through the mobile app, the worker receives a notification and mark the task as complete.
Workers can also wirelessly notify when there is an emergency. This includes fire or medical emergency, as well as accessing key emergency contacts through the app and information of how to respond during these emergencies. Rather than simply notifying when an incident has already happened, workers can also report near-misses and potential hazards, notifying the owner where action needs to be taken and creating a hazard map of the farm. The At Work function also allows workers to mark themselves At Work using their mobile app, making it easier to identify their last known location in case of an emergency.
A neat feature within the business dashboard is a safety rating, which is based on the actions of the business. Alongside this, there is a guide to improve safety practices and record keeping.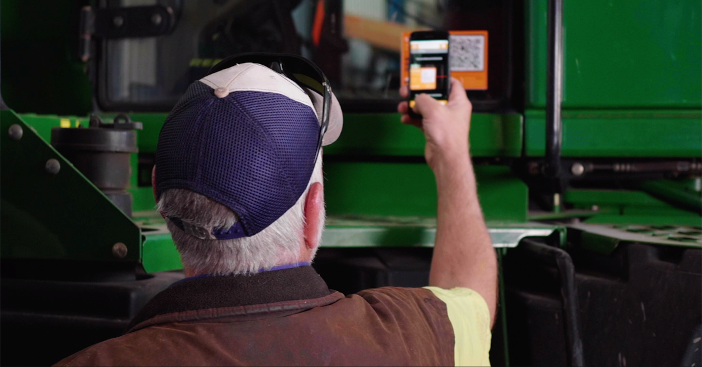 Keeping staff records up to date
According to Ms Clarke, updating staff records to include part-time operators, or archive workers who have left the business (permanently or temporarily) can be done at the touch of a button. Basic information of the worker can be uploaded, as can details of any training or licences held, with notifications when these are about to expire. Key contact information is also stored on the worker's page, and it is possible to upload position descriptions or performance reviews.
Another handy feature is the inclusion of inductions, which can be sent to new members of staff or visitors to the farm, to ensure that they are up to date with the business' health and safety policy.
The Safe Ag Systems software is available as a subscription. The Freemium platform is for just one user and provides risk assessments on machinery, structures and tools.
The Standard plan costs £45 per month, for four users, and provides access to the bulk of features. Finally, the Professional plan has a scaled cost (based on users) starting at £85 per month, with access to all features.
More information is available at www.safeagsystems.com