A new three-model range of Landini Serie 5 tractors has been introduced, designed to offer greater levels of comfort, versatility and performance. The developments have led to one model competing in the 2022 Tractor of the Year as part of the Best of Utility category.
Commenting on the range, marketing director Antonio Salvaterra said: "With performance comparable to machines in a higher category, the new Serie 5 Stage V is perfect both for working in the open field and on the farm, performing any task with maximum efficiency and offering excellent operator comfort.
"The Landini brand has always been characterised by passion and innovation, which guide us along a path of research and development, designed and manufactured to meet the needs of every farm, with particular attention to the human factor and to style: a winning mix that has led to the Landini 5-120 Dynamic model being nominated as a finalist for the 'Tractor of the Year 2022' award in the Best Utility category."
All models are powered by FPT F36 four-cylinder, 3.6-litre engines with turbo intercoolers and Common Rail electronic injection, meeting Stage V emission regulations and delivering up to 115hp. The exhaust gas treatment system has been integrated under the bonnet, meaning that visibility is not impacted.
To reduce fuel consumption, the Common Rail system is said to deliver the exact amount of fuel required, while the Engine Memo Switch system allows the preferred engine speed to be memorised and recalled. Long working days can be ensured by a 135-litre fuel tank and a 13-litre AdBlue tank.
Eight possible transmissions can be specified, from the Speed Four 12×12 with a mechanical reverse shuttle to the T-Tronic 48×48, with high, medium and low modes, hydraulic shuttling and creeper gears. When the hydraulic shuttle is equipped, the Serie 5 can also be optioned with Park Lock – a mechanical locking device that holds the tractor even on steep slopes.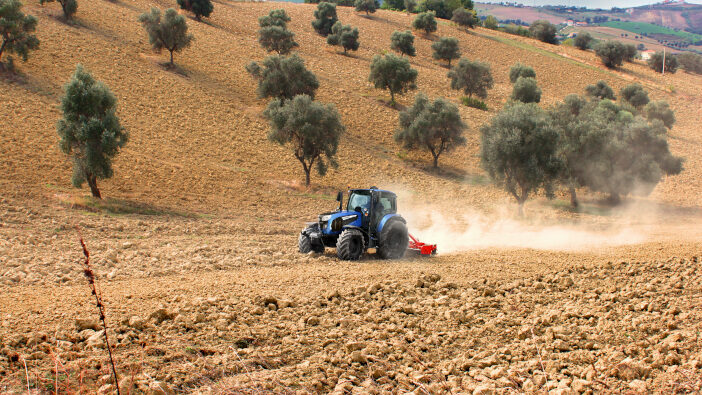 A new suspended axle option can be fitted and all Serie 5 machines are fitted with Twin Lock for simultaneous locking of the front and rear differentials to maximise traction and grip. This automatically engages and disengages the differential lock and four-wheel drive and Landini has also integrated a new Integrated Brake System, with oil-bath brakes in the front axle, which makes four-wheel braking possible and is said to reduce stopping distances by up to 50%.
The company has introduced a new hydraulic system with a flow rate of up to 82 litres per minute for services and 32 litres for steering. As well as this, 35 litres of oil can be extracted for tasks such as tipping trailers. Up to six hydraulic spools can be equipped, with three mechanically controlled, one electric and two mid-mounts for front hitch and loader. Four types of valves are available (standard, kick-out, floating and hydraulic motor) with customisable settings.
Additionally, three types of hitch systems are available, with a base mechanical unit, followed by a mechanical hitch with the Ergonomic Lift System for faster headland manoeuvres, and finally, an electronic version that can repeat and find positions for more precise operation. The maximum capacity is 4,500kg and it's possible to upgrade the two-speed PTO to a four-speed unit, both of which offer automatic functionalities.
Landini L20 front loaders can be equipped, with a new joystick that also features transmission controls and third and fourth functions. The chassis has been specially designed for a loader, maintaining a high ground clearance with no sacrifices to the turning circle.
The Total View Slim cab can be rigid or fitted with two-point mechanical suspension, which works with the front axle suspension to isolate the operator from vibrations. The four-pillar structure offers 360-degree visibility and a roof hatch is fitted for a clear view of the loader. Various creature comforts, including DAB radio and Bluetooth connectivity, are included and the steering column is adjustable and telescopic. Up to ten LED lights can also be specified.
Satellite guidance, controlled via a touchscreen display, is available with full ISOBUS control and the tractor can be monitored by the Landini Fleet Management telematics system.
For more information go to www.landini.it