CNH topped the table for the number of tractor market shares in 2020, which included both agricultural tractors (over 50hp) and compact tractors (50hp and below). Although, the total number of tractor shares decreased by 1,610, across all tractor brands, from the 2019 figure of 13,545 to 11,935 in 2020.
Of the 11,935 tractors registered during the year, 3,229 units were CNH branded. CNH, the parent company of New Holland and Case IH, had shares amounting to 27.1% of the total market, with New Holland accounting for 17.8% (2,129 units) and Case IH 9.2% (1,100). CNH's market share numbers increased by 1.1% between 2019 and 2020, for the brand to overtake the 2019 leader John Deere.
John Deere came second in the 2020 shares table, with market shares for 3,157 tractor units, equating to 26.5% of the total market: a slight reduction of 1.6% since 2019.
The AGCO conglomerate maintained third, with its three subsidiary companies: Massey Ferguson, Fendt, and Valtra, holding the same 26.3% of the tables shares (3,133 units) as it did in 2019.
Massey Ferguson had the highest gross number of AGCO shares, with 1,581 units; Fendt was second with 898; and Valtra was third with 654 units.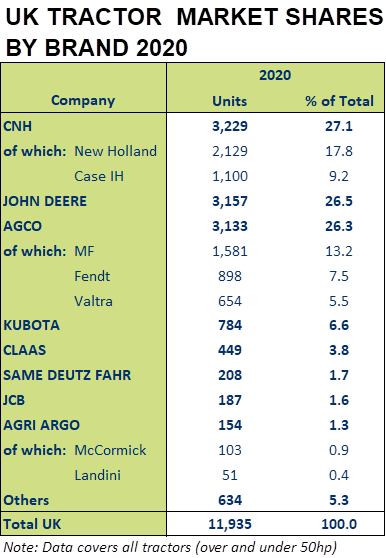 The Japanese machinery company, Kubota, had 784 share units, equal to 6.6% of the market total; Claas had 449 units (3.8%); and Same Deutz Fahr had 208 units (1.7%).
JCB dropped one place to lie behind Same Deutz Fahr in the 2020 table, with 187 units (1.6%), a 0.5% decrease since its 278 units (2.1%) in 2019.
AgriArgo, the parent company to McCormick and Landini, had the fewest number of shares, with 154 units (1.3%). McCormick had 103 shares, while Landini had 51.