A mainstay on farms, ATV and UTV products continue to undergo upgrades to increase payload and adopt alternative fuels.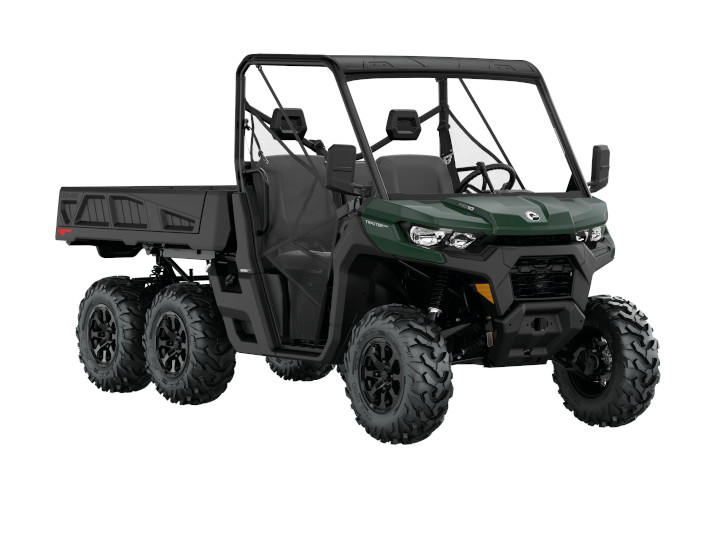 The new development in the Traxter off-road side-by-side vehicle range from Can-Am is the addition of a six-wheel drive model powered by an 82hp V-twin engine. Available since last autumn, the new Traxter is based on an existing design, but with a wheelbase extension to accommodate the third axle and powered wheels. Called the Traxter 6X6 DPS HD10, the new model has a powerful work capacity including a 1,360kg towing load and 771kg payload, the cab has three seats and the fuel tank capacity is 40 litres. Traxters are made by Bombardier Recreational Products (BRP), which also makes the Outlander series of ATVs.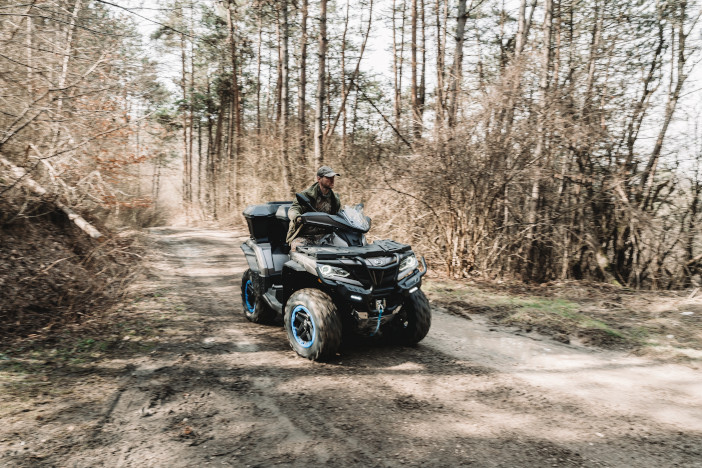 In the work and transport sector, the C Force range starts with the 450 Basic ATV model, priced at £5,199. Powered by a 400cc petrol engine producing 28hp, it has an 802kg towing limit with a payload of 343kg. There is also a standard version of the 450 model with extra features including electronically operated power steering and alloy wheels. Mid-range ATVs include the 520L model with a £6,999 list price, a 34hp engine, and an 802kg maximum towing load. The 100 Overland is listed at £11,699 including a passenger seat and a v-twin petrol engine producing 80hp.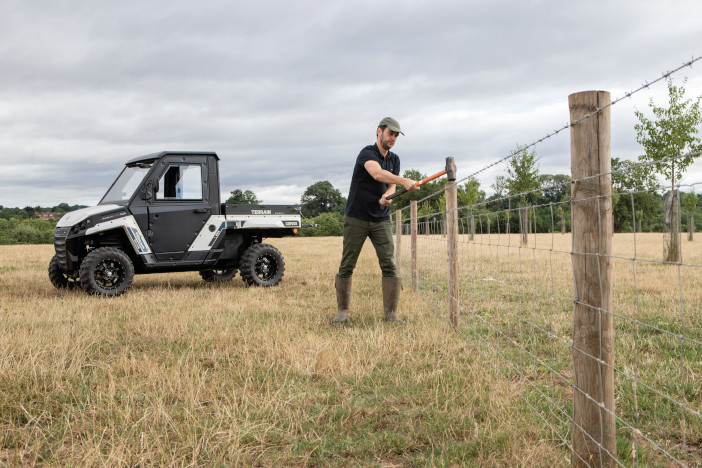 Diesel power is a special feature of the nine-model Corvus Terrain range of UTVs, using 24hp Yanmar three-cylinder engines, and most of the Terrain models are also equipped with electric power steering (EPS). Prices start at £14,999 for the entry-level DX2 Base model, a recent addition to the Terrain range and powered by a Yanmar engine, but without EPS steering. There are four models in the Terrain DX4 range of Yanmar-powered UTVs, all with versatile cargo beds and equipped with EPS, and prices start from £16,699. The DX4 Cab Clima EPS is the top model in this sector, priced at £22,599 and is equipped with air conditioning and a heater.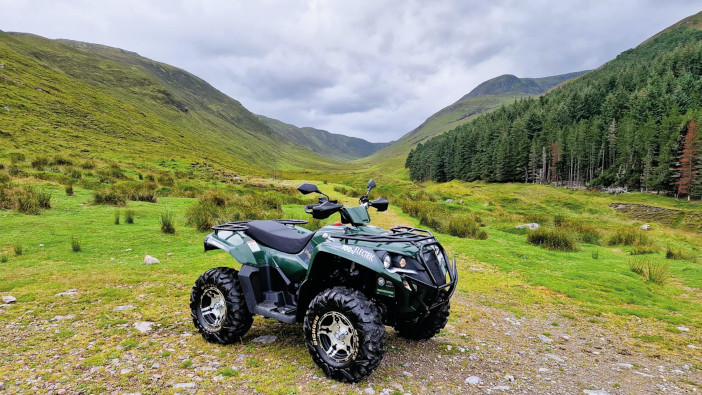 Made in the UK and distributed worldwide, EcoCharger offers a range of all-electric quad-bikes, with three four-wheel-drive 'workhorses' and two 'work specific' two-wheel-drive machines. Both the Prime and Pioneer machines are powered by 7.2kWh lead acid batteries, offering 45 and 40km ranges respectively and 50kph top speeds. The larger Pioneer has a towing payload of 500kg, increasing to 850kg with a braked trailer. The Lithium Pure machine is a two-wheel-drive variant, offering an increased range of 75km over the entry-level Prime, and a capacity of 250kg. The rest of the range are powered by 7.8kWh or 11.7kWh lithium batteries, with the flagship Lithium Prestige offering 110km of range, and 400kg towing payload (increasing to 800kg with a braked trailer).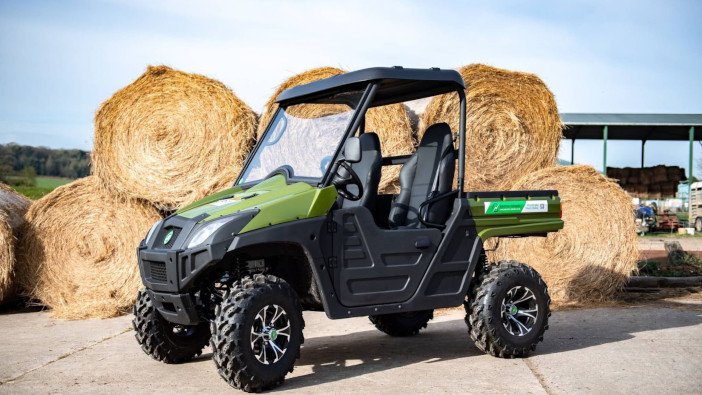 Electric Wheels has a range of all-terrain, performance-driven 4×4 electric UTVs available to hire and buy. The Nipper boasts a slim design with a cargo capacity of 200kg and towing of 750kg, along with an electric rear tipper. Prices start from £13,495. The HiSun Worker has a towing capacity of 680kg with a choice of battery types. Able to run for up to 25mph and 45 miles on a single charge, pricing begins at £12,995. The most powerful UTV in the range is The Beast. With a 15kW motor, it has a towing capacity of 1.5 tonnes. The model can reach up to 37mph and has a range of 53 miles. It is listed with a starting price of £23,495.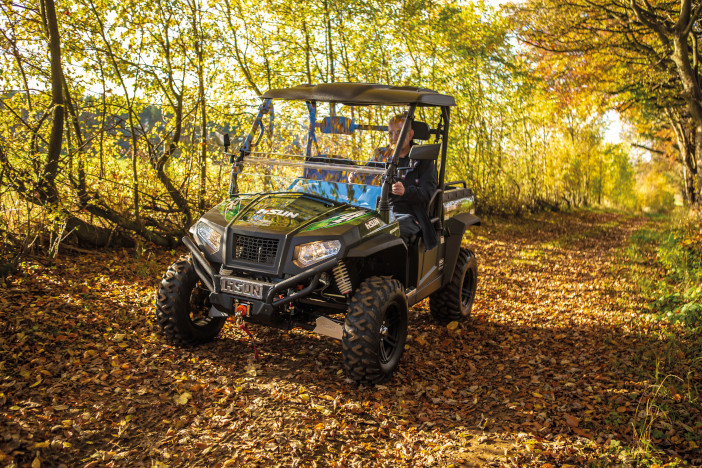 A special feature of the HiSun series UTV work vehicles is that the four Sector series models are electrically powered using lithium-ion batteries. The Sector series includes the entry-level 5kW model capable of climbing slopes of 30 degrees or more and with 44 miles of travel available from one battery charge. The top model with 15kW output does a day's work on one battery charge and is available as a four-seater version, and there is also a 7.5kW mid-range model with 280kg cargo bed load capacity. All models have an equipment list including a winch, tow hitch and cargo bed, the options include a cab with wash-and-wipe equipment for the glass windscreen. List prices range from £18,745 to £32,994. Benefits claimed for using electric power include reduced noise, vibration and exhaust emission levels, fuel cost is about £1 for an overnight recharge, and electric UTVs are exempt from road fund tax.
Honda UK: www.honda.co.uk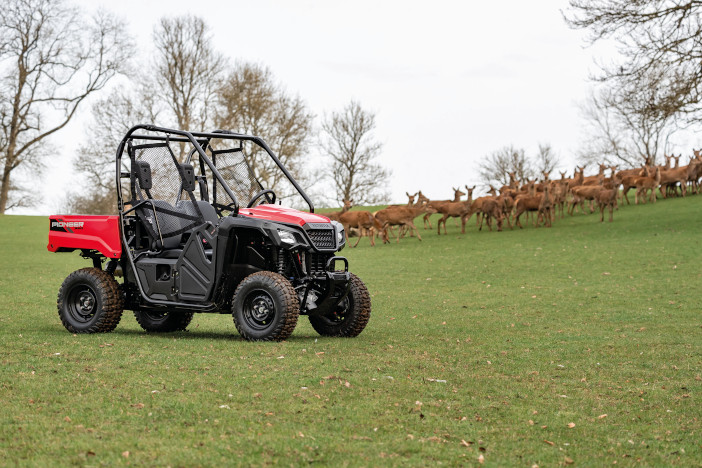 The mid-sized model in Honda's current ATV range is the Fourtrax 420 providing impressive performance figures that include a 385kg towing capacity, and a maximum towing load that increases to 600kg for the Foreman 520 at the top of the ATV range. The Honda list of workhorse products also includes the Pioneer 520 UTV, a machine designed to combine the safety and space available from a side-by-side UTV with the nimble handling and compact footprint of an ATV. The special design features on the Pioneer include the recent introduction of a rear load bed equipped with a gas-assisted tilting action, and the floor space in the load area is 29in by 38.7in with a tailgate that folds flush with the floor when open. The towing capability for the Pioneer 520 is 454kg and the total load capacity is 658kg. Because of Honda's experience and success with ATV and UTV design and production, the warranty period for the Pioneer 520 UTV is extended to two years.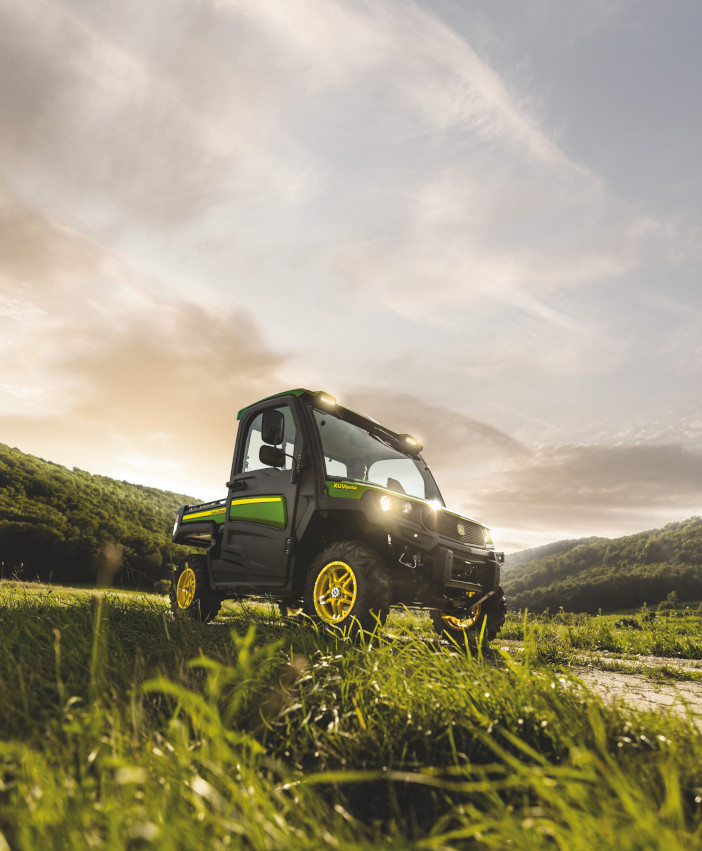 Power for the XUV 865R Gator utility vehicle comes from an 854cc diesel engine developing 23hp with a 31mph top speed from a continuously variable transmission with four-wheel drive. Total payload capacity is 680kg, including 454kg in the cargo box. The road-legal 865R specification also includes 907kg towing performance. An enclosed cab provides seats for three, and optional equipment to extend versatility with attachments including snow blades and winches. The Gator range also includes the XUV 865M model, with both versions sharing many features including the 23hp diesel engine and a 31mph top speed, but the M model load box is manually tipped and has a slightly lower load capacity. List prices for the 865M start at £25,246, and R models are priced from £38,333.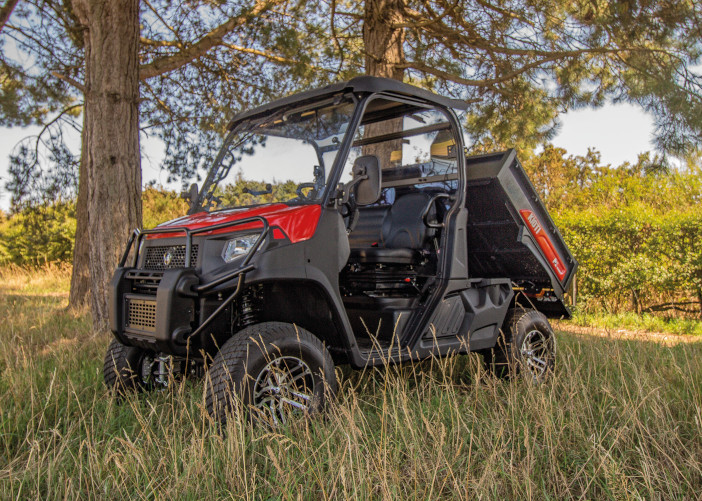 The Kioti name is best known on compact tractors, but the South Korean company also makes UTVs, with distribution from their UK base in Cambridgeshire. Their K9 2400 UTV has an options list including a factory-fitted ROPS protective frame with or without a sun canopy. One new K9 feature is a constantly variable transmission to deliver power from the 25hp engine. The K9's rough-terrain capability is helped by the all-round independent suspension, generous ground clearance and the availability of four-wheel drive. The load area has a 500kg maximum capacity with a hydraulic tipping option. List prices for a Kioti K9 with the new cab start at £29,750.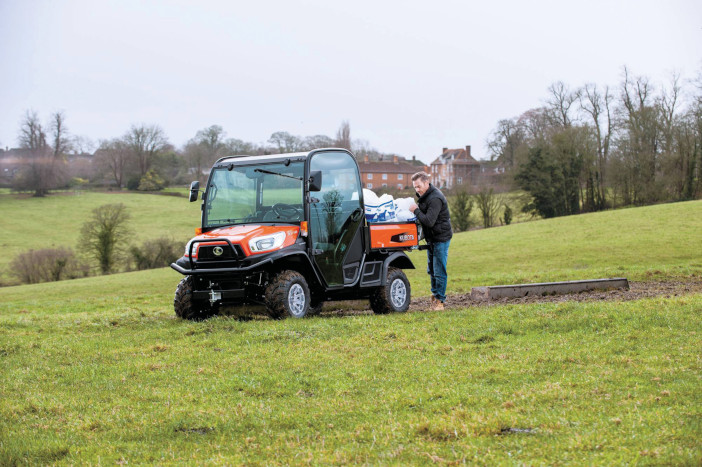 The entry-level Kubota model is the RTV520 equipped with ROPS driver protection and powered by a 514cc petrol engine producing 18hp, but diesel-fuelled models are available using a three-cylinder engine with 1,123cc capacity delivering 24hp, and Kubota is said to be the global leader for making industrial diesel engines below 100hp. The RTV series diesel models are available in both cab and ROPS versions and the design features include a tilting steering wheel to simplify entry and exit, while a high output hydraulic system minimises the manual effort needed for steering and to power auxiliary equipment. A list of optional equipment for the RTV X1110 diesel includes splash guards that can be fitted to provide front and rear protection in muddy conditions, while a cable-operated front lift attachment can be fitted with up to 500kg capacity.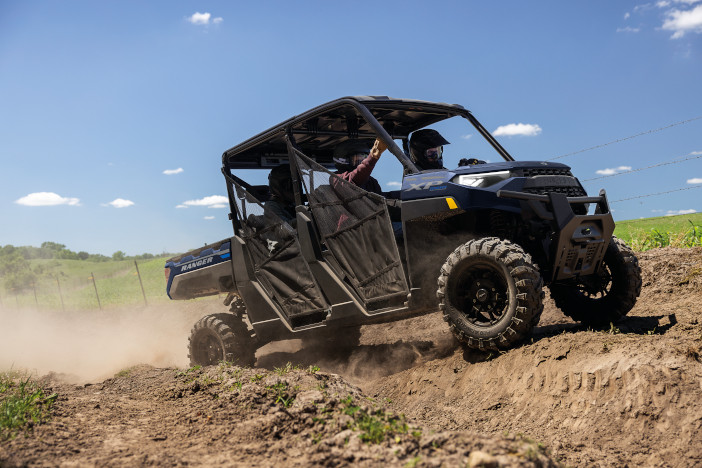 The top performance in the utility sector of the Polaris off-road vehicle range is provided by the Ranger XP 1000. It offers a towing capacity of 1,134kg, the cargo bed can carry a 454kg maximum load and the specification includes 33cm of ground clearance with 27.9cm of suspension travel both front and rear, and four-wheel drive engages automatically when wheel slip starts to develop. Ranger series utility vehicles are available in two or three-seater versions plus a Crew Ranger with seats for four to six riders. Ranger XP 1000 list prices start from £18,299. With more power available plus a fast-reacting all-wheel drive system, the Sportsman XP 1000 boasts 680kg of pulling power, a payload capacity of 261kg, and list prices start at £12,899.
Further information can be found here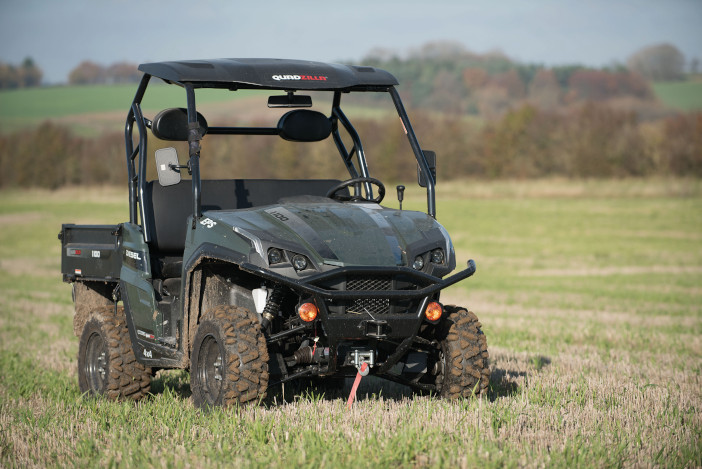 Offering a product list with more than 20 models in the ATV and UTV markets makes Quadzilla a strong competitor. The QZ150 and QZ300 are examples of models that emphasise work and transport performance, both specified with a tow hitch. All models have a two-year parts and labour warranty, and the UTV section includes one diesel- and one electric-powered model. The electric UTV has a 9.7kW motor providing a generous 100km travel range and provides 400kg load capacity in the rear container. The travel range is a generous 100km and the list price is £8,999. The diesel model has a 1,123cc engine and the specification includes electronic power steering control and 2/4WD selection, the load bed capacity is 500kg and the maximum towing load is 1,900kg at a £13,499 list price.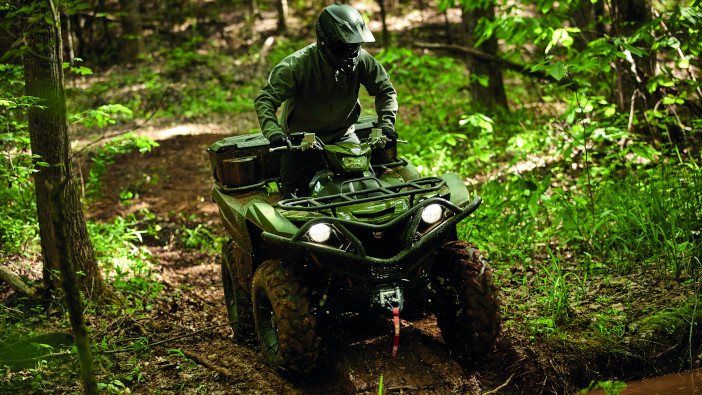 Most of the ATV models in the Yamaha range are powered by a single-cylinder petrol engine equipped with an advanced fuel injection system, but the UMX model is different, using eight batteries to power a 48-volt electric motor. The UMX has two seats and an aluminium cargo bed. The engine for Yamaha Viking, Grizzly and Kodiak models is 686cc and they also share other features including Electronic Power Steering or EPS for easier operation, and 2 or 4-wheel drive is selectable on all three models. Load capacities are 272kg in the Viking's cargo bed, the Kodiak can carry a 140kg payload, and the racks can carry 50kg at the front and 90kg at the rear.
See the full article on Yamaha's latest updates here