As Continental celebrates 150 years of tyre manufacturing, the company has looked back over its history. The brand began production in 1871 and in 1928 was the first to produce a pneumatic tractor tyre in Europe.
"In the beginning, Continental produced hoof buffers. These were shoes for horses that had a rubber coating to give more grip on wet or icy surfaces," said Hans Dietrich, a customer service representative, who has worked for Continental for over 50 years.
The introduction of low-pressure pneumatic tyres by Continental is said to be the first step towards the radial tyres used today. "The radial tyre, which now outsells the cross-ply tyre, is more gentle to the ground, has a lower rolling resistance and lasts longer," he added.
In 1938, the company launched the T4, becoming the first manufacturer in Germany to make a self-cleaning tyre with a new tread design.
"For the first time the tread lugs were not connected, and this enhanced traction. The design integrated small bends and angles in the arrangement and design in order to constantly improve the cleaning properties of the tyre," Mr Dietrich explained.
Looking to the future and the company is now integrating digital technology into agricultural tyres. ContiPressureCheck monitors the heat buildup and pressure of the tyre, helping the operator to make adjustments to reduce compaction and increase working life.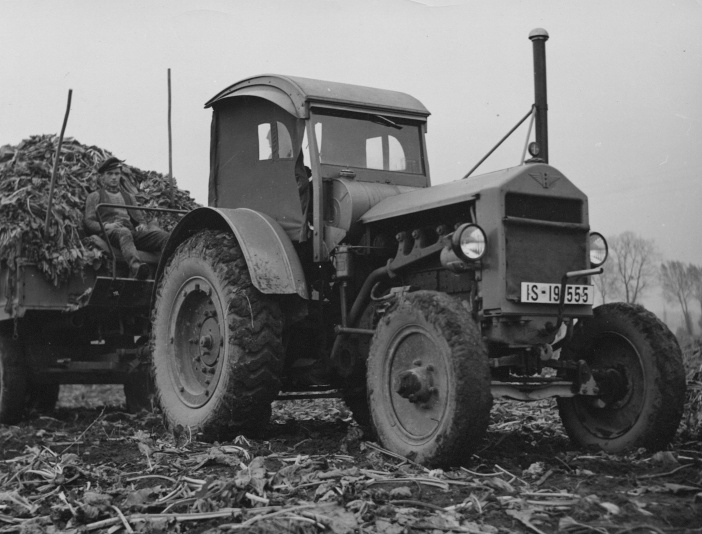 "In the future, sensors will not only monitor tyre pressure and temperature but also detect the condition of the ground beneath the tyre. By monitoring the deformation of the tyre, the sensor will also be able to detect the tyre load," said Benjamin Hübner, product line manager for agricultural tyres.
Additional data, such as weather conditions, crop and farm material weights could also be used to more precisely determine the optimum pressure. Once this data has been collected, the tractor could use an onboard air supply to constantly regulate pressures depending on speed, load and ground conditions.
"This will further increase operational efficiencies, reduce compaction and help farmers to increase yields and improve soil health," concluded Mr Hübner.