New Holland's Straddle Tractor Concept and the TK4 Tractor have won the Good Design Award, Industrial, 2022.
Presented by the Chicago Athenaeum Museum of Architecture and Design and the Metropolitan Arts Press Ltd, the award honours the most innovative and cutting-edge industrial, product and graphic designs produced around the world. The award is judged by a group of notable industry professionals against a strict criterion of innovative design, new technologies, form, materials, construction, concept, function, utility, energy efficiency and sensitivity to the environment.
Straddle Tractor Concept
The Straddle Tractor Concept is specifically designed to meet the requirements of narrow vineyards, as seen in wine growing regions such as Champagne, Médoc and Burgundy. The project was completed in conjunction with design house Pininfarina and features a champagne glass-inspired design – tall and wide at the top, tapering down at the bottom – and a glass cab allowing for full visibility. The interior features a large single door with a rotating seat and a wood-themed design, linking to the customer's business of wine barrels.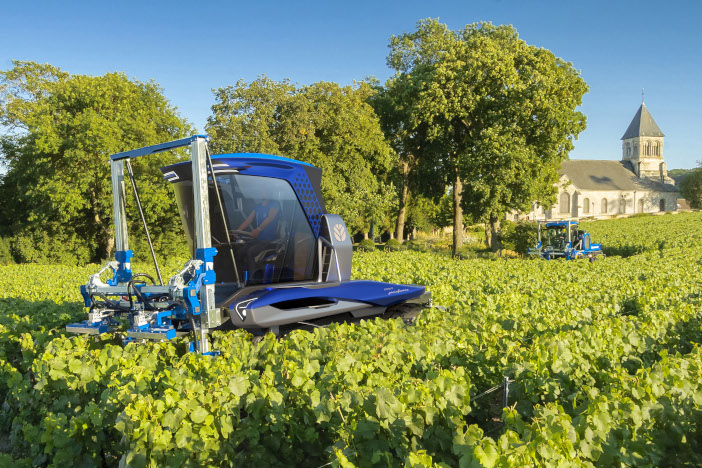 New Holland and FPT Industrial TK4 Methane Power tractor
New Holland and FPT Industrial have worked together to create the TK Methane Power vineyard crawler tractor. Powered by bio-methane, and therefore with zero carbon footprint, the tractor has been designed to create a balance of style, function and sustainability. The bio-methane F28 engine that powers the tractor has a 75HP capacity with a maximum torque of 330Nm. This ensures a safe performance directly comparable with that of the diesel model, even on the steepest hills and slippery terrain.
New Holland report that the new product can meet all the power, performance, and low environmental impact requirements in applications like orchard and vineyard tractors, where small size, and therefore limited bulk, are essential prerequisites.
Brand president of New Holland, Carlo Lambro, expressed the company's pride in winning the award: "The Good Design Award is an institution in terms of prestige and authority in the design sector and it is such an honour and pleasure to see our efforts in terms of good design recognized by a panel of important experts. We keep investing our energies in creating something that is not only useful, sustainable, and functional but also beautiful to see."
He praised the work of all those who collaborated on the project: "I want to thank Pininfarina design house, FPT Industrial and Fontanafredda for working with us on these projects and a special mention to our internal design teams for the great creative job."