Haith completed its 35th project for Greenvale AP in time to handle the potato supplier's busy festive period.
Having previously installed a Haith line in 2014, Greenvale commissioned two new washlines in June 2022 for its Cambridgeshire facility and this has allowed the company to continue to meet standards and demand while benefiting from low running costs and water use.
Greenvale's engineering manager, Adrian Dickson, has been pleased with the results, he said: "We were very impressed with the features and enhancements of the latest wash equipment. As we have several Haith machines at our sites, we knew that Haith would be able to produce the bespoke systems we required."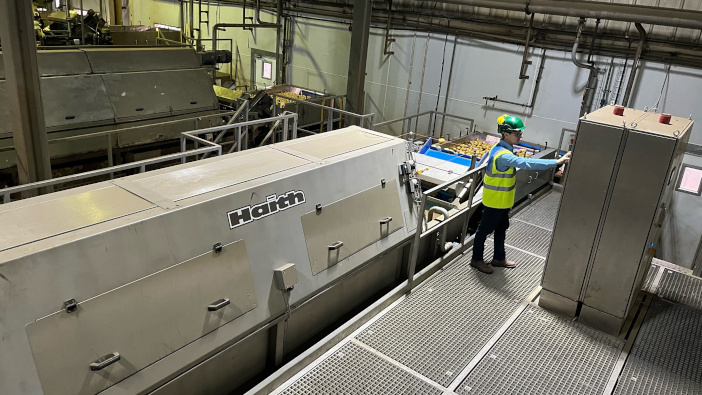 The new lines are based on Haith's proven format but offer the latest in energy efficiency, low water consumption and sophisticated software to ensure gentle handling.
Potatoes are received by Haith's Rota Tip Top Eject and passed into a Supa-Flume stone separator before being cleaned in a semi-submerged washer. The potatoes are then dried and quality graded by Greenvale's' existing machinery.
Mr Dickson said that the machines coped well with the volume specified and have the ability to reduce the change over time when switching produce: "This means we have reduced the stop-start cycling time we experienced with the previous lines and have greater control of line balancing, which is very important to us.
"We have also reduced our water usage and enjoy the ability for much faster change over times thanks to the way Haith has designed its machines."
Haith's in-house software engineers incorporated complete control of the new equipment and its functions into the HMI unit, ensuring that the Haith washer complements Greenvale's signature continuous loop wash water recycling system. The new functionality also protects the crop from potential damage, thereby increasing quality and customer satisfaction.
A further benefit of the new lines for Greenvale relates to health and safety. The line is more accessible for Greenvale's engineering team, and its stainless steel fabrication and the absence of hydraulics comply with the highest levels of food safety standards.