Massey Ferguson has announced that its MF 5S series has received the prestigious Red Dot Award: Product Design 2022.
A jury of international professionals assessed the MF 5S in terms of design quality and innovation, leading to it being awarded the same award that the 8S won in 2021.
"The 'Red Dot' is the award for high quality design. To emerge victorious from such a strong group of participants is testimony to the extraordinary quality of the product," said the Award's judges.
"We are honoured to receive this Red Dot Award," said Thierry Lhotte, vice president & managing director, Massey Ferguson, Europe & Middle East. "Since its launch, the MF 5S has quickly earned a superb reputation as the best in class dairy and livestock tractor. A great 'all rounder' – the MF 5S is designed and built to handle a wide range of tasks with ease and comfort.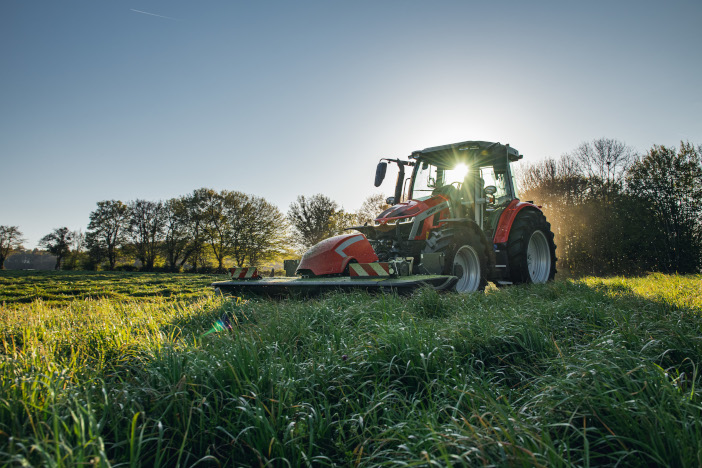 "This award clearly shows its excellent design, with the narrowest steep-nose bonnet delivering outstanding visibility. Along with its straightforward and dependable operation, it offers an industry-leading 4m turning radius and many other practical features for unrivalled versatility," he added.
"The MF 5S truly is 'Born to Farm'. It is the worthy successor to an iconic family of steep-nosed tractors – dating back to the famous MF 3000 from 1993. Winning the prestigious Red Dot Award: Product Design 2022 shows how Massey Ferguson is setting the standard in this important segment", continued Jérôme Aubrion, director of marketing, Massey Ferguson, Europe & Middle East.
"The MF 5S blends the compact dimensions required by livestock and mixed farmers together with superb performance and ease of use for arable operations. A true multi-purpose workhorse, the range offers the right choice of power and specifications to suit all applications. These modern tractors also deliver straightforward operation and enhanced features with low ownership costs," he concluded.