Yamaha is launching a new Grizzly ATV to celebrate 25 years since the first model was brought to the market.
The newest edition includes new instruments, brakes, accessories and graphics all coupled to the second generation MK II 686cc 4-value SOHC engine, which features the latest EFI throttle body as well as fine-tuned ECU mapping and refined tolerances which ensure low fuel consumption, high torque and smooth performance.
Power products manager, Dan Palmer, said: "This anniversary model taps into the legendary legacy of the original 1998 Grizzly 600 and is a rugged farm tool that can be depended on to manage the toughest terrain and offer operator comfort, safety and versatility."
Also featuring on the new design is Yamaha's CVT Ultramatic® automatic transmission. The instant-reaction gearing tackles the toughest terrain, and the natural feel of the all-wheel engine braking gives added confidence and control on steep slopes and when crawling amongst livestock.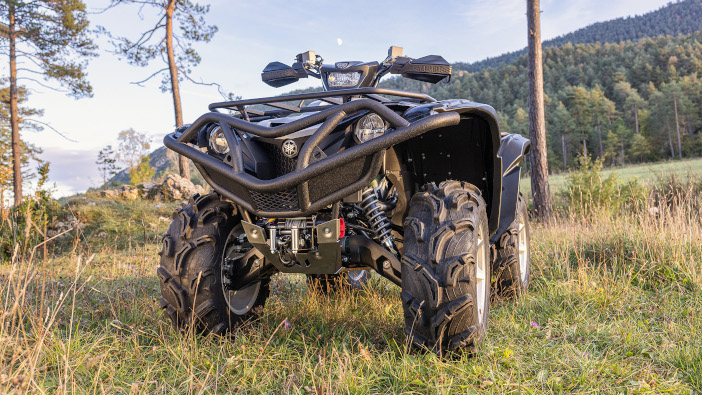 Mr Palmer continued: "The new model features an independent suspension system which uses adjustable nitrogen gas shocks enabling the rider to change settings to suit differing loads and terrains. The Grizzly is also the only model in its class featuring four-wheel hydraulic disc brakes, for improved braking performance and overall control."
The intelligent On-Command® drive system features a push-button control that switches from 2WD, 4WD or 4WD with Diff-lock and back, to optimise performance in changing terrain and weather conditions.
The multi-function digital instruments feature a fuel gauge, speedometer, odometer, dual trip meters, hour meter, clock, 4WD/Diff-lock status, transmission gear selector and EPS warning light. Three separate storage compartments offer space for tools and equipment. The Grizzly is also fitted with a heavy-duty brush guard, front bash plate, over fenders and hand-protectors for increased rider and vehicle protection.
"This is a special edition for Yamaha, and riders who have enjoyed the Grizzly for the last 25 years will be impressed with the performance and specification. It will also be an attractive proposition for those who have never experienced the power and versatility of the Grizzly. It is a landmark in Yamaha's ATV history," Mr Palmer concluded.