A new demonstration farm, located outside Helmstedt in Niedersachsen, Germany, recently hosted the launch Väderstad's new Cultus HD tined cultivator, the Carrier XL 725 disc cultivator and the Carrier XL 725.
The fifty-hectare farm and 800m2 machine hall will be used to carry out field trials and internal training, as well as hosting machinery demonstrations and launches.
The Cultus HD is available in 4.25m and 5.25m mounted models, offering depth precision and high performance. It can work down to 30cm and is equipped with three tine bars spaced at 27cm.
New tines have a release force of up to 680kg to maintain the working depth. To avoid damage, the tine can fully release out of the soil to pass an obstacle and quickly return to the working depth.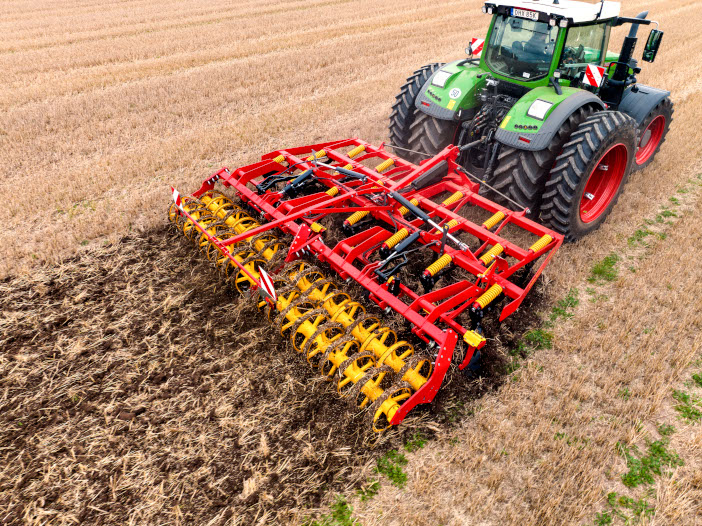 Depth can be set from the cab, equipped with a hydraulic wing lock and the automatic leveller adjustment system Dynamic Control. A wide range of Väderstad points and MixIn shins are available and the machine will go into full production in autumn 2023.
The new Carrier XL 725 offers a 7.25m working width and sits in the middle of the Carrier range. It's available with 510mm TrueCut discs, the CrossCutter disc or the new CrossCutter Disc Aggressive, as well as a range of front tools, packer options and the BioDrill 360.
Several frame enhancements have been integrated, including a strengthened packer parallel linkage, and new visible scales to inform the operator of the working depth for the discs and the front tool.
Wider models in the Carrier range can also be equipped with a new wheel axle and 560/45 R22.5 wheels, approved for 40kph road transport.
Also launched at the event was the Carrier XT 425-625 cultivator, available in mounted or trailed versions. Hydraulically rotating disc axles and single or double packer options mean that the machine can be adjusted to suit various conditions.
A new Swedish V-55 disc is said to optimise the cut-out performance at shallow depths. The machine can be equipped with a 450mm disc, 470mm TrueCut disc or the ultra-shallow CrossCutter Disc and the new CrossCutter Disc Aggressive.
The CrossCutter Disc Aggressive is available in two sizes; 450mm intended for a working depth of 2-3cm with the Carrier range of disc cultivators, as well as 510mm for a working depth of 3-5cm with Carrier XL. Both can be run at speeds up to 20kph, mounted to a suspended disc arm to follow ground contours.
For more information go to www.vaderstad.com