Despite the challenges presented by the Covid-19 pandemic, Pöttinger has gone to record the highest turnover in its 150-year history, taking 405 million Euros. It's the first time the company has exceeded 400 million Euros and represents an 11% increase year on year.
Of this, 88% is brought in through exports and the company places its success with the 1,929 employees (a slight increase year on year) as well as its international dealer network and investments in its manufacturing plants.
Sector breakdown
Making up 69% of Pöttinger's turnover is its range of grassland equipment. This includes the new generation of Jumbo loader wagons, which the company hopes will help defend its market-leading position in that sector.
Tillage and seeding machines made up 31% of overall sales and the company is reporting positive developments across the full portfolio. Original spare parts have also increased by around 8%. Pöttinger believes that this is due to the performance of its logistics centre during the pandemic, with the long-term availability of both spares and wearing part lines.
An international company
Pöttinger has sixteen sales locations worldwide and four manufacturing plants throughout Europe, making it possible for it to compensate against the impact of the pandemic. Exports made up some 88% of total turnover in this financial year.
It's a long way from the workshop in Grieskirchen, Austria, which was founded in 1871. However domestic demand was still strong, making up 12% of the turnover, while Germany and France were the strongest markets, with 18% and 15% of the turnover respectively.
The company is also looking further afield. Sales in Canada grew by 48%, while Australia saw an increase of 33%. Strong growth was also reported in European countries such as Great Britain, Hungary, Norway and the Baltic States. The most substantial growth was seen in Russia, with a sales increase of 151%.
Lasting investments
In 2021, a fourth manufacturing plant was opened in St. Georgen, Austria, not far from the headquarters in Grieskirchen. The opening ceremony also saw a ground-breaking for the next stage of expansion to handle the increased level of orders. The new factory now means that grassland equipment is entirely produced in Austria, with seed drills manufactured in Bernburg, Saxony and the tillage centre is located in Vodnany, Czech Republic.
The new range of crop care technology launched by Pöttinger will also be manufactured in its Austrian plants.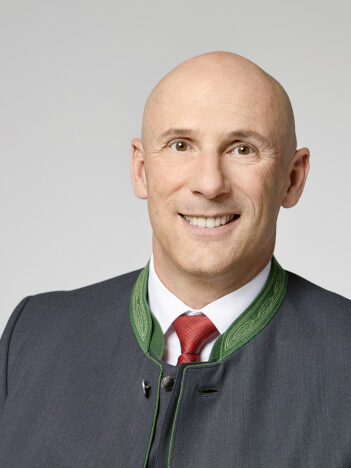 Future goals
Looking ahead the company has set itself the goal of making its customers more successful.
"We feel a close connection to farmers, and backed by the motto "Everyone needs agriculture", we are committed to boosting the appreciation of this community. With a view to the environment and future generations, we also place great emphasis on sustainability and the conservation of resources," said Gregor Dietachmayr, spokesperson for the management team, in explaining the company's mission
"Even in the difficult financial year 2020/2021, a year that has seen many changes, we have demonstrated our resilience, commitment and determination. We even succeeded in celebrating the anniversary year with a record turnover," he added. "As a source of innovation with a strong team of highly motivated employees, a very well-developed network of dealerships and with a view to the future and the needs of the market in terms of digitisation, sensor technology, etc., we are ideally equipped for the challenges ahead."