The Golem grassland roller is one of the largest and heaviest machines on the market, according to Czech manufacturer Smart Machinery Solution's (SMS).
With a working width of 3m (Golem 300) 5.4m (Golem 540), the roller can combine several operations into one. Golem grassland rollers are used for flattening land and consolidating surfaces damaged by black beasts, cattle or other machinery. They are suitable for clogging stones, combing moss and staghorn moss, aerating vegetation, but also for sowing or sowing grass mixtures and applying fertilisers.
SMS CZ offers several types of rolls with different wall thicknesses, from 10 to 14 to 20 mm. In rocky terrain, the 20 mm thick rolls will safely push stones on the ground surface without the risk of denting the roll. There is also a spike roller, the Aerator, suitable for aerating permanent grass areas. The roller is fitted with 17 cm high tines made of abrasion-resistant material. The smooth rollers are fitted with a squeegee for wiping off dirt and preventing the machine from clogging.
Golem 300
The three-metre version of the machine is equipped with a single roller and the weight of the roll ranges from 2.5-4.5t. At 60hp, the roller is connected to the tractor with a 40mm diameter loop and is offered with 400mm wheels and 15.5 inch rims. Its overall width of 3m allows transport on public roads.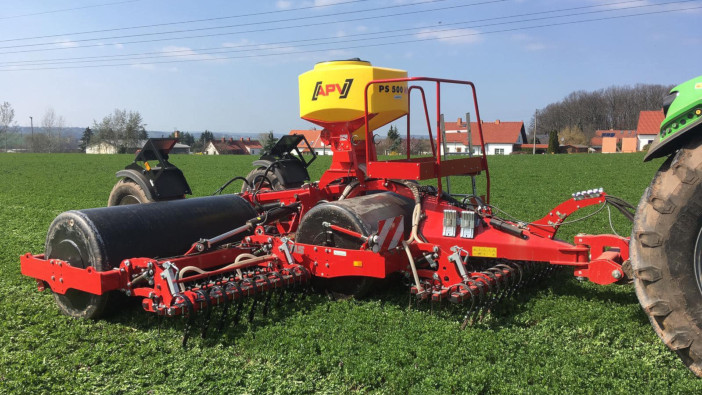 Golum 540
The Golum 540 has a three-part frame, hydraulically folded and is equipped with a total three rollers, each measuring 1.95m wide. The individual rollers partly overlap, so that the land is worked over the entire width of the machine. The machine weighs from 5.5 tonnes up to 11 tonnes when fully equipped and with water filling in the rolls.
Lifting the wings into transport position is possible even with water-filled rolls and the wings are secured against release by an automatic lock. The machine can be folded for transport on roads and then reaches a width of 2.56m.
Safety of the machine can be increased by using the slope brake on the middle roller of the 540.