Prof. Matthias Schick, Strickhof, head of the animal production & dairy farming department, Lindau (Switzerland) and Ferdinand Mersch, North Rhine-Westphalia Chamber of Agriculture
Digital systems are now widespread in many areas of professional farming. They are used primarily as support in decision-making, to make the work easier and improve efficiency and therefore also profitability.
The trends towards the increased use of digital systems and IT remain clearly recognisable both in agriculture and in the upstream and downstream sectors. Over 30 new and further developed processes and systems, in the areas of 'digital systems and IT', have been registered as an Agritechnica innovation. The innovations range from assistance systems feature intelligent remote controls, which can augment reality up to and including the optimisation of entire production processes.
Decision-making support
Assistance systems are increasingly being implemented along the entire production chain in feed growing and arable farming. The trends here range from decision-making support when driving on the field, up to and including optimised storage in the bunker silo. Since the volumes being handled in modern harvesting processes, during the available working days on the fields are increasing, improved coordination, from the windrower and transport to the compacting vehicle, is becoming more important. This enables qualities to be assured, sustainability to be improved and profitability to be increased. Both the entire work procedure and the quality of compacting in the silo can be increased thanks to skilful automated route planning.
Soil compaction caused by the increasingly large and heavy machines is one of the key factors that influence reduced yields. This is where systems come into play that determine information about the wheels' pressure on the soil, the soil type, the soil moisture and the field status using an algorithm. This real-time information is used to produce risk maps during operation and therefore tends to minimise soil loading.
Driver relief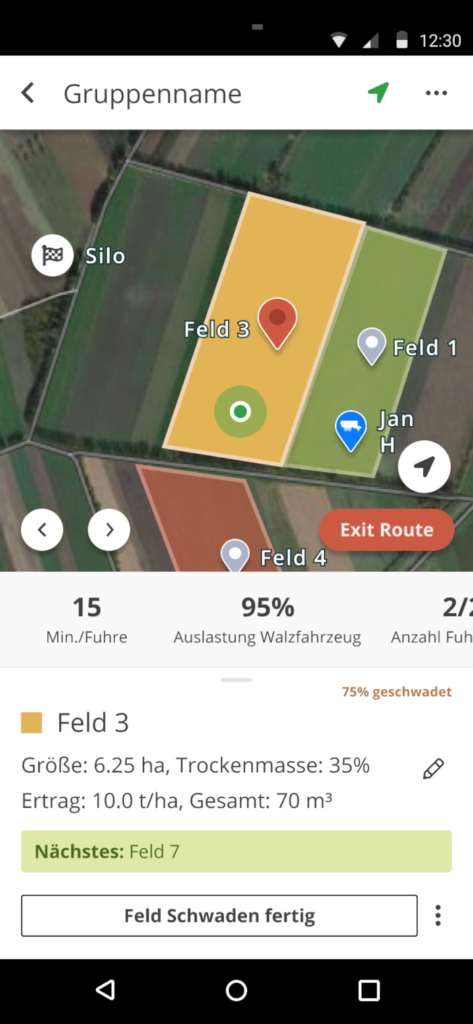 Besides the familiar sensor-based methods, camera-based processes are also increasingly being used to relieve the strain on the driver. On the one hand, these are used to optimise the filling of harvesting vehicles and, on the other hand, in mechanical crop protection too. Due to increased processing power, they can also be used to achieve higher vehicle speeds and therefore acceptable work performance on the field. Augmented reality is also increasingly being involved in this; to enable a driver to be assisted in making decisions without having to concentrate on a separate monitor. Despite all these electronic support systems, the drivers are subject to high levels of stress during the harvesting season, for instance. A driver alarm system offers support with the aid of image processing algorithms that monitor the heart rate, eye movements and signs of drowsiness, such as yawning or rubbing the eyes.
Intelligent remote controls
Intelligent remote controls for partially automated and soil-protecting work on difficult terrain, combine the increased future requirements for precise and traceable work completion with optimum work performance and professional work safety standards.
Partially automated procedures in combination with lane guidance assistants are of increasing interest for activities in the municipal sector, in landscape management and in hill farming. Full ISOBUS automation enables the partly autonomous control and monitoring of machines, and therefore contributes extensively to the automation of complex work procedures.
Increased competitiveness
'Smart farming' serves primarily to increase competitiveness. The optimisation of entire production systems, in combination with increased quality and a reduced workload, is another important target criterion. Besides, decision-making bases for the use of humans and machines – 'smart farming' systems – offer potential for efficient, emission-reducing and resource-friendly agriculture. Traceability along the entire value chain is therefore possible.
As businessmen and data managers, farmers are now being offered digital support ranging from data collection and information analysis to decision-making and implementation. If the corresponding networking is in place, machine operations can be analysed and controlled in their entirety.
One of the major challenges of the digital processes is networking the individual processes, up to and including the system on the field, and integrating them into operational and company-relevant decision-making processes. Many different sensors and entire robot systems from various manufacturers are not (yet) fully compatible with one another.
Data management
Reference can only be made to a Farm Management Information System (FMIS), for optimising farm management and company development, when the production-related measures in arable farming and feed growing, work management and accounting are also included in the equation. With all the legal aspects, especially data protection, data management is becoming increasingly important in this regard.
Automation and digitalisation are increasingly making their way into all agricultural production processes. Before investing in new technologies, each farmer should reflect on how digitalisation and electronics can support him in his daily work, increase the productivity of his work, reduce his workload, and improve his value creation. A positive trend towards digitalisation can only be referred to once all these questions have been answered sufficiently.