Deploy Tech will exhibit at next week's Royal Welsh Show with two new products for the agricultural and horticultural markets, with demonstrations throughout the event and members of staff on-hand to answer any questions.
The Deploy concrete tank has been developed to store water, developed using Concrete Canvas, a cement-filled geotextile. This material enables the tank to be folded up for shipment and delivered to the site in a crate that measures just 2.5m by 1.2m.
A two-man installation team then connects a compressor to one of the PVC-U taps to inflate the structure before the outer surface is hydrated and left to cure. The tank will be ready to use at the end of the second day and is said to provide water for drinking, farming, rainwater harvesting and emergency situations for upwards of twenty years.
Three R (Rural) models will be available, all measuring 2m in height. The 14R is 3m in diameter and has a capacity of 14,000 litres; the 25R is 4m in diameter and can hold 25,000 litres; while the largest 40R is 5m in diameter and has a capacity of 40,000 litres.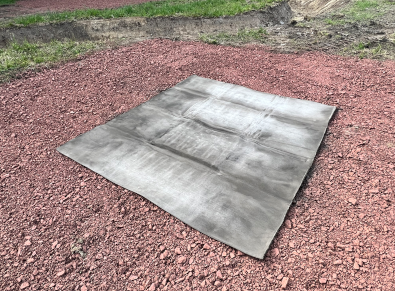 The Deploy Easy-Slab
The second product set to be launched at the Royal Welsh is the Easy-Slab. Traditionally, a concrete slab or reinforced concrete slab is recommended before a storage tank is installed. The Deploy Easy-Slab is designed to streamline the costs and challenges of this. Available in five sizes, it arrives on site folded, can be unfolded and pegged to the ground and acts, according to the company, as a concrete carpet.
For more information go to www.deploytechltd.com