Lynx Engineering has taken delivery of the mobile Eggers 735 KW PT 501 G+ PTO brake dynamometer, capable of accurately measuring and verifying the torque, power and performance of engines up to 1,000hp. The company, which is the sole importer of the Eggers range from German manufacturer KL Maschinenbau, states that the new unit could be the most powerful of its type in the UK.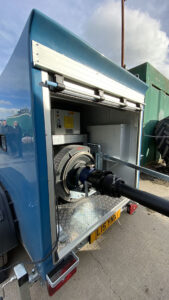 The PT 501 G+ measures torque and rotational speed separately. The generator, which is used to load the engine, incorporates a hub to measure torque and a speed sensor to record revolutions per minute. Using this data, the control electronics calculate the performance of the engine under test against the specified power profile.
Because the generator is used as a braking medium with the sole task of loading the engine and not for power measurement, any potential inaccuracies such as constantly changing efficiencies are eliminated. Additionally, the dynamometer can be shut down immediately after the test without the need for after-cooling.
PowerControl for year-round testing
Engine performance can be affected by prevailing weather conditions. A colder air temperature can lead to higher engine performance due to increased air density. PowerControl software compensates for the differential by controlling the delivery of an engine's rated performance at an air intake temperature of 20 degrees Celsius and an air pressure of 1013 mbar. If the same power unit is measured in colder conditions, the software can back-calculate the performance to replicate the original testing parameters.
Moreover, adjustment allows the measurement to be compared with the manufacturer's data, since these are always based on standard values.
The software runs on all current Windows laptops and PCs, with free updates. Data can be transferred via the RS 232 interface, USB or Bluetooth. The PowerControl software is also available as an app for Android tablets. All measurements are saved on hard disk and can be recalled or printed at any time.
"With this new addition to our EGGERS dyno range we can offer our dealers a first-class testing service on any harvester or tractor, saving them a substantial financial outlay on special tools and training which they would otherwise need to support the sales and servicing of the very latest high-horsepower machines", explained Lynx managing director, Nick Ewbank.
Dealers across the UK and Ireland can either book dyno tests to be conducted by a Lynx technician on the dealer's premises, or dynamometers can be purchased through Lynx and, if necessary, supported with training.