An induction ceremony has been held at John Deere's UK headquarters for 86 young apprentices, set to start courses in Ag Tech, Parts Tech or Turf Tech.
The courses are provided by ProVQ and this year the cohorts include those working for the Wirtgen Group, which is the John Deere-owned business specialising in road construction machinery, and learners from John Deere's Forestry division.
Arthur Haines is 16 years old and currently works at the Masons King's Exbridge outlet in Devon. He said: "When we moved to a house which also had horse stabling, there was a lot of equipment around such as tractors which has always interested me.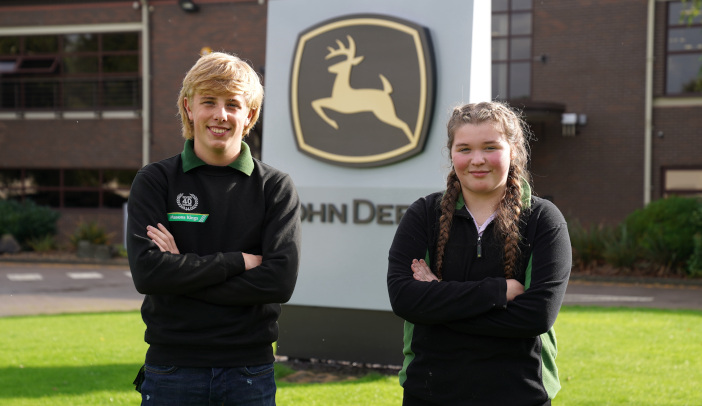 "Years ago my dad built a sports car and got me into engines and mechanics, so I guess that's really driven me to look into this industry for work."
He found out about the programme after seeing a Facebook post from Masons Kings and has been working there for four months.
"I'm working on foragers, attending call outs to service and maintain maize headers as well as carrying out pre-delivery inspections on machines. It's absolutely brilliant – really interesting to learn about this kit which is changing all the time. I can't wait for the rest of the apprenticeship programme. It looks great."
Another 16-year-old joining the programme is Savannah Brown, who says that her lack of farming background is not a barrier for her.
"Where I come from in the Scottish Borders, I socialise a lot with farmers and countryside people," she said. "I was going to train to become a farrier but then I had some work experience at a Thomas Sherriff outlet and realised I wanted to work with engines and technology.
"The apprenticeship looks like a brilliant opportunity – a good mix of practical and classroom learning at the training centre when we're away. I'm looking forward to the challenge."
Every apprentice is a paid employee of a John Deere dealer, spending most of their time working alongside an assigned mentor. For a set number of weeks, they will travel to John Deere's new Apprentice Training Centre facility in Upper Saxondale.
John Deere branch training manager Allan Cochran said: "In the three decades our esteemed apprenticeship has run we have produced many cohorts of talented individuals who have gone on to have exciting careers across the John Deere dealership network.
"Our aim with the apprenticeship programme is to help young people make their first step on the career ladder, and to nurture and mould those with the skills and desire to work in our industry."
For more information or to learn about applying, click this link.