Livestock markets across the UK have joined together to shine a light on mental health awareness within the rural community. This was in support of Len's Light Tractor Relay, a month-long journey to break the stigma attached to suicide and mental health.
It was organised by Lynda and Andy Eadon, who tragically lost their son Len to suicide last year when he was just 22. Since then, they have campaigned to raise national awareness of mental health issues in the rural community. Across various initiatives, the couple has raised more than £100,000 for charities in their son's name.
The latest campaign saw Mr Eadon drive a donated John Deere tractor across England, Wales and Scotland, with the route including 38 livestock markets. The 2,000-mile relay culminated at Land's End on the 20th of July.
"We have had tremendous support from the agricultural community throughout Great Britain," said Mr Eadon, who also explained why they focused their tour around livestock markets.
"Both Lynda and I chose to engage with livestock markets because we appreciate the key role they play as rural hubs, often being the only place for some farmers to interact with others during the week."
Mrs Eadon added that the aim has been to encourage conversation and help people to reach out for support when it is needed. Livestock marts provide a hub where rural communities can access that support.
"We have really seen communities come out of their shell, and along the way have had some very poignant conversations and heart-felt moments with others who have been affected by mental health or suicide," she said.
Both said that they had been overwhelmed with the support they had seen at the marts. Mr Eadon noted: "Every market we visited built on their role as a rural hub, with many going above and beyond to engage with their local community and share the message of the Len's Light Tractor Relay."
The markets on the route organised events to coincide with the relay, including charity auctions and activities, which helped to raise awareness and vital funds for the charities. As well as the Farming Community Network, Farm Safety Foundation and Papyrus, many marts also raised money for local rural support charities.
Examples of this include £1,295 raised from the sale of a sheep with lamb at foot, along with more than £200 in donations at a mart near Bentham. Elsewhere, the proceeds of a Limousin heifer at Frome Livestock Market were donated, to the value of £1,450, with further proceeds coming from a raffle, cake sale and other donations.
Louth Livestock Market raised £3,230.78 by hosting a charity evening, and welcomed Mr and Mrs Eadon during a non-market day, gaining coverage on regional television. At Melton Mowbray, the mart raised £4804 through various activities, including donated lambs which were auctioned off.
Leek Auctions Ltd sponsored a gathering at Folker Grange Farm, where 500 people welcomed Mr and Mrs Eadon and raised more than £8,000 through various activities, including the chance to throw wet sponges at the company directors.
While donations are still coming in, the total has already exceeded £30,000, with just the proceeds from 17 marts so far.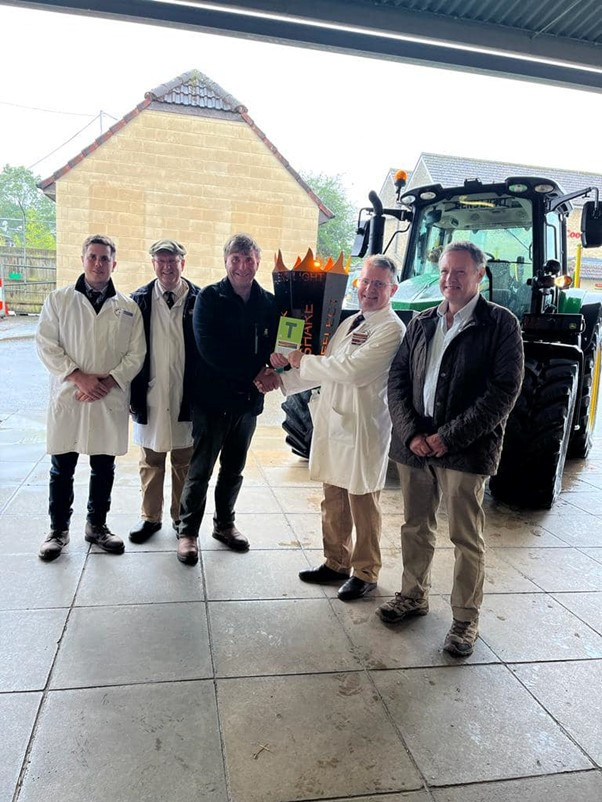 Chris Dodds, executive secretary of the Livestock Auctioneers' Association (LAA) said: "We wholeheartedly support and applaud the efforts of Lynda and Andy to raise awareness of mental health issues, while they still come to terms with the loss of their son.
"We have always recognised the mart's crucial role, and responsibility, in providing that support hub and network, creating an environment where the rural community can turn to in times of need.
"The support that our member companies, and indeed their customers, have provided along the Len's Light Tractor Relay route, really encapsulates that commitment. We wish Lynda and Andy well in their continued efforts, and will continue to support their campaign."
Mr and Mrs Eadon, who farm in Warwickshire, added that this is just the start of Len's Light, and that their mission for the tractor relay was more than accomplished.
"The role markets have played during the relay, and the events they have put on, really demonstrates the strength of the livestock market industry," said Mr Eadon.
"Not only that, the response we have received, the money raised and more importantly the conversations we have been having, means this is just the start as we continue to campaign to raise more awareness across local rural communities."
You can find out more about Len's Light, and make a donation by clicking on this link.