Applying a wide range of products, granular applicators are helping growers tackle weed and pest issues on farm, or minimising application passes with mounted units on cultivators, sprayers and drills.
All Horstine applicators ensure a uniform application across the full spread width of the machine. Utilising a single metering rotor to supply each distribution outlet, all applicators prevent under or over-dosing. The range includes the Cascade, which applies at widths of up to 24 metres. The RDS ISOcan controller is ISObus compatible with Automatic Section Control available to increase application accuracy.
The TMA4 can be tractormounted or trailed behind a quad or ATV. A Horstine Wizard automatic rate controller and 12-metre folding booms are standard, while mounted machines can upgrade to a hydraulic folding system. Twin Air is a heavy-duty applicator designed for high workloads and can be mounted on a variety of implements, including rolls, drills or multiple units to sprayer booms in widths of up to 36 metres.
TMAir systems utilise a high-capacity fan unit to distribute product to broadcast outlets, fitted on implements up to 10m wide.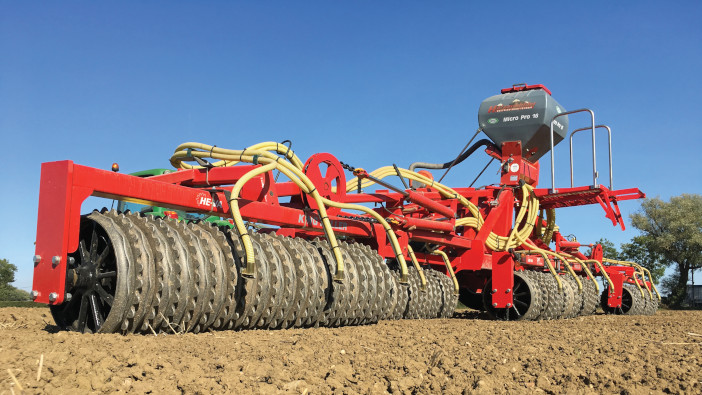 Opico's pneumatic Micro-Pro granular applicator has been designed to enable accurate dispersal of microgranules, such as Avadex. It has a working width of up to 12m when mounted on a variety of implements such as Cambridge rolls or drills. A hopper capacity of 180 or 400 litres can be specified and it can have eight outlets (6m spreading width) or 16 outlets (12m spreading width), giving a spacing of 75cm between outlets for a robust double overlapping spread pattern.
Each outlet is fed by an individual metering roller, ensuring even microgranule distribution across the entire working width. The metering roller is driven electronically utilising radar for accurate forward speed monitoring, with air supplied via a hydraulic fan. The in-cab electronic control unit allows for setting and adjustment on the move, while the unit also records area and application rates applied.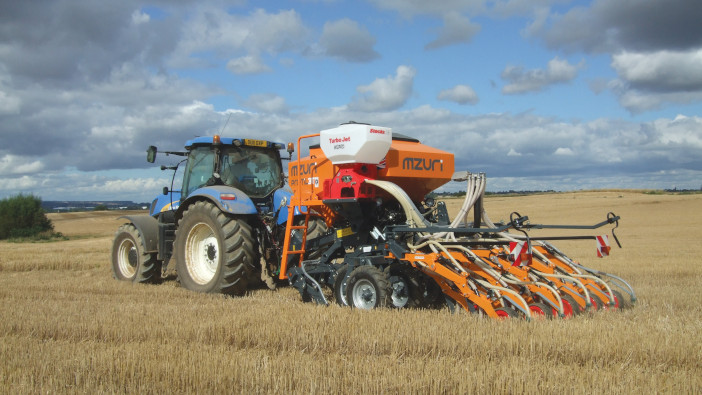 The Turbo Jet, from Stocks, is a versatile pneumatic applicator and seeder which delivers product up to 10m working width. The Turbo Jet 8 has eight outlets and the Turbo Jet 10 has ten outlets with 240l and 400l hoppers available. The Turbo Jet can be calibrated to apply precise rates across a wide range of products from 1kg/ha up to 100kg/ha. All are fitted with a 32mm seed hose which reduces back pressure and improves air flow.
Also available are the Rotor Meter and pneumatic Rotor Meter Air Force, which have been designed to accurately meter and apply seed or granules up to 3m to ensure a uniform application rate across the desired working width. Additionally, the Micro Meter and larger capacity Maxi Meter applicators are gravity fed 1m long units designed to accurately meter and apply seed, fertiliser and granules.
Read more here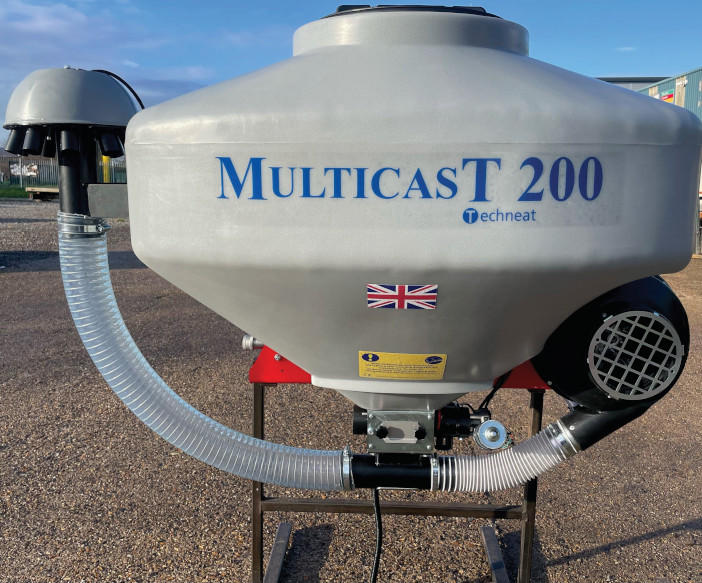 Techneat Engineering's comprehensive range of applicators are compliant with the National Sprayer Testing Scheme and can apply a wide range of products. The range includes the Multicast Applicator, which combines the Autocast V2, Terracast V2 and Avacast GR models into one machine.
It is a multi-purpose seeder unit that can apply most types of products, including Avadex granules, oilseed rape seed, cover crops and grass seed, by changing the applicator's single metering cartridge. The Multicast is available in a 200L or 400L hopper size with the specifications including a Garmin GPS control system, hydraulic fan, single distribution head and interchangeable cartridges for different seed sizes or granular products. The
Multicast can be drill, rolls or sprayer-mounted or towed by an ATV. Techneat's range of granular applicators specifically designed for potato growers include: the Microcast 70, Microcast 70 Air, Microcast 250, Terracast GR, Maxicast and Placement Pro GR models.
Read more here