The House of Lords Horticultural Sector Committee visited pioneering Kent-based vertical farm, GrowUp Farms, in Sandwich to find out about how vertical farming will play a key role in the future of farming. 
Lord Carter, Lord Colgrain, Lord Coles, Baroness Fookes, Lord Redesdale and Baroness Walmsley visited the farm – called Pepperness – which is leading the charge in vertical farms in the UK as it was the first to sell its salad ranges through UK supermarkets. 
The House of Lords Horticultural Sector Committee was created in April this year to produce a report on the horticultural industry. A 12-strong committee from all parties including crossbenchers is considering the challenges faced by the sector, which is worth billions to the UK economy and is a significant contributor to UK food security. 
GrowUp Farms is the UK's leading vertical farm, and launched its 'Unbeleafable' salad range in Tesco stores in July this year.  
A vertical farm is an innovative agricultural system, designed to grow crops in vertically stacked layers in a controlled indoor environment. The growing process means that salad can be grown year-round in the UK and uses up to 94% less water than traditional growing.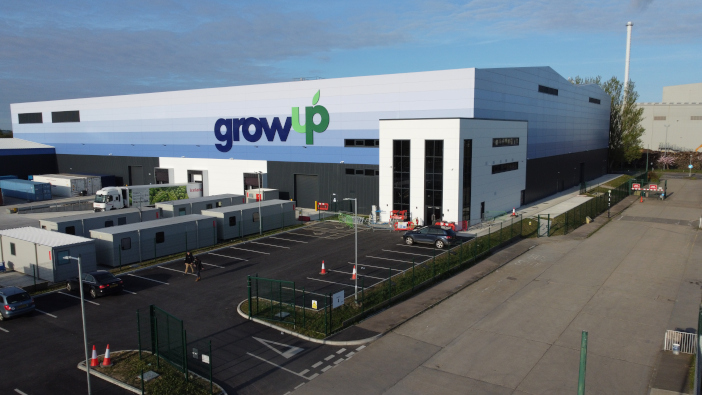 Pepperness grows the salad without the need to use pesticides of any kind, nor does it need chlorine-washing, in fact the salad doesn't need to be washed at all before eating – all processes which degrade the quality of the leaves. The supply chain is significantly reduced, so the salad only travels from Kent to UK supermarkets, rather than from overseas. It tastes fresher and crisper and lasts longer than other salads, which means there's less waste produced too.
"We're very proud of what we are achieving here at Pepperness, and the part we're playing in the future of food security for the UK" said Kate Hofman, founder and chief brand officer of GrowUp Farms.  "Currently the UK imports around 67% of its salad from warmer climates, and this rises to 90% in the winter*, so vertical farms can help the UK to be more self-sufficient in producing food."  
"We were delighted to welcome the House of Lords Horticultural Sector Committee to Pepperness, and we very much support the inquiry into the considerable challenges facing this sector, not least the effects of climate change.  We grow, harvest, and pack our salads for supermarkets across the UK, all at Pepperness in Kent.  The farm's highly controlled environment simulates a beautiful Mediterranean spring day, every day, providing the perfect growing conditions for salad." 
Lord Redesdale, Chair of the Committee, said: "Horticulture is worth billions to the UK economy. From healthy fruit and vegetables to the multitude of crop and plant varieties that can be grown in the UK, it is a fundamental component of a secure food supply, supports the wellbeing of millions of people, and could provide innovative solutions to the challenges presented by climate change. Despite this, horticulture has been continually overlooked and undervalued. 
"As part of our inquiry, we were delighted to visit Pepperness and see how GrowUp Farms is putting real innovation into practice to build resilience into the UK horticulture sector."
Pepperness was originally a brownfield site. Following £100m investment, GrowUp Farms is building the equivalent of 1000 acres of Grade 1 farmland on the site and has recently got the green light to further expand the farm, which will increase its output by 40%.
GrowUp Farms was the first vertical farm to sell a salad in a UK supermarket when it launched its first salad brand, Fresh Lead Co. into Iceland in February 2023. It is also the first to sell a vertical farm produced salad range in Tesco, with the launch of Unbeleafable in July.
Ms Hofman gave a wider message to the Government: "Although we are already producing food and selling it through the UK's biggest supermarket, we are at a disadvantage compared to traditional growers when it comes to access to incentives. Vertical farms are treated as emerging technology which means we cannot benefit from the 'Sustainable Farming Incentive' in Environmental Land Management Schemes (ELMS), which traditional farmers receive to improve their practices. 
"If vertical farming continues to be treated as an emerging technology, the government is missing an opportunity to grow the industry, create a sustainable supply chain and deliver the outcomes laid out in the government's Environment Plan. The extension of ELMS to include vertical farming would create a level playing field for more farming techniques that produce high-quality food and take care of the environment."