After 60 years of supplying parts to Lincolnshire farmers, Roy Belt of Lincolnshire Motors, part of the Burdens Group, has decided to enjoy a well-deserved retirement.
He joined Lincolnshire Motors in 1963, fresh from school, and worked his way up to oversee the parts department and eventually became a director of the company in 1991. When he started, he was supplying parts for the Fordson tractor portfolio, made by the Ford Motor Company in Dagenham.
Mr Belt has worked with three generations of family families during his time with the company, offering a wealth of parts knowledge which has contributed to the business' growth.
He said: "I have seen many changes during my 60 years of service but the thing I find outstanding is the price of a tractor today compared to the price in 1963. Back then you could buy a Fordson tractor for £850!
"Nowadays some of the parts I sell can cost over £1,600. I remember some of the farmers that I dealt with in the 1960s who were real characters and would often bring in sacks of potatoes or apples for the staff depending on the season.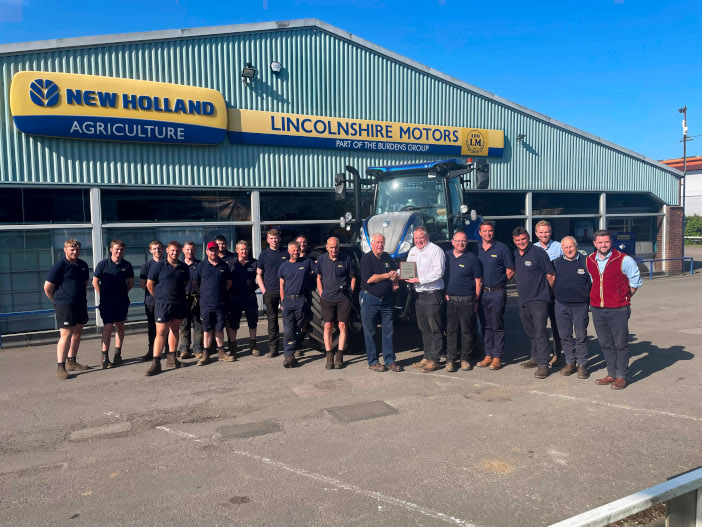 "I have thoroughly enjoyed my time working with the New Holland brand during the last 60 years and I have seen many new brands come and go but the Blue Brand Heritage has remained constant."
Kevin Bell, director, Burdens Group commented: "Having worked with Roy myself for thirty years I know he will be missed by our own team and loyal customers equally. An ever-present, only recently taking holidays, Roy has greeted generations of customers politely with a knowledge of particularly older cultivation and harvesting machinery second to none.
"Roy and his colleagues who joined us from school and have remained through decades of change have provided the business with a stability which keeps customers coming back to our brand."
David Rapkins New Holland business director UK & ROI said: "We thank Roy for his dedicated service over the last 60 years to the New Holland brand which is an amazing achievement. I am sure he has passed on his knowledge and work ethic to current employees at the Burdens Group. The New Holland team wish him a restful, enjoyable, and long retirement."
Mr Belt will start his retirement with a cruise around the Baltics, before starting a gardening project at the house he has recently moved into.