Bridgestone has announced a new range of premium tractor tyres, designed with a focus on the tread-to-soil contract for long-lasting performance.
The VX-R Tractor features a wide tread, said to set it apart from other tyres, which offers three key benefits:
All models have a tread width that is at least as wide as the nominal tyre width, providing more contact between the tyre and the soil and maximising the traction of the involute lug design.
The wide tread is said to increase the wear life of the compound, brought over to the range from the proven VT-Tractor and VX-Tractor ranges.
A bigger footprint on the road offers a smooth and comfortable ride for the operator.
A matched rolling circumference
The range has been designed with a matching rolling circumference for each front and rear combination. This is said to optimise the performance of the tractor and tyre, with an exact front axle lead, meaning that the front tyres travel slightly faster than the rear tyres.
According to Bridgestone, this improves fuel efficiency, tyre life and tractor, as well as optimising handling and drivetrain performance.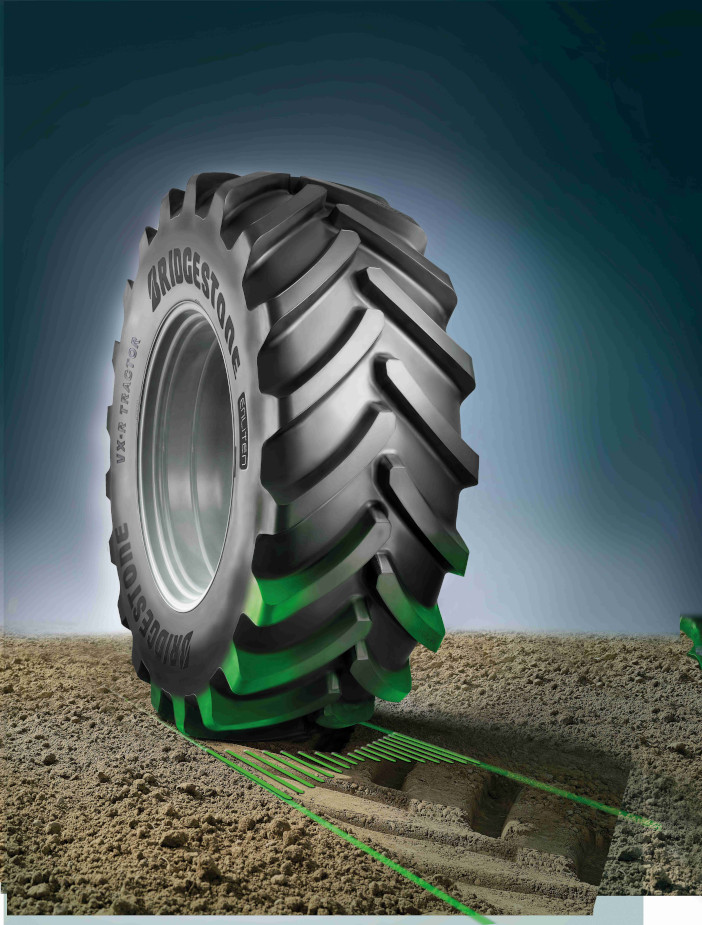 Enliten sustainability
Using Enliten Technology, a lightweight production system that reduces the rolling resistance of tyres, the VX-R Tractor range is said to help move farmers towards sustainable farming, without compromising performance. In line with the Bridgestone E8 Commitment and the company's long-term environmental vision, it is the first agricultural range to feature Enliten.
The range can be fitted to any tractor and combined with any brand. They are a 1.6 bar specification unit and will be available in 23 sizes throughout 2023, with an additional 23 sizes to be introduced next year.
Waqqas Ahmad, director, Commercial Replacement and OE at Bridgestone EMIA, said: "At Bridgestone, we believe that agriculture is our world lifeblood. That's why we are constantly pushing the boundaries of agricultural tyre performance to provide the best solutions for farmers.
"With the launch of the Bridgestone VX-R Tractor, we're responding to farmers' needs for more sustainable tyres which reduce soil compaction. This range allows us to reach a new dimension for long-lasting agricultural tyre performance, while also contributing to a move towards more sustainable farming."
The AGRO-Tyre-Pressure app
The Bridgestone and Firestone ranges have also been included in the AGRO-Tyre-Pressure smartphone application, developed in collaboration with key tyre manufacturers across Europe.
It can help operators find the correct inflation pressure for each operation on the farm, collating information from all the contributing brands for a one-stop solution.