Five primary schools in Sussex and Surrey have taken part in a new local initiative, Loan A Lamb, providing children with the opportunity to care for a ewe and her offspring for five days.
Staff and pupils from Crawley Down Village C of E School, Lingfield Primary School, St Mary's C of E Primary School in East Grinstead, Little Horsted C of E Primary School and East Hoathly C of E Primary School took part in the scheme which was organised by the South of England Agricultural Society, working with farmers from across the region.
The schools were provided with all the setup equipment and training to safely house and feed the livestock for the duration of their stay. They were also issued with factsheets from the farmers about their farm and practices, tailored guides that include information for feeding, bedding, maintenance and welfare.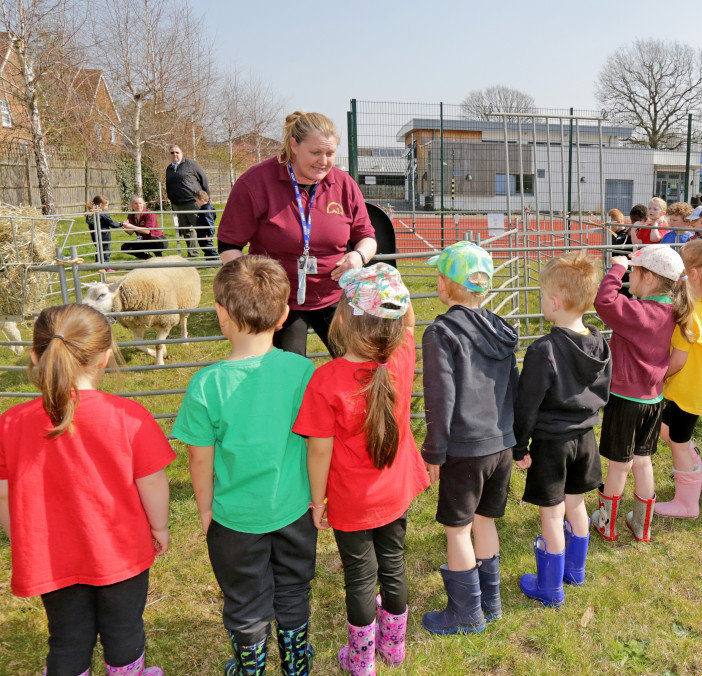 The Society worked with LEAF (Linking Environment and Farming) and the NFU (National Farmers' Union) to make this project happen alongside local sheep breeders. The whole initiative was also supported by a local farmer and the East Sussex Proficiency Test Committee who arrange assessments in the agricultural sector.
Oliver Burcombe, headteacher at Crawley Down Village C of E School, said, "This has been an amazing opportunity for everyone here at the school. We have more than 400 children who have all had the chance to meet the ewe and her lambs and learn further about agriculture. This hands-on experience has developed the children's understanding of where their food comes from as well as increasing their confidence. It is something we hope we can be involved in again next year."
Alan Smith, Society trustee and member of the Society's Education Committee said, "This initiative has taken a lot of meticulous planning from the initial meetings with schools and farmers through to the careful selection of the livestock to ensure they were fit, healthy and used to human contact.
"Everyone involved gained so much from sharing the experience, from children learning how healthy sheep behave to farmers hearing how the children and their teachers coped with their new responsibilities for the week.
"Thank you to all the schools, teachers, parents, children, and farms involved that made this project a reality. We hope that we are able to roll out this scheme more widely next year to bring some of the countryside into the classroom and help more children learn about farming and where their food comes from."