Agritourism is becoming a popular form of diversification, allowing farmers to build their business and see them through challenges of increasing costs, unpredictable weather and reductions in subsidies. A recent study in Ireland showed that women have played a key role in the growth of this industry.
More than 33% of the campsites listed on outdoor booking platform, Pitchup, are on working farms and, although 80% of farm holders are men, both men and women are benefitting from the opportunities provided by the diversification.
The study's leading researcher, Dr Maura Farrell, said that women in the farm sector are much more open to farm diversification: "They are much more open to going beyond that productivist type of thinking in agriculture. Women are willing to go beyond the tradition and engage in diversification, giving rise to this idea of a progressive feminism within agriculture for women."
Lesley Nicholas is the owner of Girt Down Farm in Devon and found that this was certainly the case: "I am part of a women in farming group on Exmoor and we meet regularly and look at ways that we can make a difference to our farm income – always the main topic of conversation since the government is cutting payments to farmers and we are trying to make up the shortfall."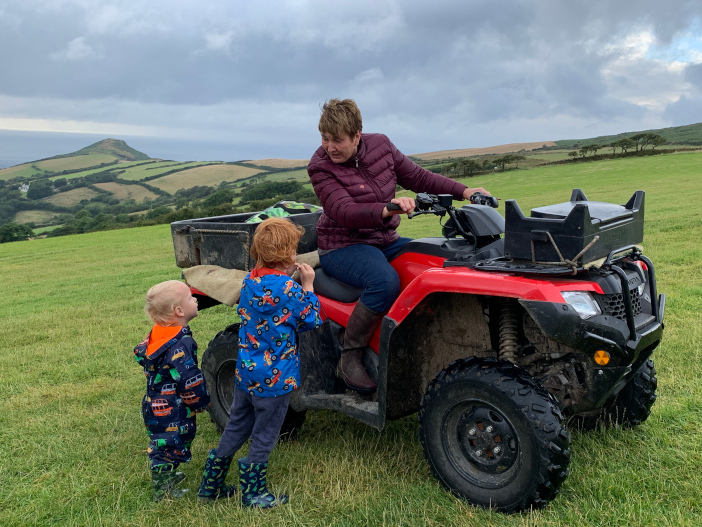 Having first come across the Pitchup site in the summer of 2020 in the midst of the pandemic, she capilatlised on the reduction in international travel and the limited local accommodation and applied to open a campsite on one of the farm's fields. She said: "I thought I would be lucky to get 5 or 6 bookings a week, little did I know by the time I went to bed that evening I had 30 bookings with the first arriving in the morning!
"This first family still visits every summer, along with many others who return as they love the beautiful views and friendly farmer (my husband) who actually interacts with everyone knowing most by name, like he does the sheep. Despite his initial scepticism, he is now totally sold and is always answering questions about life on the farm and all it entails which visitors really enjoy."
This reflects a national picture, with the platform Pitchup reporting that more than 50% of UK campsite owners are women – one of the highest figures across Europe. Brand marketing manager for the site, Brodie Farrow, said: "The feedback we've heard from site owners in the UK is that our sector provides enjoyable and often lucrative careers for women, so we're glad to see that the results reflect this. In fact, our top earning campsite so far this year is owned by a woman, with sales topping £160,000. Pitchup itself is made up of 60% women, many in senior leadership roles, which we are very proud of."