New Holland has partnered with The Prince's Countryside Fund (PCF) for the second year in the Up to Speed joint scheme, aimed at supporting young farmers, new entrants to the industry, or those looking to make a difference in their local community but would otherwise not have access to the right farm machinery.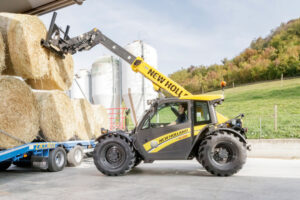 This year's successful applicants are Isobel and James Wright, Sam Walton, and James Millar, who won the use of a TH telehandler, a T6 tractor and a Boomer compact tractor respectively.
"It's great to have the support of New Holland and The Prince's Countryside Fund as without the use of the machine I was expecting many late nights, I will now get more time to spend with family whilst our business grows," said James Wright, who will be using the TH telehandler on his farm.
The PCF was established in 2010 by the Prince of Wales and is the only UK-wide charity that empowers family farms and rural communities to survive and thrive. The Up to Speed scheme, alongside the Farm Resilience Programme and Farm Support Groups Initiative, forms part of the strategy to ensure farmers have access to immediate, local and practical support and a path to a sustainable future.
The partnership between the PCF and New Holland began in early 2020 and the second year saw applications from all reaches of the UK.
Keith Halstead, executive director of The Prince's Countryside Fund said: "We were so impressed with the quality of applications this year and are delighted to have chosen three worthy winners. We hope that each will be able to build their farm business through this tremendous opportunity. Our thanks go to New Holland for working with us to make a positive difference to the working lives of each of our winners."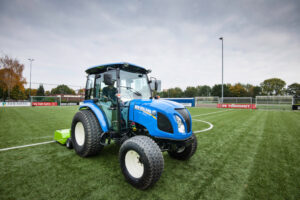 Mark Crosby, New Holland marketing manager for UK & ROI, said: "New Holland are delighted to continue our partnership with The Prince's Countryside Fund for a second year, allowing us the opportunity to support and work alongside three very enthusiastic and talented winners. The volume of applications and competition between them for each machine was even stronger this year. It was so inspiring to meet such talented individuals and learn of their plans, to understand firsthand the difference the loan of a new machine would bring to their business over the next twelve months. We, at New Holland, remain very keen on championing our winners as industry ambassadors and are proud to back local production with our British built tractors. Our huge congratulations go to Isobel and James, Sam and James and we look forward to working closely together over the coming year."
Meet the winners
Isobel and James Wright are first-generation farmers from West Sussex and have won the use of a TH telehandler. They are halfway through their first tenancy on the Wiston Estate, where they keep a herd of suckler cows and have started rearing calves. James also works for the agricultural software company, Breedr.
They said: "The farm is our first step into farming in a big way and our hope is to move from here in a few years to a larger farm. Winning the use of the telehandler for the year will be a great asset to the business, right now we are reliant on contractors and our old loader tractor which struggles to start on cold mornings."
Sam Walton from Knutsford, Cheshire has won the use of a T6 tractor. Sam works at Tatton Park, which attracts 90,000 visitors a year to learn about food and farming. Alongside this, he has his own herd of pedigree Hereford cattle on some rented land. He has been breeding Herefords since he was 12 years old.
Sam said: "I'm absolutely thrilled to be the winner of the T6, it will make such a difference to my business over the next 12 months."
James Miller from Hatherleigh, West Devon has won the use of a Boomer tractor. James has a 30 acre smallholding with a flock of sheep, some pigs, and he also manages an ancient woodland. He
has his own business, JRM Countryside Services, which provides agricultural contracting services with the use of an ATV and attachments to smallholders, equestrian units and amenity.
James said: "The use of the Boomer tractor over the next year will allow the business to expand into other markets and test how viable a compact tractor will be. Thank you so much for the opportunity. It will make such a big difference to the business and smallholding."
The Up to Speed scheme will be open again for applications in early 2022. To find out more visit www.princescountrysidefund.org.uk/uptospeed.